Data Dive
By the Numbers: Iowa Battle Lines Deepen in Republican Debate
Barbs flew in the first debate of 2016 as candidates seek momentum going into voting season.
Deep divisions in the Republican Party were visible in Tuesday's prime-time presidential debate ahead of kick-off voting in Iowa on Feb. 1.
National front-runner Donald Trump sparred with leading rival Ted Cruz and defended his perch by attacking more candidates than anyone else. Meanwhile, the Texas senator's strong poll numbers made him the prime target, with nine broad attacks leveled against him by either Trump or Florida Senator Marco Rubio, who vigorously questioned Cruz's conservative credentials.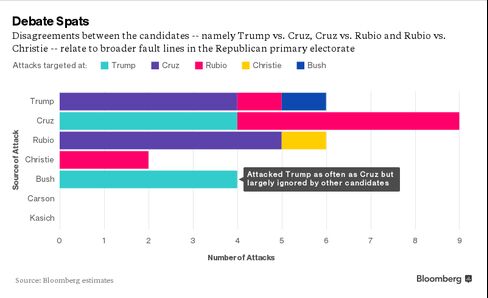 Trump vs. Cruz
When Fox Business Network co-host Neil Cavuto questioned the Canadian-born Cruz about his eligibility and why he'd recently disparaged Trump's "New York values," it wasn't the first time a debate moderator had tried to reel Cruz and Trump into an on-stage conflict, but it was the first time either of them took the bait.
"There's a big question mark on your head," Trump said about Cruz's eligibility. This, in turn, helped Cruz land what Facebook called the "top social moment" of the debate: "I'm not going to take legal advice from Donald Trump." (The matter has never been settled in court, but experts say Cruz is eligible because his mother was American.)
Asked why he's back on the so-called birther bandwagon, Trump said it was because Cruz is now doing "a little bit better." Cruz took 25 percent in the Bloomberg Politics/Des Moines Register Iowa Poll published this week; Trump finished 3 percentage points behind him, within the margin of error.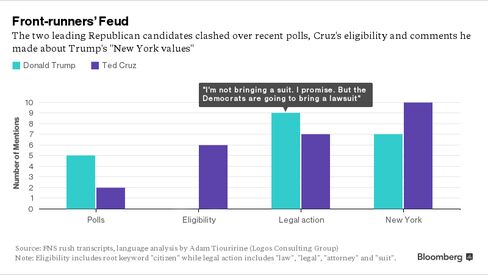 Cruz vs. Rubio
As Rubio fights to assemble a winning coalition of establishment and conservative voters, he branded Cruz a flip-flopper on a laundry list of topics, from illegal immigration to military spending to a European-style value-added tax, saying "that is not consistent conservatism, that is political calculation."
"I appreciate your dumping your opposition research folder on the debate stage," Cruz replied, "but I will say at least half of the things Marco said are flat-out false." He then proceeded to level many of the same flip-flopping charges against Rubio.
It appears Cruz's counterattack struck a more resounding blow than Rubio's initial broadsides, according to several prediction markets.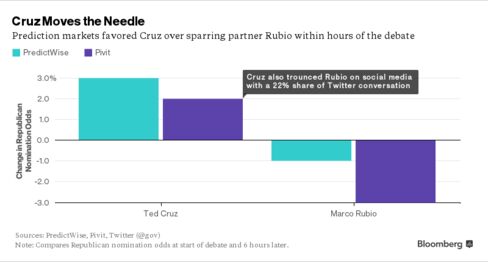 Rubio vs. Christie
For Rubio, the debate, like the campaign itself so far, was a two-front war. While Cruz attacked Rubio's conservative credentials, the Florida senator also faced a skirmish on his establishment flank.
Asked by Cavuto whether he'd like to apologize to New Jersey Governor Chris Christie for recent attacks, Rubio doubled down. He tied Christie to President Barack Obama's positions on Planned Parenthood, the Common Core educational standards, and gun control, attempting to push Christie off the left end of the GOP stage.
Christie returned fire by focusing not on Democrats, but on his own record in New Jersey. "When you're a governor, you're held accountable for everything you do," Christie said. "This is the difference between being a governor and a senator."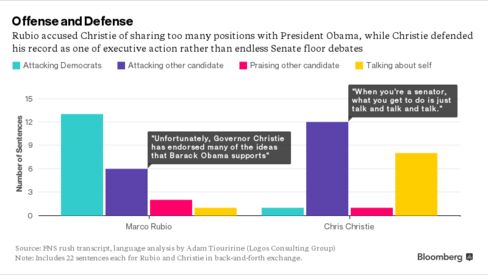 Out of the Fray
Former Florida Governor Jeb Bush, desperate to jumpstart a flagging campaign, threw at least four separate barbs at Trump. But Bush earned little attention in return—other than on social media, where he captured 11 percent of the Twitter conversation, according to the company.
Instead, he finished among the debate's bottom three candidates in terms of speaking time, according to NPR, along with retired neurosurgeon Ben Carson and Ohio Governor John Kasich, neither of whom delivered or received a single attack.
—Bloomberg contributor Adam Tiouririne of Logos Consulting Group advises senior business leaders on high-stakes communication and researches language, leadership, and the media.
Before it's here, it's on the Bloomberg Terminal.
LEARN MORE