Emanuel's Winter of Discontent Chills $3 Billion Bond Plan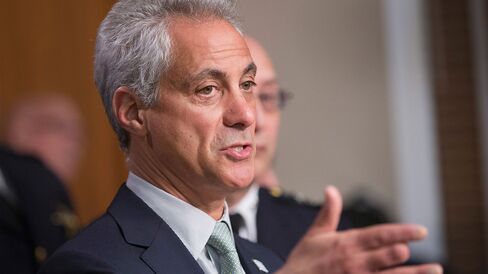 Rubber-stamp approval no longer assured from restive council

Probe into police misbehavior undermines mayor's power
The Chicago way of borrowing works like this: The mayor asks city council members for bonding authority, and they give it to him.
That's changing now that Mayor Rahm Emanuel is under siege from a federal investigation into the misconduct of his police department. A sign of just how much the scandal has undermined the mayor's influence came this week when the council trimmed a $3.2 billion bonding plan by $600 million and delayed voting on another $200 million.
"It's a new day where aldermen want new questions answered," Alderman Ricardo Munoz said Wednesday. "The city council as a body is not as trusting as it used to be."
While most of the borrowing was approved by the council, the resistance reflects a subtle power shift in Chicago, where mayoral omnipotence has long been the custom. Emanuel's predecessor, Richard M. Daley, ruled Chicago for 22 years, as his father, Richard J. Daley, did for 21. Emanuel, a former White House chief of staff for Barack Obama, won a second four-year term in April.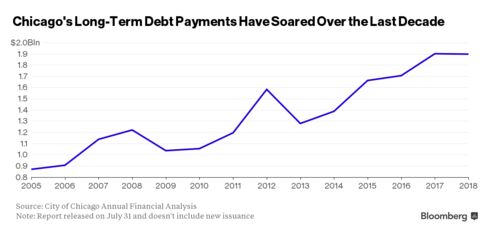 After Wednesday's council vote, Emanuel dismissed suggestions that council members were taking advantage of his troubles, noting they passed five of six bond proposals. The borrowing is necessary to repair costly financial decisions made by previous administrations, Emanuel said.
"Before, you all said that they were too much of a rubber stamp and that we should have them express themselves," Emanuel told reporters during a City Hall news conference. "Then you say, 'Oh, it's reflection that you don't have the leadership."'
His popularity was already sinking after he pushed through in October a $543 million property-tax increase, the largest in city history, to address $20 billion in unfunded public pension liabilities threatening Chicago's solvency.
Sixteen Shots
Soon after the council approved that measure, non-financial events knocked Emanuel off balance. On Nov. 19, a judge ordered the release of a video showing a white police officer shooting a black teenager 16 times, even as he lay crumpled on the ground. Emanuel's administration argued against its release, and the city paid the family of Laquan McDonald $5 million last April. The officer was charged with first-degree murder hours before the video's release.
Emanuel apologized for the shooting. But after publicly supporting his police superintendent, Garry McCarthy, the mayor fired him two days later. He also reversed his objections to a Justice Department investigation of the police department. Citizens' demands for his resignation led to demonstrations at City Hall, along Chicago's premier shopping district and in front of his home.
"I can't remember a mayor taking so many different setbacks all at once -- finance, race, leadership, his character, and basic fundamental trust all being thrown together at one time," said Donald Haider, a former Chicago finance director who teaches at Northwestern University's Kellogg School of Management.
"Here was the eminence grise behind Obama and the White House and dealings with Congress," said Haider, who ran for mayor in 1987. "He's a guy who could do no wrong."
Video Released
The controversy over police shootings hasn't subsided. On Thursday, a federal judge ordered the release of another video: one involving the death three years ago of an unarmed 17-year-old black man, Cedrick Chatman. The city, which had dropped its opposition to releasing the video, did so shortly after the judge's order.
After a different federal judge accused a city attorney of hiding evidence in a suit over yet another fatal police shooting, the administration this week announced the hiring of Dan Webb, a former U.S. attorney, to review the law department's practices. Webb also represents Ferguson, Missouri, in that city's negotiations with the Justice Department over its police practices.
If Emanuel is further weakened, investors worry the turmoil could impede his efforts to address Chicago's financial challenges, which have saddled it with the worst credit rating among major U.S. cities, except Detroit.
All of Chicago's tumult is "a negative headline, and we don't particularly want to see the mayor weaker," said John Miller, co-head of fixed income in Chicago at Nuveen Asset Management, which oversees about $100 billion in munis, including the city's debt.
On Monday, the Chicago's chief financial officer, Carole Brown, faced pointed questions from finance committee members on why the city was going deeper into debt with its credit already rated junk.
Later that day, Brown cut in half the general-obligation portion of the latest bond offering. The city's long-term debt-service payments are projected to reach $1.9 billion in 2018, up from $871 million in 2005, according to the 2015 financial report.
At the committee hearing, Alderman George Cardenas asked Brown to explain why the city is borrowing to cover an estimated $100 million of termination fees to unwind interest-rate swaps associated with Chicago's water bonds.
"$100 million is a lot of money in a time when we're facing lawsuits," Cardenas said. The council on Wednesday delayed acting on the swap proposal.
In the past decade, Chicago has paid almost $1.2 billion in legal settlements and judgments, about two-thirds stemming from police-related litigation, according to the city's annual financial report.
Before the release of the Laquan McDonald video, such payouts caused Emanuel little trouble. And in September, the city council approved the sale of almost $3 billion of bonds by a vote of 46-2. The free ride may be over.
"There's a big question mark as to how much recent adverse publicity events regarding Chicago being in the news and calls for the mayor to step down are going to have an impact on investors' interest in Chicago and how much it's damaged its reputation," said Richard Ciccarone, Chicago-based chief executive officer of Merritt Research Services.