Brady, Hatch Plan New Push for U.S. International Tax Overhaul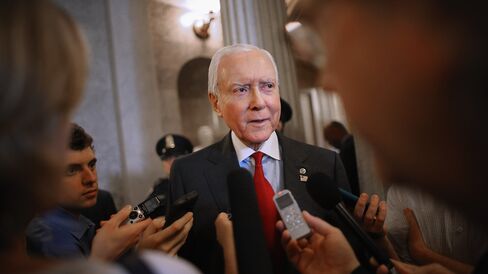 Chairmen of tax committees will start discussions next week

Tax inversion deals are adding new urgency, Brady says
The top U.S. House and Senate tax writers plan to start next week on a new effort to make significant changes to international corporate taxes.
House Ways and Means Chairman Kevin Brady of Texas said in an interview Thursday at a Republican retreat in Baltimore that he's spoken with Senate Finance Chairman Orrin Hatch of Utah and they both want to get something done.
"We're going to start next week together," Brady said, citing both the urgency of taking on inversions, which are deals where U.S. companies take a foreign address to cut their tax rates, and the need to bring corporate profits back to the United States.
But the pair faces significant hurdles in an election year. Senate Majority Leader Mitch McConnell has said he wants to pursue more comprehensive tax reform but doesn't see that happening under President Barack Obama because the president wants a revenue increase.
Brady said Thursday the latest wave of inversions, such as Pfizer Inc.'s November deal to form a new Ireland-based company with Allergan Plc, adds urgency for Congress to act.
"I certainly think it does because we've seen these waves of inversions, I mean, for the last several decades," Brady said. "You can wring your hands as a government, you can try very weak Treasury rules. The one consistent element has been an uncompetitive tax code that's driving this, so why don't we go to the root cause?"
Brady also said he'd like to act to bring home profits stranded overseas, although he acknowledged the difficulty of getting anything done in a presidential election year.
Hatch earlier this week said he would have a press conference to announce a tax revision bill that would deal with inversions and other issues within about three weeks, although his spokeswoman later said that nothing has been scheduled.
"Chairman Hatch remains committed to working with colleagues on both sides of the aisle to see how Congress can work to reform the nation's broken tax code, including outdated international tax laws, to ensure that the United States not only retains workers and businesses, but also encourages investment here at home," Finance spokeswoman Julia Lawless said in an e-mail Wednesday.
Efforts to reach a deal on repatriation and international tax rules fell apart last year after lengthy negotiations between Democratic Senator Chuck Schumer of New York and then-Ways and Means Chairman Paul Ryan, a Wisconsin Republican. Those talks were in the context of trying to find money for a long-term transportation bill, but Congress found other ways to pay for that bill.
Ryan, now speaker, talked positively late last year about the prospects of acting on the international tax issue in 2016.
Before it's here, it's on the Bloomberg Terminal.
LEARN MORE