Commentary
That 'Stop Trump' Movement Must Be Coming Any Day Now: Read My Lips
It's getting late. Or is it still too early?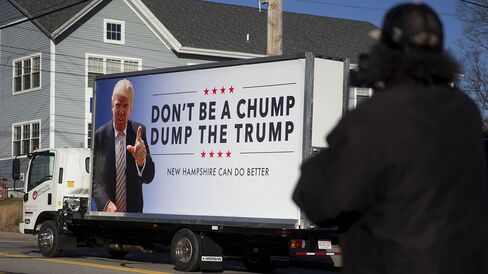 It's difficult to consider the current state of the Republican presidential nominating contest and not think about a certain rich guy and his loud, belligerent, cocky, litigious ways.
That would be Al Davis, the late owner of the Oakland Raiders, who -- when not fighting with his enemies and ticking off his allies -- used to exhort his team to "Just win, baby." More and more, it sounds like the Republican Party is saying that to Donald Trump.
Here it is, finally 2016, just weeks from voting in Iowa and New Hampshire, and the AWOL status of the Stop Trump movement so many people were clamoring for has grown from curious to bewildering. The effort to save the party of Lincoln and Reagan from a shape-shifting neo-Republican named Donald -- an effort we've heard, and heard, and heard, and heard was coming -- hasn't arrived.
A week ago, Politico reported that Alex Castellanos -- the Republican strategist who once sacrificed his mustache to prove his mainstream bipartisan bona fides -- was "meeting with top GOP operatives and donors to gauge interest in launching an anti-Trump vehicle that would pummel the Manhattan businessman on the television airwaves."
Just five days later, Castellanos threw up his hands. There were "no takers" to his pitch, he said Sunday on "Meet the Press," and now it's "too late" for the establishment to go after Trump or the other renegade near the top of polls, Ted Cruz.
But wait -- isn't it still too early to take on Trump? That's the baffling excuse still being given by other party heavyweights for not taking on the $10 billion $2.9 billion elephant in the room.
Many big donors "are still persuaded, or hoping, that Trump will implode or just fail to meet numbers close to anything we're seeing in polling," Liz Mair said via e-mail Sunday. She's the "well-connected GOP operative" leading an anti-Trump effort that's actually gotten off the ground.
In November, the Wall Street Journal reported Mair was seeking donors for "radio and television ads and Web videos that attract media attention based on their `outrageousness and boundary-breaking or bizarre nature.'"
So far, Mair's Make America Awesome super-PAC has run one radio ad in New Hampshire. As for its outrageousness or bizarre nature, well, you decide:
"That $10 billion he claims he's worth? Forbes magazine says Trump's exaggerating, claiming to be a lot richer than he really is. Maybe he hopes you'll forget his companies have gone bankrupt four times. Trump says American workers are paid too much. Maybe that's why he's been caught importing cheap foreign workers. And Trump's casinos have slashed worker benefits. The Washington Post says the way Donald Trump got richer was at the expense of taxpayers or the banks and investors who loaned him money. He's even used government power to seize private property and brags about it."
Mair says she believes her effort is succeeding, even though Trump continues to ride high in New Hampshire polling.
Even in Mair's corner of the political world, there's a lingering lack of urgency. Some potential donors still "don't necessarily want to be seen taking the Trump threat as seriously as we are quite yet, in case he hugely underperforms his poll numbers, for example, and they look like Chicken Littles to their friends and associates."
Of course, Chicken Little would've looked smart had the sky fallen. Which begs the question: Is Donald Trump an existential threat to the Grand Old Party, or isn't he? Are his views on ethnic and religious minorities a demographic disaster to the party's future viability, or not? Does he merit a tornado warning, or just a winter weather advisory? Is this Defcon 1, or just Defcon 4?
"[E]ven the most mainstream Republicans are coming to grips" with the idea of notion of Trump as nominee, "an idea they have resisted since last summer," David Von Drehle writes in Time.
RNC Chairman Reince Priebus, who made that awkward trip to Trump Tower in September to win a loyalty pledge, is among those who are now testing out the bandwagon. Ben Ginsberg, the go-to lawyer of the Republican establishment, now speaks optimistically of Trump "bringing people who aren't Republicans into the party to vote for him," which could help "down-ticket races."
So what's it going to be?
*****
Welcome back to our continuing coverage of rebuttals to the State of the Union address. So far tonight you've heard the official Republican response from Governor Nikki Haley of South Carolina.
Coming up next, the Tea Party response by Wayne Allyn Root, the -- let me read from his Twitter page here -- "author of `The Power of Relentless,' capitalist evangelist, TV producer, former Libertarian vice presidential nominee, Republican-conservative media dynamo, bestselling author, international business speaker, Fox News guest, rainmaker and human Energizer Bunny."
After that, the current field of Republican presidential candidates address the nation via YouTube, Vine, Facebook, Twitter, Instagram, SnapChat and Sidewire.
Bobby Jindal and Michele Bachmann will deliver the official responses on behalf of responders emeriti, followed by the official South Carolina Democratic rebuttal to Haley's official Republican response.
To mark the 10th anniversary of Tim Kaine's official Democratic response to George W. Bush, Kaine will give it all over again, word for word.
Ammon Bundy will deliver the official rebuttal on behalf of petulant, entitled white men playing cowboys and Indians, followed by Kanye West, who will offer a first look at his 2020 presidential platform.
Hillary Clinton has asked for time to rebut anything President Obama said that she doesn't like.
Then we have just enough time for the official ISIS rebuttal.
After that, stay tuned for the "Today" show.
(Read My Lips is a column dedicated to the proposition that men and women in a position of power, or the pursuit of it, will say or do things for which they will be sorry.)
Before it's here, it's on the Bloomberg Terminal.
LEARN MORE