Air Wars
Marco Rubio's Team Outpaces Bush on TV as Attacks From Rivals Pile Up
Florida senator launches an advertising blitz in the final weeks before the first votes of the presidential campaign are cast
For months, Jeb Bush and the super-PAC supporting him have dominated the airwaves in the states that will cast early votes in the in the Republican presidential campaign. But in the last four weeks, Marco Rubio and his allied super-PAC have pulled ahead of his one-time political mentor turned presidential rival.
During the past month, Rubio and the Conservative Solutions super-PAC have aired 8,280 TV ads, according to data compiled Tuesday by CMAG/Kantar Media, an ad-tracking firm. That's nearly 20 percent more than what Bush and Right to Rise USA, the super-PAC backing the former Florida governor, have aired during the same period.
Both sides upped their ad buys during the last two weeks, but Team Rubio still is outpacing Team Bush. Rubio's team has aired 4,541 TV ads in the past 14 days, compared to 3,624 spots from Bush and his super-PAC. Nearly half of Team Rubio's ads during that period—2,083, or about 45 percent—have focused on Iowa. The only Republican presidential candidate who aired more ads in Iowa during the past two weeks was Donald Trump, whose campaign made its TV debut with a whopping 2,324-spot buy.
Rubio and Conservative Solutions have combined to air nearly 1,000 ads in each of two other early-voting states—New Hampshire and South Carolina—during the past two weeks, plus around 300 spots in Georgia and another 300 in North Carolina.
Right to Rise, which is handling the bulk of the Bush team's ad campaign after the campaign cut its spending on television, focused most of its ads in Iowa, New Hampshire and South Carolina. New Hampshire is the only state where the Bush campaign (as opposed to the Right to Rise super-PAC) is now on the air.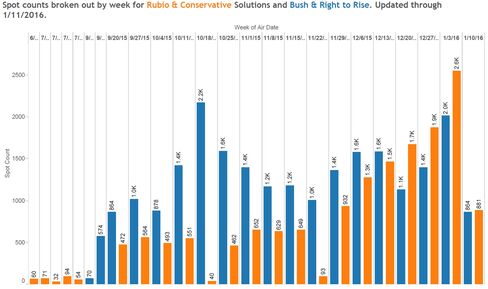 Rubio's team had always planned to increase their TV ad spending closer to the election; Rubio was planning to blanket Iowa with 7,000 ads in the final weeks before the state's Feb. 1 caucuses, the Des Moines Register reported on Monday.
The jump in spending during the past two weeks also comes as Rubio is increasingly under fire by presidential rivals, including Bush. Critics have taken aim at the senator's propensity for missing roll call votes, and, in one of the more bizarre twists of an already strange election season, at his his choice of footwear.
Rubio's sleek, stacked-heel boots grabbed the attention of the political world last week in a way few moments—aside from the presidential debates—have this election cycle. Rand Paul, Ted Cruz and Jeb Bush all weighed in on Rubio's stylish kicks, which didn't seem to square with the everyman image that Rubio has painted of himself with a stump speech that relies heavily on his upbringing as the son of a bartender and hotel maid.
Right to Rise USA added its voice to the Great Boot Debate of '16 with a 82-second web video that spoofs Nancy Sinatra's video of her 1966 pop song, "These Boots Are Made for Walking." The super-PAC shows a close-up of the type of boots that Rubio wore. The PAC's elaborately-produced ad (it appears to feature a professional singer and dancer) also changes the words to "these boots are made for flippin'," accusing Rubio of changing his position on immigration reform, energy policy and military responses in Syria.
YouTube: Nancy Sinatra - These Boots Are Made for Walkin'
Rubio's team immediately shot back. In a post on Twitter, Rubio's spokesman Joe Pounder noted that Bush is lagging in the polls and "appears determined to help Hillary Clinton win."
But there are indications that some of the criticisms are stinging. One leading indicator: The New York Times, which was the original source of the boots stories, has in the past provided plenty of fodder for Rubio's fundraising. In recent months, his campaign repeatedly emailed supporters Times stories that raised questions Rubio's boat, his legislation to dismantle Obamacare, his wife's traffic tickets, Bush's super-PAC and Hillary Clinton's fundraising in an attempt to raise money. In each case, the campaign touted stories by the newspaper as evidence that Rubio is being targeted by the liberal elite.
The number of Rubio fundraising e-mails about the boots: Zero.
In addition, Rubio, who has spent most of the past several months shrugging off criticisms that he's missed more votes than any other U.S. senator, appears to be starting to react. When Bush tried to use the Senate truancy issue to go after Rubio in a debate, it proved to be one of the lowest points of the former Florida governor's campaign. More recently, Rubio rivals have been zeroing on on national security briefings Rubio has missed.
On Monday, Rubio had a 6 p.m. fundraiser scheduled in Florida, which conflicted with a 5 p.m. Foreign Relations Committee hearing on North Korea in Washington. Chris Christie's Republican presidential campaign looked to added to their frequent criticism of Rubio's absences by sending out an email with the subject, "Marco plays hooky … again."
"I feel like you've given up doing it as a senator, so how can you do it as a president?" a woman asked Rubio at a townhall meeting earlier in the day in Sarasota.
Despite the fundraiser, Rubio was on his rented Cessna Citation Excel plane back to Washington at about 3:20 p.m., the Tampa Bay Times reported. Rubio made it to the Foreign Relations hearing about 20 minutes before it concluded.
Before it's here, it's on the Bloomberg Terminal.
LEARN MORE