Christie Talks Drugs in New Jersey Speech, Mimicking Campaign Focus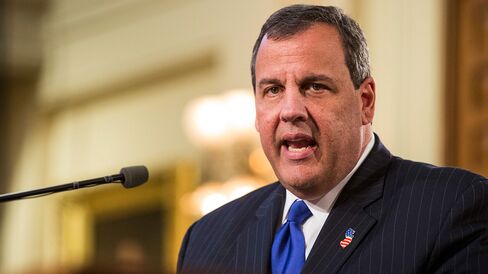 Emphasis on addiction treatment holds appeal in New Hampshire

In his home state, battered economy and budget take a toll
Governor Chris Christie broke from his presidential campaign to propose expanding drug treatment in New Jersey, a home-state echo of a campaign issue in early-voting state New Hampshire.
The two-term Republican made help for addicts a large part of his State of the State on Tuesday. Christie has made drug treatment a high-profile initiative for years, and he cited a switch to mandatory drug court as a reform that's reduced the New Jersey prison population.
"I'm asking you to join me in doubling down on our state's fight against drug addiction," Christie said. "There are few things that I've worked on harder as governor or that I believe as strongly as this. Drug addiction, just like cancer, is an illness. It can strike anyone, from any station in life."
Christie's annual agenda-setting speech, amid record low approval from New Jersey voters, was scheduled between stops in New Hampshire and the Republican candidates debate in South Carolina on Jan. 14. In 2015 he was out of state 72 percent of the time, including partial days in neighboring states.
"It's good to be home," he said to laughter as he began his speech.
The emphasis on expanding drug treatment and mental-health services for the poor and those in prison reinforces his stand on an issue that has emerged as a central theme in the presidential campaign. In New Hampshire, an early proving ground for presidential candidates, alcohol and drugs are abused at some of the highest rates in the U.S., according to a 2013 governor's commission report. From 2009 to 2013, heroin deaths more than doubled.
"While this is an issue in New Jersey, it's certainly not at the top of the list in terms of what the governor needs to deal with here, but it is all-consuming in New Hampshire," said Patrick Murray, director of the Monmouth University poll in West Long Branch, New Jersey. "Giving a speech on an issue that is more important in New Hampshire than it is in New Jersey speaks for itself."
Jersey Weak
Christie's message on recovery is an extension of his belief that every life is sacred and worthy of redemption, whether it is an unborn child or a narcotics addict. A video of him speaking in New Hampshire about a friend who died battling a prescription painkiller addiction has been viewed more than 8 million times, winning the governor praise and some support.
New Jerseyans, meanwhile, have concerns about the governor's ability to lead. His approval, which reached 72 percent in November 2012, slid in 2014 after e-mails revealed that an aide and an ally arranged a George Washington Bridge traffic jam as political retribution. While the governor has denied any role in the plot, it has cost him support.
As Christie focuses on his national run, Democratic lawmakers blame him for the state's lackluster economy, rising pension costs and inaction on replenishing the state's broke fund for road and rail spending. In a Dec. 10 Rutgers-Eagleton Poll, his approval fell to a low of 33 percent among registered New Jersey voters.
During his speech, Christie defended the state's economy, saying the state "has pulled back from the economic brink." New Jersey, which has trailed New York, Pennsylvania and the U.S. in employment growth, added 55,100 jobs in 2015, not including December numbers that haven't been released. That's more than any full year since 2000, according to state data.
On the campaign trail, Christie has cast himself to potential supporters as a straight talker, and the party's best inoculation against another four years of a Democratic White House.
As Christie's poll numbers improve in New Hampshire, his New Jersey job performance has been the topic of attacks from Republican presidential rivals. Television ads from a super-PAC supporting U.S. Senator Marco Rubioof Florida deride Christie as "high-tax" and a fan of alternative energy and the Common Core education curriculum. They invoke his administration's involvement in the orchestrated traffic jams.
Ben Dworkin, director of the Rebovich Institute of New Jersey Politics at Rider University in Lawrenceville, predicted Christie's address would be more "campaign event" than policy setter.
"It's light on major plans for the future because within 48 hours of this speech he'll be out of the state again," Dworkin said in an interview. "He's not going to be here to push for the plans he outlines today."
Christie's most detailed proposal was to turn a onetime state prison into a drug-treatment center for inmates. He also called for getting rid of the state's estate and inheritance taxes, and warned residents that a proposed constitutional amendment to mandate pension payments would result in tax increases and spending cuts elsewhere.
The speech was peppered with general references to Republicans and Democrats working together, though with no direct outline to tackle the state's property taxes and transportation shortcomings. He criticized "media" and "special interests," and their influence on governing, and took a dig at "hot air" from Congress and the White House. He dismissed Democratic President Barack Obama's State of the Union address, scheduled for later in the day, as "a fantasy wish list by a president who has failed us."
"I believe our best days lie ahead," Christie said. "But if we want to win the future, then we need to face it boldly. We can't shirk from the difficult decisions and hard conversations we need to have."
Before it's here, it's on the Bloomberg Terminal.
LEARN MORE