Epistemology
Bush to Trump: 'I Know What I Don't Know'
The former Florida governor took an unusual line of attack against the GOP front-runner in Iowa on Tuesday.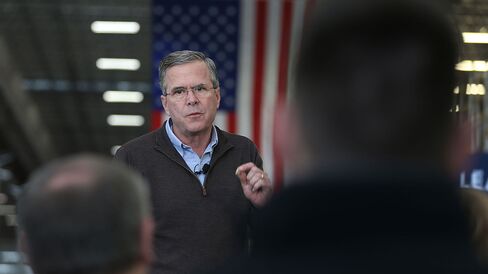 Jeb Bush is starting his campaign appearances with an unusual sentiment for a candidate running for president: telling his audiences that he doesn't know everything and suggesting that puts him ahead of his top rival.
"I know what I don't know," were some of the first words the former Florida governor's uttered at an afternoon appearance Tuesday with about 125 people in Grinnell, Iowa.
"I think presidents actually, if they start with that premise, can get the best and the brightest, can get the greatest ideas, can develop strategies," Bush said. "But if you think you know everything, or you think knowledge is not really important, you can really get into an ugly situation pretty quick."
Bush suggested Republicans will be handing the White House to the Democrats, if billionaire Donald Trump becomes his party's nominee. "We will assure that Hillary Clinton, one of the most flawed candidates in modern times, will become president of the United States unless there is an altering of the course that this primary process has become," he said.
Bush continued to call Trump a "jerk," an allegation now woven into his stump speech.
"I don't apologize for it because he is a jerk, if he disparages P.O.W.s like John McCain, saying he's not a hero because he got caught," he said. "He is a jerk when he disparages women the way he does. And he is a jerk when he disparages people with disabilities."
Bush has a huge challenge in Iowa, where the Feb. 1 caucuses will start the nomination season. He scored just 3 percent among Republicans likely to attend the caucuses in a Quinnipiac University poll released Monday.
Speaking later to reporters, Bush pledged he'd support Trump, should he win the nomination.
"I'll support the nominee. I don't believe it will be him," he said. "I'm going to be the nominee. That's the point of running."
The former governor also suggested that the current primary hasn't yet been that rough in tone. "Having been around a few times, a few election cycles, it's been pretty tame so far. If you think this is hard, wait until the general election," he said.
Before it's here, it's on the Bloomberg Terminal.
LEARN MORE