Yellen Gets Boost From Jobs Data But Hillary Clinton May Not
Wage gains lag as more Americans enter the workforce

December numbers `validate' Fed rate move, economist says
The December employment report was good news for Janet Yellen but not necessarily for Hillary Clinton.
A vibrant jobs market is drawing more Americans into the workforce, allowing employers to fill positions without having to jack up wages. That supports Federal Reserve Chair Yellen's contention that the central bank can afford to take its time in raising interest rates from near-record low levels.
Yet it does little to assuage the anger of middle-class voters who've suffered years of virtually stagnant salaries and are looking for someone to blame, from President Barack Obama on down.
"They're not happy about the way things are going. Their pay is sluggish," said Andy Laperriere, a partner at Cornerstone Macro LLC in Washington, who previously worked for former Republican House Majority Leader Dick Armey on Capitol Hill. "That's not a favorable environment for Hillary Clinton and the Democrats."
Obama's former Secretary of State is leading in national opinion polls to become the Democratic Party's standard bearer in the November presidential election. A political rule of thumb is that disquiet over the economy hurts the party in power in the White House, Laperriere said.
Earnings Unchanged
The absence of wage gains -- average hourly earnings were unchanged in December from the previous month -- was the only noticeable blemish in what was otherwise a robust employment report. Payrolls rose by 292,000, bringing job gains for the year to 2.65 million. That follows a 3.1 million rise in 2014, the best back-to-back yearly increase since 1998-99.
"These numbers certainly validate the Fed's decision" last month to raise interest rates for the first time since 2006, said Nariman Behravesh, chief economist in Lexington, Massachusetts, for IHS Inc.
The strong jobs market shows that the U.S. economy has enough staying power to weather any fallout from the China-led global growth slowdown that rocked financial and commodity markets over the past week, he said.
Unemployment held at a seven-year low of 5 percent in December, while the participation rate, which shows the share of working-age people in the labor force, increased to a four-month high of 62.6 percent from 62.5 percent.
Yellen has long argued that discouraged workers will be tempted to resume looking for a job if the labor market improves enough. The December data seemed to bear that out, with the number of people outside the workforce shrinking by 277,000.
The expansion of the labor force is helping to hold down wages, as companies now have a bigger pool of potential employees from which to pick. And with labor force participation still near a four-decade low, there is additional supply out there that employers could draw on in the future, Behravesh said.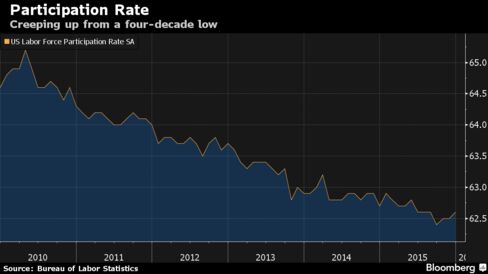 "Maybe the reason why we are seeing limited wage pressure is because the people who are outside the labor force are starting to come back into the labor market and are thereby holding wages down," Torsten Slok, chief international economist at Deutsche Bank AG in New York, said in a note to clients.
Yellen and her colleagues have said they intend to raise interest rates gradually after their initial move last month and have penciled in four quarter-percentage point increases for this year, according to the median estimate of projections released on Dec. 16.
The employment report "supports the Fed's view of gradual hikes because there is no rush to tighten policy at this point," said Thomas Costerg, a senior U.S. economist at Standard Chartered Bank in New York. "Strong jobs and weak wage growth. So, there's no sign of inflation in the pipeline."
Labor Costs
The combination is "good for business," as its wage bill isn't rising, said Michael Feroli, chief U.S. economist at JPMorgan Chase & Co. in New York and a former Fed economist. "It's not so good for workers."
Betsey Stevenson, a professor at the University of Michigan and a former economic adviser to Obama, argued that the employment statistics bode well for Democrats on the campaign trail.
"Job growth is so strong," she said in an interview.
She also pointed to signs that salaries are starting to stir. While average hourly earnings were unchanged in December from the previous month, they were up 2.5 percent for the year, surpassing 2014's 1.8 percent gain.
Not surprisingly, Douglas Holtz-Eakin saw the December data differently, saying it posed difficulties for the Democrats.
"The Achilles heel has been wages, and that didn't really change much," said Holtz-Eakin, president of the American Action Forum, a Washington-based conservative policy group, and a former economist in President George W. Bush's administration.
"That's going to be a problem for the Democrats," he said. "Regardless of your opinion, people are tired of what's going on and change is going to look appealing."
Before it's here, it's on the Bloomberg Terminal.
LEARN MORE