Seeking South Carolina Foothold, Bush Wins Another Graham Backer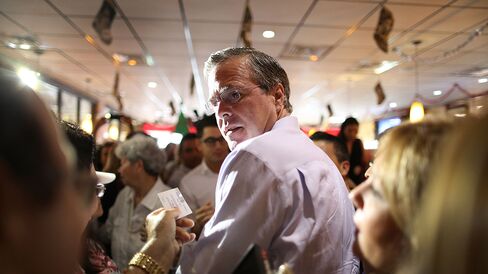 Jeb Bush picked up more support for his presidential campaign in South Carolina on Thursday, signing up more than a dozen military veterans in the state and collecting another member of U.S. Senator Lindsey Graham's national security coalition.
Bush, the former Florida governor and son and brother of former presidents, now claims support from four members of Graham's national security team, even as U.S. Senator Marco Rubio describes himself as having the best foreign policy resume in the the Republican field. The campaign says it has endorsements from 22 supporters of Graham, who ended his presidential bid last month.
"The South Carolina endorsements are reflective of a campaign that's worked hard at the grassroots level, and work is starting to pay off," Sally Bradshaw, a senior Bush adviser, said in an interview.
Bradshaw said Bush has secured endorsements from more supporters of Graham because Bush is addressing their biggest concern: Donald Trump. "They want a serious candidate with strong plans for the future and who voters can trust with the presidency," Bradshaw said. "Senator Graham certainly fit those criteria, and they're moving to Governor Bush for those same reasons."
In a CBS/YouGov poll released Dec. 20, Trump and U.S. Senator Ted Cruz were leading the race in South Carolina, which holds the American South's premier presidential primary and offers momentum to candidates before heading into Nevada's caucuses on Feb. 23 and the hectic month of March, when more than 30 states and territories hold Republican presidential nominating contests. Bush placed fifth in the poll at 7 percent, within the margin of error with Rubio, who was third with 12 percent.
Bush's new supporters in South Carolina include retired General Mick Zais, a former South Carolina education superintendent, according to the campaign. The others are retired Brigadier General Butch Kirven, retired Major General George Goldsmith, and retired Colonel David Lobb.
Bush's team also announced backing from Jim Roy, a retired chief master sergeant of the Air Force, and 14 other veterans. Support among veterans is crucial in an area with a politically influential military presence, which includes a swath of bases in the central and southern areas of the state. Bush's campaign claims to have backing from more than 80 veterans in South Carolina, including retired Marine Major General James Livingston and Marine Corporeal Kyle Carpenter, both Medal for Honor recipients.
"Our country is facing serious challenges and we need a serious, qualified leader as our next president," Roy said in a statement. "Jeb Bush has proven that he has what it takes to be a strong and decisive Commander in Chief. Our country needs a president who understands, believes in and cares for our military. Jeb Bush will be that president."
Bush's performance in South Carolina's primary on Feb. 20—and that of his Republican rivals—may depend largely on the New Hampshire contest 11 days earlier. Trump is leading in New Hampshire, but Bush in a fight for second place there, according to a survey by the Democratic firm Public Policy Polling released Wednesday.
It's a different story in Iowa, which holds the first nominating contest on Feb. 1. Bush is trailing badly in the state—a CBS/YouGov poll in mid-December showed him with just 2 percent. The former governor returns to the state for a campaign swing next week, and his allied super-PAC, Right to Rise USA, has started to run negative ads in the state aimed at Rubio. The super-PAC, which already has spent $50 million on TV ads on behalf of Bush, received another $10 million from Hank Greenberg, who built American International Group Inc. into the world's largest insurer, according the Wall Street Journal. Greenberg, who told Bloomberg Politics in October that he was backing Bush, didn't return messages seeking comment.
(Corrects title of Zais to identify him as a former South Carolina education superintendent.)
Before it's here, it's on the Bloomberg Terminal.
LEARN MORE