Surrogate-in-Chief
Bill Clinton Invokes His Own Legacy to Help Sell His Wife's Candidacy in Iowa
The former president argued that his wife is the best prepared presidential candidate in his lifetime.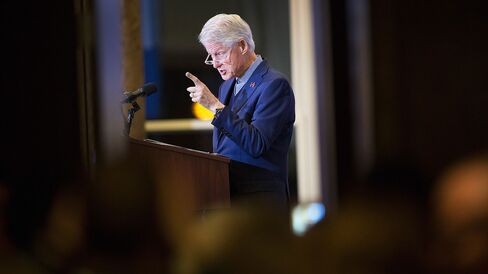 There's at least a bit of irony in the fact that Iowa is now looking like a better state for Hillary Clinton than New Hampshire.
The Iowa caucuses have never been a field of dreams for Clinton or her husband, Bill, arguably America's most powerful Democratic couple. In their previous campaigns, the Clintons have skipped the state, been encouraged to skip the state and most recently, in 2008, recorded a third-place finish.
But there was Bill Clinton on Thursday afternoon in Iowa's second-largest city, Cedar Rapids, standing in front of the state's flag and with a standing-room-only crowd of hundreds to sell his spouse and a second Clinton presidency.
"I do not believe in my lifetime we have had a president that was more prepared, not only by experience, but by temperament, to step in to this incredible mix of promise a peril," he said of his wife. "I don't think it's close."
The former president also sought to project the economic growth enjoyed by the nation during his tenure in the White House onto the 2016 Clinton campaign.
"This election, in my opinion, is about how to restore broad-based prosperity," he said. "We've only had it once in 50 years, in the 1990s, when I had the honor to serve."
Clinton made his public campaign trail debut on his wife's behalf Monday in New Hampshire, after spending the first eight months of her candidacy behind the scenes, advising and fundraising out of sight of voters and the media.
That New Hampshire was Bill Clinton's first stop signals the greater urgency there than in Iowa. Most polls show Hillary Clinton's Democratic nomination rival, Senator Bernie Sanders, leading her in the state that borders his Vermont home turf.
The New Hampshire and Iowa appearances are to be followed by many more nationwide by the former president in the weeks and months ahead as the Clintons seek to dampen the grassroots fire Sanders has ignited in the Democratic race.
The family's third member will also be formally joining the campaign trail soon, too. Clinton's campaign said Thursday that Chelsea Clinton's first campaign trip on her mother's behalf in 2016 would be to New Hampshire on Jan. 12.
While he at times struggled with message discipline during Hillary Clinton's 2008 campaign, the former president has so far demonstrated a tighter grip on what he says.
That was on display when reporters asked him about Donald Trump's comments regarding his past sexual transgressions as he was walking out of an indoor market in Cedar Rapids, where he'd spent roughly an hour making small talk and posing for photos with retailers and customers before the official event.
Clinton said he didn't want to respond or engage in the Republican presidential nomination race. If Trump is the Republican nominee, "We'll have plenty of time to talk about it, if Hillary wins," he said. "I don't want to be involved in their politics or do anything except trying to help Hillary."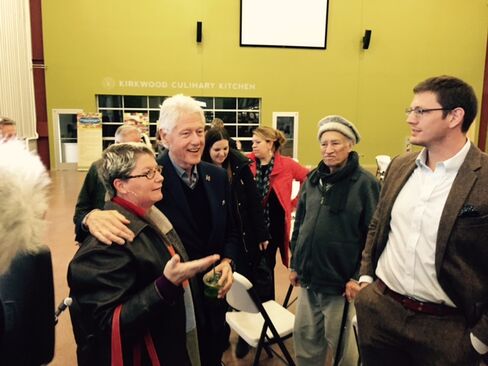 As he posed for photos, he asked several of those he met to "help with the caucus on Feb. 1." The former president, now a vegan eater, passed on a slice of sausage pizza and other less healthy options, while ordering up a green juice that included spinach, apple, kale, and celery.
Speaking with one woman, Clinton seemed to indicate that he doesn't expect the Democratic nomination to be settled before March 15, saying some of his international travel and foundation work might be limited until then because of the primary calendar.
Others expressed surprise to see Clinton randomly show up at the marketplace. "I've only seen you in wax," said Megan Abel of Cedar Rapids.
Carol Bryant, a retired Cedar Rapids social services case worker who attended the Clinton event, said she doesn't think Trump's attacks about the former president's transgressions will hurt his wife's candidacy.
"He had his problems, but who cares?" she said. "Look what the economy did when he was president."
That Cedar Rapids was selected for the former president's appearance was perhaps a nod to the fact that political observers say Sanders is strongest in the state's cites and college towns, such as Des Moines, Ames, Cedar Rapids, and Iowa City.
The Bloomberg Politics/Des Moines Register Iowa Poll released in mid-December showed Clinton leading Sanders 48 percent to 39 percent among likely Democratic caucus-goers. Her 9-point lead was better than Clinton has done in that poll since May, before Sanders's campaign started to gain traction in the state.
The former president's visit comes just two days after his wife completed a two-day trip, from east to west, across the state.
The New Hampshire primary is just eight days after the Iowa caucuses. That second state in the nomination process has also been more favorable ground for the Clintons than Iowa. It's where Bill Clinton declared himself the "Comeback Kid" in 1992, after coming in second in the state's primary. In 2008, during Hillary Clinton's first presidential bid, New Hampshire gave her new life with a primary win, after then-Senator Barack Obama of Illinois beat her in Iowa.
In 1992, Bill Clinton basically skipped the caucus campaign, ceding Iowa to former Senator Tom Harkin, who was also running for the nomination that year. In 1996, as the incumbent president, he had no competition and didn't have to build a grassroots organization in the state.
In 2007, Hillary Clinton arrived without much of an existing network and Obama out-worked and out-organized her. In a May memo from that year that later leaked to the media, her campaign manager at the time suggested that Hillary Clinton should skip Iowa and spend her campaign money elsewhere. Obama went on to win the caucuses and knocked the front-runner off her stride.
"We need your help," Clinton said near the end of his speech. "You will never have a chance to vote for a better candidate."
Before it's here, it's on the Bloomberg Terminal.
LEARN MORE