Home Stretch
Ted Cruz Pitches Trust on Iowa Road Trip
The state's Republican front-runner is shadowed by an ethanol protest, questions about a militia standoff—and high expectations.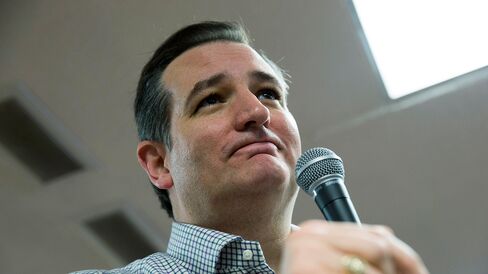 Republican presidential candidate Ted Cruz on Monday launched a six-day campaign tour in Iowa, telling conservatives that with less than a month until the caucuses, he's the one to trust.
"The single biggest difference between me and the other very, very fine men and women standing on that debate stage is that with me, when I tell you I'm going to do something, I'm going to do exactly what I said I'm going to do," he told more than 100 people packed into a small Christian bookstore in Boone, Iowa.
High expectations—and questions about the armed occupation of a national wildlife refuge in Oregon—followed the firebrand junior senator from Texas to Iowa, which will hold the nation's first nominating voting on Feb. 1.
"Every one of us has a constitutional right to protest, to speak our minds, but we don't have a constitutional right to use force and violence and to threaten force and violence on others," he told reporters before the event. "It is our hope that the protesters there will stand down peaceably."
The anti-government group took over the remote refuge as part of a decades-long fight over public lands in the West, with some occupiers saying they plan to stay indefinitely. It posed a delicate situation for Republicans, such as Cruz, who back gun rights and less federal involvement in public lands.
The Texan was joined by Representative Steve King of Iowa. The most conservative member of the state's congressional delegation, King endorsed the Texan in December.
https://www.youtube.com/watch?v=gKlcAvbuWfY&feature=youtu.be
Bigger Target
The trip represents the most intensive blast of on-the-ground campaigning in the Hawkeye State yet for Cruz, with plans calling for visits to nearly a third of Iowa's 99 counties. There's even one stop at 10:45 p.m. Monday at a diner in western Iowa, the kind of late-night event that's typically rare until the final few days before the caucuses.
The Texan's growing status in the race has made him a bigger target for groups backing his rivals—and for the ethanol lobby in Iowa.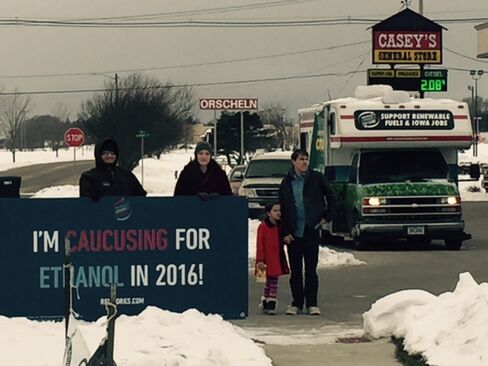 America's Renewable Future, a pro-ethanol group that is led by the son of Iowa Republican Governor Terry Branstad, says it will shadow Cruz at every stop of his tour this week. The group parked a recreation vehicle at a gas station next door to the religious bookstore where Cruz held his first event, and three adults and a child stood next to a sign reading "I'm caucusing for ethanol in 2016."
Cruz's opposition to the federal Renewable Fuel Standard, which sets the minimum amount of corn-based ethanol and other biofuels that must be included in the nation's gasoline supply, has made him the prime target of ethanol supporters.
"Ted Cruz's policy in the White House would be as it's always been for him—devastate Iowa's farmers and its economy in order to pad the pockets of the oil industry," Eric Branstad said in a statement. "Iowans can't trust him and we have a duty to let them know why."
A Bloomberg Politics/Des Moines Register Iowa Poll released in mid-December showed 61 percent of those planning to participate as Republicans in the first-in-the-nation caucuses on Feb. 1 support the RFS.
America's Renewable Future has also run radio ads statewide critical of Cruz and targeted him with direct-mail and digital ads.
Iowa is the nation's top corn and ethanol producer, but it remains to be seen whether Cruz's opposition will hurt him.
"It's not clear ethanol is a vote-moving issue or a litmus test, especially for GOP caucus-goers," said Jeff Patch, a Republican strategist in Iowa.
Cruz declined to answer a shouted question before his first event on whether his campaign bus was filled with an ethanol blend.
'Cruz's Caucus to Lose'
In the most recent Iowa Poll, Cruz surged to the front of the pack with the support of 31 percent of those likely to attend the Republican caucuses that start the presidential nomination season on Feb. 1.
Cruz's 21-percentage-point jump since October was the largest surge between Iowa Polls recorded in at least the last five presidential caucus campaigns, as Iowa's evangelicals began to coalesce around him.
This week's Iowa tour is Cruz's first visit to the state in a month, reflecting his confidence in his standing in the state and a desire to spend time building support in southern states that will host key primaries during the first half of March.
An Iowa win for Cruz would give him significant momentum heading into the New Hampshire primary eight days later. It would also solidify his status with billionaire Donald Trump as one of the top anti-establishment candidates in the Republican race.
"It's Ted Cruz's caucus to lose at this point," Patch said. "That's a blessing and a curse."
Expectations have grown so high for Cruz in Iowa that anything short of a commanding win could be viewed as a stumble. "He needs to exceed expectations to sustain momentum going into South Carolina and southern states," Patch said. "That's tough to do if Donald Trump manages to turnout non-traditional voters and outpaces Cruz."
For his part, Cruz's campaign is putting together one of the more robust ground operations in the state. His team already has campaign leaders in all 99 of the state's counties, has aggressively courted evangelical clergy, and has rented dorm-like housing in Des Moines for volunteers from Texas.
The time for games is over, Cruz said in Boone on Monday. "This is now the time that the men and women of Iowa step up and make your decision."
Before it's here, it's on the Bloomberg Terminal.
LEARN MORE