Dale Bumpers, Defender of Clinton in Impeachment, Dies at 90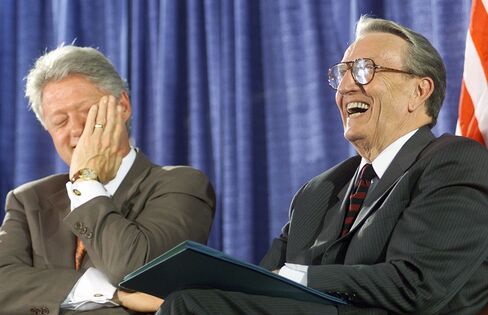 Dale Bumpers, the former U.S. senator from Arkansas who capped an almost 30-year political career by delivering the closing statement in President Bill Clinton's impeachment defense in 1999, has died.
Bumpers, 90, died Jan. 1 at his home in Little Rock, his family said in a statement. He died of natural causes, according to the Associated Press, citing his son, Brent Bumpers.
In ringing tones, Bumpers condemned the proceedings and insisted that the president's actions, while reprehensible, did not qualify as "high crimes and misdemeanors" as specified in the U.S. Constitution.
The impeachment stemmed from revelations that Clinton had an affair with White House intern Monica Lewinsky. He was charged with perjury and obstruction of justice in connection with his testimony to a Federal Grand Jury.
"We are none of us perfect," Bumpers said in the hour-long speech. "Sure, you say, he should have thought of all that beforehand. And indeed he should. Just as Adam and Eve should have."
A veteran Arkansas politician who served two terms as governor before becoming a senator in 1974, Bumpers was a liberal Democrat critical of defense spending and welfare cuts. When he retired, he said his legacy would include fighting "like a saber-toothed tiger to keep a lot of trivial, politically driven amendments off the Constitution," according to an Associated Press article in 1999.
Clinton Ally
While he opposed Clinton's trademark welfare initiative, Bumpers was a friend and political ally of Clinton, who also had served as Arkansas governor.
"Dale Bumpers was a governor of profound historical importance, the most eloquent defender of our constitution in the Senate, a man who put his considerable gifts of wisdom, wit, and passion to work for the common good," Bill Clinton and wife Hillary Clinton, the former Secretary of State, said in a statement released by the Clinton Foundation.
Bumpers retired from the Senate after four terms, in January 1999. Days later, he was enlisted to join Clinton's defense team.
"That was a smart move on the part of the defense," said Republican Senator Mitch McConnell of Kentucky, now Senate Majority Leader, according to a story in the Washington Post. "Give 'em a gold star for that. We like him, and he's a great speaker."
With U.S. Chief Justice William Rehnquist presiding in the Senate on Jan. 21, 1999, Bumpers stood in the well of the chamber and warned colleagues that impeachment was a dangerous weapon.
"A decision to convict holds the potential for destabilizing the office of the presidency," he said. He called Clinton's conduct "indefensible, outrageous, unforgivable, shameless." Yet, he insisted, the proceedings missed "a human element," that Clinton lied about sex to protect his family. "The charges brought and the punishment sought are totally out of sync," he said.
'Old Friend'
Writing days after the speech, conservative syndicated columnist William F. Buckley wrote that Bumpers "brought the whole country to a standstill in admiration of his plea not to convict his old friend."
After the Senate's vote, Clinton was acquitted of both charges on Feb. 12.
Dale Leon Bumpers was born on Aug. 12, 1925, in Charleston, Arkansas, a farming town in the state's northwest.
His mother was the former Lattie Jones and his father William Rufus Bumpers, who opened a hardware store in Charleston that doubled as a funeral parlor. As a teenager, Bumpers drove a hearse and worked in the store, he wrote in his 2003 memoir "The Best Lawyer in a One-Lawyer Town."
FDR Fan
His father served a term in the state legislature and encouraged young Dale to pay attention to politics. Bumpers wrote of finding inspiration watching Franklin D. Roosevelt make a whistle-stop campaign speech in 1938.
Bumpers served as a sergeant in the Marines during World War II and was part of an invasion force gathering in San Diego when Japan surrendered. After the war, he earned a bachelor's degree in political science at the University of Arkansas in Fayetteville in 1948. The following year, his parents were killed in a car accident.
Gaining a law degree from Northwestern University in Chicago, in 1951, Bumpers was admitted to the Arkansas bar in 1952, according to his Senate biography. Bumpers then opened a law office in his hometown.
He lost the first time he stood for election, in 1962, for the same seat his father once held. In 1970, Bumpers scored an upset victory by beating former Arkansas Governor Orval Faubus in a Democratic primary runoff. He then unseated the sitting governor, Winthrop Rockefeller.
Senate Career
Bumpers served two terms as governor. In 1974, he was elected to the U.S. Senate and beat five-term incumbent J. William Fulbright in the Democratic primary. He acquired the nickname "Giant Killer."
He was part of a rising generation of progressive southern politicians, including Jimmy Carter, from Georgia, and future Florida Governor Reubin Askew, the New York Times reported in
1970. Bumpers considered presidential bids in 1984 and 1988, though he decided against running.
Mike Beebe, who served two terms as Arkansas governor ending in January 2015, said his fellow Democrat and dear friend "paired his light-hearted swagger with his unabashed love for the Arkansans."
"An elite public speaker, Dale's passion for good policy and responsible government brought opponents to common ground and inspired the detached to become involved citizens," Beebe said in a statement released on Saturday.
In a 1982 diary entry in the Bumpers papers collection at the University of Arkansas, was an assessment of Bill Clinton, then a recent ex-governor.
"I doubt that I've ever known anybody as manicly [sic] ambitious for political office, but who simply doesn't have the judgment or character to deal with it once he gets it," Bumpers wrote, according to a story in Mother Jones.
Bumpers married the former Betty Lou Flanagan in 1949. They had three children, Dale Brent, William Mark, and Margaret Brooke, according to Marquis Who's Who.
"I loved him. I loved learning from him and laughing with him. I will miss him very much," Bill Clinton said.
Before it's here, it's on the Bloomberg Terminal.
LEARN MORE