Obama Visits U.S. Service Members on Christmas in Hawaii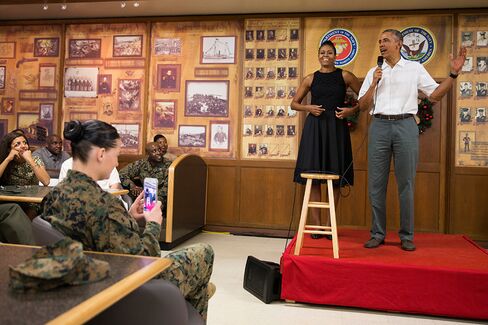 President Barack Obama told U.S. military service-members on Christmas that "we never take for granted" the risks they take to keep Americans safe, and that the killing of six troops in Afghanistan by a suicide bomber this week reminded the nation that the dangers were real.
"So many families here are serving tirelessly," Obama said during his traditional yearly Christmas Day visit with personnel stationed in Hawaii. Accompanied by his wife Michelle, Obama thanked the hundreds of gathered men and women, telling them to "keep up the extraordinary work" and wishing all a wonderful Christmas.
"There's still folks over there every single day and it's still dangerous as we saw this past week," Obama said of the Dec. 21 attack in Afghanistan. "We never take for granted what all of you do for the American people. You all keep us free. You all keep us strong," he said at Marine Corps Base Hawaii – Kaneohe Bay.
Obama said he looked forward to taking photos afterward with service members, especially of their newborn babies.
Gym Envy
Obama also seemed to settle the question of whether he'll make one last trip to Hawaii as president for Christmas next year in the waning days of his administration.
"The only problem I've got when I'm here is having to work out with Marines in the gym," he said. He considers himself "in pretty good shape, then I get next to some guy, you know, curling a hundred pounds and it makes me feel small."
That inspires him to "work harder so I can keep up with you next year."
Obama, his wife and daughters began the day opening gifts and singing carols, according to a statement released by the White House. On Christmas Eve, the president called service members from each branch of the military, the White House said without sharing details about those conversations. The First Lady also made calls to several children, speaking with them about Santa Claus and their gift wish-lists.
The Christmas troop visit is an annual tradition for the U.S. president, who was born and raised in Hawaii and vacations on the island of Oahu each holiday season.
Before it's here, it's on the Bloomberg Terminal.
LEARN MORE