Negative Numbers
Marco Rubio Dips in Polls Heading Into Christmas
He hasn't fallen far, but the Republican presidential hopeful is going in the wrong direction at the wrong time.
Marco Rubio is dipping in national polls going into the final week of 2015. While the drop is slight, and far from irreversible less than six weeks away from the Feb. 1 Iowa caucuses, where the first votes will be cast in the fight for the Republican presidential nomination, it is happening at a time when the U.S. senator from Florida needs to be moving in the opposite direction.
Viewed by many Republican and Democratic elites as the his party's best hope of winning back the White House, Rubio is polling a distant third both nationally and in the first three voting states. He has lost ground in Iowa to Ted Cruz. In New Hampshire, which hosts the first presidential primary Feb. 9, he faces fresh competition from Chris Christie, the New Jersey governor who has been more active in the state in recent months and has picked up some prize endorsements there.
A CNN poll released Wednesday said Rubio has dipped two points since last month to a third-place tie with Ben Carson at 10 percent. Front-runner Donald Trump jumped three points to 39 percent, and second place Ted Cruz jumped two points to 18 percent.
A Quinnipiac poll Monday found Rubio slipping five points to 12 percent in the last three weeks. Trump and Cruz picked up one point and eight points, respectively.
A Fox News poll on Friday showed Rubio dipping three points to 11 percent since the same poll one month earlier. Trump rose by eleven points; Cruz jumped by four.
The pink line in the chart below by RealClearPolitics, which tracks polling averages, visualizes Rubio's dip nationally, which became apparent around December 8.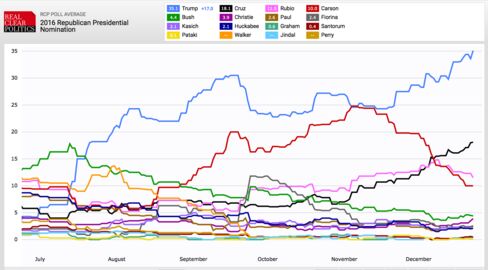 Rubio's polling woes come despite four widely-praised debate performances and amid a polling collapse of the candidate who had been seen as his chief rival for the mainstream establishment vote, fellow Floridian Jeb Bush, a onetime ally. Bush places well outside the top four nationally and lags in New Hampshire. A recent CBS News poll in New Hampshire found Rubio in third with 13 percent, behind Trump's 32 percent and Cruz's 14 percent. In Iowa, recent polls say Rubio is a distant third.
For the last six weeks, Rubio has been locked in a heated battle with Cruz, his fellow Cuban American first-term senator, who has surged to first place in Iowa and is rising nationally. Rubio's campaign has worked aggressively to poke holes in the Texan's record on immigration and national security. But the new CNN poll finds that Republican voters trust Cruz over Rubio by 5 points when it comes to handling illegal immigration, and by 17 points when it comes to dealing with the Islamic State jihadist group. (Trump won comfortably in both categories.)
This week, Rubio has worked to ameliorate an impression that he seldom visits New Hampshire during a three-day swing through the Granite State. He plans to head home to Miami on Wednesday for Christmas, then spend December 28-30 on a bus tour across Iowa, his campaign said.
Rubio advisers spent the summer and fall consistently downplaying the importance of polls, stressing that they are playing a long game, though declining to publicly discuss their strategy. His top aide has sought to keep expectations low, arguing that he'd like Rubio to be behind in polls until the polls that count open.
"The day before makes me nervous. I'd like it just the day of," Rubio campaign manager Terry Sullivan said in an interview last month. "I want to be in second place up until the day we win in Iowa, and then still remain in second place in New Hampshire until that day. Look, there's nothing good that comes out of being in first place other than winning."
Before it's here, it's on the Bloomberg Terminal.
LEARN MORE