Crunch Time
Clinton, Sanders Blitz Iowa With State Up for Grabs
Their goal: Persuading undecided Democrats and turning out those who've already made their choice.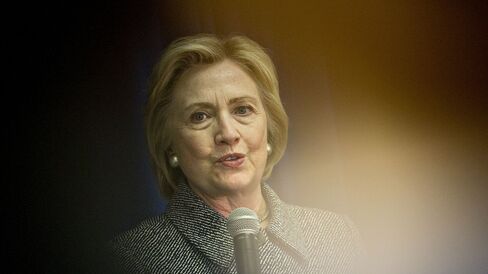 It was the not-so-calm before the storm.
Anticipating a chaotic January in Iowa ahead of the Feb. 1 Democratic caucus, Hillary Clinton and Bernie Sanders wove their way through rural towns on opposing sides of the state on Tuesday in final pre-Christmas visits. Clinton was on the east side of the state and Sanders was on the west, but they both had the same goal in mind: persuading undecided Democrats and turning out those who've already made their choice.
After sparring for days over the Sanders campaign's breach of Clinton voter data, the dispute of the day Tuesday was over fourth-quarter fundraising. Clinton campaign manager Robby Mook said in an e-mail to supporters that Sanders "is on track to outraise us this month," hyperbolically warning that "we might not have the resources we'll need to really compete" down the stretch in Iowa and New Hampshire.
Sanders communications director Michael Briggs responded by trying to downplay the sky-high expectations that Mook aimed to set. "We have no idea if we will raise more money this quarter than the Clinton campaign. Probably not," he said in a statement.
But in Iowa, the candidates and their campaigns didn't dwell on the cash race so much as they focused on their ground games.
"We've got 41 days. There's no time to waste," said Alex Butcher-Nesbitt, a Clinton field organizer in Jefferson County which, like the other counties Clinton visited Tuesday, she lost in 2008.
The Bloomberg Politics/Des Moines Register Iowa Poll conducted earlier this month by top Hawkeye State pollster J. Ann Selzer showed Clinton leading Sanders 48 percent to 39 percent among likely Democratic caucus-goers. That 9-point lead is better than Clinton has done in that poll since May, before Sanders's campaign caught fire in the state.
Joined by Agriculture Secretary Tom Vilsack—one of only two Democrats to serve as Iowa governor since 1969—and his wife, Christie Vilsack, who works for the United States Agency for International Development, Clinton traveled to the small towns of Keota and Fairfield, drawing crowds of about 700 in both places. She announced that Tuesday's visit was her 20th to the state since launching her campaign in April. And she'll be back in Iowa for at least a few days each week in January.
Sanders also made clear he'd be in the state plenty. "For better or for worse, you are going to see me a whole lot in your state in the next six weeks," he said during a morning town hall at Buena Vista University in Storm Lake. He wasn't kidding. A few hours later, his campaign put out a schedule that has him returning to Iowa for another three-day swing, starting Dec. 29.
"I think we have a real shot to win here with your support in Iowa. We've got a real shot to win in New Hampshire," Sanders said. "If we win in Iowa, if we win in New Hampshire, I think we've got a real path toward victory."
Clinton and her team lean away from making those kinds of declarations, and while the same was true Tuesday, she did hint at her deeper confidence in winning the Democratic nomination.
"I happen to believe that I am a better candidate to win, to be the next Democratic president and to pursue a progressive agenda," she said in response to a town-hall question in Fairfield from a man who said he worried that his Sanders-supporting friends might sit out the general election if Clinton is the nominee. "I would just ask that when this nomination is wrapped up that they come and join with us to make sure that we don't turn the White House back over to the Republicans."
While Clinton focused on eastern Iowa, Sanders spent Tuesday in the state's western third, on what was day two of a three-day swing through that region ahead of the holiday break.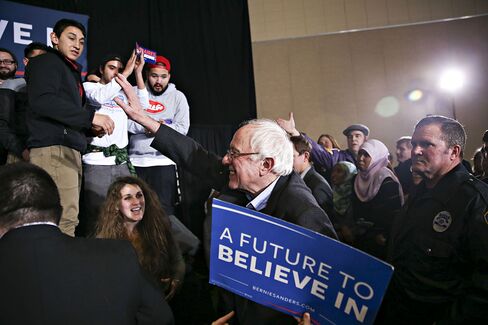 In Storm Lake, he sought to make the case for his viability, both in Iowa and nationally, pointing to the 2.3 million contributions his campaign says it's received. "That is just mind-boggling to me," he told an audience of about 150 people, small by Sanders standards. In 2008, there were just 1,200 Democratic caucus votes in surrounding Buena Vista County when then-Senator Barack Obama beat Clinton and others in a crowded field with 37 percent of the vote.
Several of Sanders's other Tuesday stops were also in small towns, in an effort to connect him with potential caucus-goers in rural parts of the state where he's spent less time after focussing the early part of his campaign rallying crowds of thousands.
Sanders also repeated an attack against Clinton that he first leveled Monday evening in Iowa, noting that in their Saturday debate in New Hampshire, the former secretary of state said she wanted to be loved by "everybody," including corporate America.
"I do not want to be liked by everybody," he said in one of his biggest applause lines of the stop. "I want to be liked and supported by the middle class and working families because I am going to take on Wall Street and the billionaire class. They do not like me today and they will like me even less if I'm elected president."
Mike Brown, 63, a graphic artist from Cherokee who attended Sanders's event in Storm Lake, said he was drawn to the candidate's message. "He's speaking a lot of truths that I've felt for a long time," he said. "In a lot of ways, I feel like Hillary stands for the status quo and Bernie is fighting that status quo."
Di Daniels, 64, an interpreter who lives in Storm Lake, said she admires Sanders and is leaning toward caucusing for him.
"He's decades ahead of his time, in terms of his ideas, and he's taking on some big challenges, like Wall Street and things so embedded in our culture," she said.
Still, Daniels said she worries her vote would be only "on principle" because she's not sure Sanders can win, much less accomplish the things he's arguing for. "I don't think he can sway the masses to do what he wants to do," she said.
Daniels said she was impressed by Clinton in Saturday's debate in New Hampshire. "She had such a command of that stage and she seemed so presidential to me," she said. "Hillary has the cojones."
Before it's here, it's on the Bloomberg Terminal.
LEARN MORE