Keep It Up, Odell, and You'll Join This Group Next Year: Read My Lips
Because where's the fun in making a 'nice' list?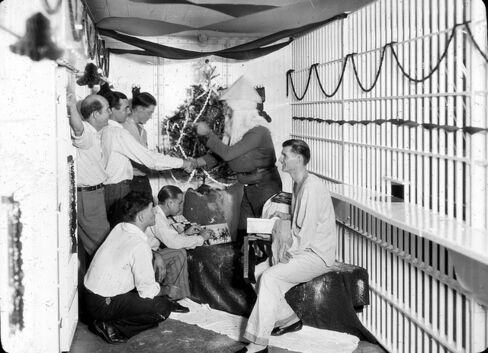 'Twas the week before Christmas and at the White House,
A guy named Obama was chasing a mouse.
This foul little vermin he wanted to crush,
But feared painting all rodents with such a broad brush.
Tolerance, he thought, that's the key to this season;
The whole world needs peace and to listen to reason.
Perhaps his next speech on TV to the nation
Should address this exact love-thy-mouse situation.
When on the South Lawn there arose such a clatter,
He sprang from the couch and caught sight of Sepp Blatter.
Bill Cosby was there, Brian Williams in back,
And a lady named Rachel who's white, maybe black.
The St. Paul dentist who killed Cecil the lion
Was next to that clerk who left gay couples cryin'.
They sat in a sleigh with a sign on its rear:
"This gang tried to make it a terrible year."
Up front, where you'd normally find the horsepower,
Were more unctuous people in need of a shower.
Why, this wasn't Santa tending o'er his flock!
'Twas an FBI favorite -- a jolly perp walk.

"Now, Hastert! Now, Silver!," the boss man exclaimed,
"More rich men from FIFA," and he named them by name.
"On Jared from Subway, so smart about deli.
Meet the guy next to you. His name's Martin Shkreli."
The group didn't end at those who'd been charged.
See, this naughty list had been much, much enlarged.
Included were people whose crime had been grimness,
Or cruelness or hatred or just simple dimness.
"Now Duggar, whose piety some porn site fell,
And that site's chief, Biderman'' -- a misnamed Noel.
"And Hillary, such a role model for females,
Who has a blind eye when it comes to her e-mails.''

"Cops shooting first and then questioning later,
Stand next to that guy we all call the Deflator.
Leave room as well for U.S. Secret Service,
Who must make a president's wife very nervous."
The serial taker of jokes, named "Fat Jew,"
Was paired with Hulk Hogan -- a racist! Who knew?
Steve Harvey arrived as a last-minute add,
For poorly misreading a cue card so bad.

That barely left room for the row of debaters,
Still hoping and praying that Donald Trump craters.
Huckabee, Carly, Pataki, Santorum,
Their slogans might be "If you can't beat 'em, bore 'em."
Speaking of which -- that boss man looked familiar,
With a head of swept hair kinda beige but vermili-er.
Why, it's Donald himself, running this perp-drawn luge,
And declaring, "The cable rights here will be huge."

He looked chubby and plump, like a billionaire elf,
And seemed full of ideas -- and full of himself.
He knew that his campaign for POTUS was rolling,
And was doing quite well in North and South polling.
He sprang to his sleigh, to his crew gave an order,
And away they all flew to watch Mexico's border.
But I heard them exclaim, through a wintry snow shower,
"Nothing corrupts like some money and power."
(Read My Lips is a column dedicated to the proposition that men and women in a position of power, or the pursuit of it, will say or do things for which they will be sorry.)
Before it's here, it's on the Bloomberg Terminal.
LEARN MORE