Support Network
Trump's Iowa Fans Aren't All Political Neophytes
An unscientific survey suggests his supporters may need less guidance than initially thought to be converted into actual caucus voters.
One of the biggest unanswered questions about Donald Trump's presidential campaign is whether the large crowds he's drawing are there to see a pop-culture celebrity or someone they actually plan to vote for to occupy the White House. The question is especially pressing in Iowa, where the state's first-in-the-nation presidential caucuses are just six weeks away.
An unscientific survey of more than 100 people, conducted by Bloomberg Politics during brief interviews scattered throughout an auditorium where Trump spoke Saturday in eastern Iowa, suggests his fans in the critical early state aren't all political newcomers, with about half saying they've attended the caucuses before.
That's important because past participation is viewed by political strategists as one of the best indicators of future attendance at an event that's more complex than voting in a primary and sometimes intimidating to the uninitiated. To try to determine the depth of their familiarity with the caucuses, the verbal survey also asked participants if they knew the date when the precinct-level meetings will be held.
Fifty people surveyed at Trump's rally in Cedar Rapids said they've attended the caucuses in the past, while 51 said they've never gone. A smaller number—44 of 101—were able to name the date for the caucuses, Feb. 1.
While only anecdotal, the findings suggest that a good share of those in Trump's crowds—consistently the biggest for any presidential candidate in Iowa—may need less guidance than initially thought to be converted into actual caucus voters.
After the holiday break, the campaigns will be shifting their get-out-the-vote efforts into high gear and will be continually trying to determine those voters they can count on, those that need more work and those that should be written off as non-supporters.
It's notoriously difficult to get caucus-goers out on a cold winter night for the hours-long meetings, so campaigns invest massive organizational efforts to push them out the door. In 2012, about 122,000 attended the GOP caucuses in a state with five times that many registered Republicans.
Angie Smith, who drove two hours to see Trump speak, seems likely to attend the caucuses. An owner of an estate sales business who lives in Middletown, Iowa, Smith said she calls about a dozen of her friends, family members and customers each week to try to convinced them to caucus for Trump.
"He's the only one who can get it done because he's got the money and the power to get it done," she said. "I also like his attitude: he doesn't take any crap."
Smith, who says she's registered under Iowa's "no party" designation, is the sort of voter Trump's campaign hopes will help expand the electorate beyond traditional caucus-goers. For months, his campaign has done things like put his name on a sprint car at a popular Iowa racetrack to try to appeal to new voters, including more moderate Republicans and independents.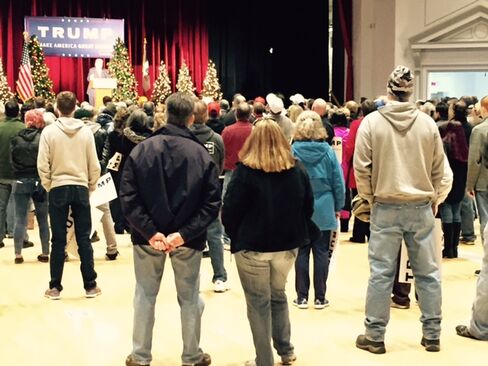 The growth can't be directly tied to Trump, but the proportion of those who say they'll be attending a caucus for the first time has gone up since his June entry into the race, according to the Bloomberg Politics/Des Moines Register Iowa Poll.
In May, 17 percent of likely Republican caucus-goers said they would be attending for the first time. That number was up to 24 percent in December, although some of the increase is natural as the caucuses get closer and more potential voters are informed about the event.
That same Iowa Poll earlier this month showed Trump in second place in the state, behind Senator Ted Cruz of Texas, who appears, for now, to be winning over many of the party's social conservatives.
David Redlawsk, a Rutgers University political science professor who is a longtime observer of the caucuses, said Trump can't count on his celebrity alone to be competitive and that crowd size is only one measure of possible future success.
"Even people who have been to the caucuses before need to be mobilized, either by direct touches from the campaign or friends and neighbors," said Redlawsk, a former University of Iowa professor who spent the fall in Iowa doing caucus research. "It's one thing to say that you go to the caucuses. It's another thing to actually go on Feb. 1, when it's cold and dark."
It's hard to draw historic comparisons to Trump's crowd sizes in Iowa, Redlawsk said, although the closest contrast may be that of President Barack Obama in 2007 and 2008 during his first caucus campaign. "Obama had some huge crowds, but we also knew they were working the ground incredibly hard," he said. "You've got to knock the doors and you have to pick up the phones."
During a rambling speech Saturday afternoon, Trump touched on the challenges of trying to assess, from the outside, the organizational strength of presidential campaigns in Iowa. "You can only see on Feb. 1," he told about 1,200 people gathered in a historic auditorium where in January 2008 Obama spoke just days before he won the caucuses.
The billionaire, flanked on stage by American flags and Christmas trees, pledged to have "the best ground operation" in Iowa. "If I'm wrong, I'm wrong," he said. "But I think we're going to make it. I think we're going to win Iowa."
Trump was trying to knock down a New York Times story that suggested his campaign has "fallen behind in the nuts and bolts of organizing" in Iowa.
Chuck Laudner, Trump's top Iowa strategist and a former executive director of the Republican Party of Iowa, declined to talk about any campaign metrics. But he did dismiss suggestions that Trump's effort is behind where it should be.
"It's wishful thinking on the part of opponents and the media," said Laudner, who managed Rick Santorum's winning campaign in Iowa four years ago. "If you are at the Trump events you can see how locked in people are and the intensity."
Before it's here, it's on the Bloomberg Terminal.
LEARN MORE