Spousal Benefits
Bill Clinton to Hit the Campaign Trail in January
After limiting his appearances on his wife's behalf, the former president is ready to hit the hustings.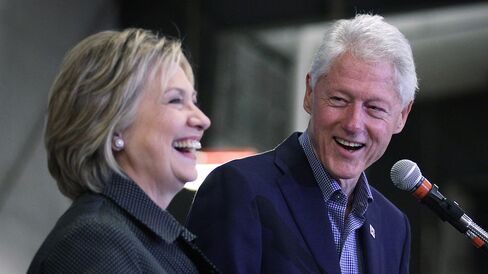 The Big Dog is about to hit the trail.
Former President Bill Clinton will start campaigning for Hillary Clinton in January, she told supporters at a party after the third Democratic presidential debate. "Starting in January, I'll have my not-so-secret weapon," she told supporters gathered at Milly's Tavern in Manchester, New Hampshire
"We're going to cover as much ground in New Hampshire as we possibly can, see as many people, thank everyone who's going to turn out and vote for me to try to get some more to join them," the candidate said. "Bill and I know we really cannot do this without all of you."
The former president spoke at a rally ahead of the Iowa Jefferson-Jackson Dinner in late October but has otherwise limited his public appearances on his wife's behalf.
This year, he's focused on shoring up the Clinton Foundation's finances ahead of a more intense schedule of campaigning and, potentially, life in the White House, where, Hillary Clinton assured a debate audience on Friday, he would probably not take the traditional role of selecting floral arrangements and china patterns for state dinners.
He has been appearing with his wife and on his own at campaign fundraisers since the summer. Chelsea Clinton is also slated to start campaigning for her mother next month.
Before it's here, it's on the Bloomberg Terminal.
LEARN MORE