Swing State Turmoil
The Democrats' Problem in Pennsylvania Is Falling Star Kathleen Kane
Indicted in August for perjury, the state's attorney general could prove to be a liability for a Clinton presidential run.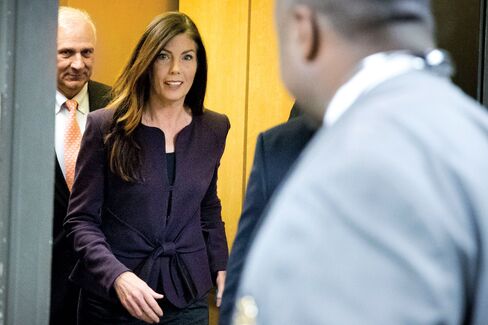 In 2012, Kathleen Kane was a rising star in the Democratic Party. A political neophyte, she had just become the first woman and the first Democrat elected to the post of Pennsylvania attorney general, thanks in part to an endorsement from Bill Clinton.
Today, charged with perjury, Kane is at the center of a political storm, complete with bitter feuds, political sting operations, racist e-mails, pornography and, because that's not enough, the ghost of Joe Paterno.
Kane, who maintains she is innocent, is only the second attorney general in state history to be indicted. She is accused of orchestrating a leak of grand jury information to embarrass a Republican rival and then lying to cover it up. The events surrounding the scandal, which have led to the resignation of a Democratic state Supreme Court justice, are already a problem for the party's efforts in Pennsylvania. There, the Democratic leadership is looking to hang on to Kane's seat if she loses it and to unseat Republican Senator Pat Toomey, a former U.S. representative who was president of the fiscally conservative Club for Growth.
But the indictment could also end up playing a part in the presidential race. Pennsylvania, which went for Barack Obama in 2008 and 2012, is crucial to the Democrats in 2016. The scandal offers the GOP a cudgel against front-runner Hillary Clinton (whose 2008 presidential campaign operation in the state included Kane) if she is tapped as its nominee.
"Can you believe the Republicans are going to run and not make this a central issue?" said Terry Madonna, director of the Center for Politics and Public Affairs at Franklin & Marshall College in Lancaster, Pennsylvania.
Kane, who was indicted in August, has pleaded not guilty. She has refused the calls of party leaders, including Pennsylvania Governor Tom Wolf, to resign. Kane hasn't ruled out running for re-election next year, either, threatening to fracture the party.
"It's a mess that seems to continue to unravel," said T.J. Rooney, formerly a state legislator and state Democratic Party chairman, who doesn't think the standoff will affect the presidential race. "Every time you think you've gotten to the point of no return in terms of how crazy it all is, there seems to be another layer."
Kane has even found herself in the weird position of calling for her own impeachment hearing. The state's Senate, which is controlled by Republicans, has scheduled a Jan. 12 session on whether to invoke a rarely used constitutional provision to remove her from office outright. To ward off that effort, Kane wants an impeachment hearing instead, claiming it will give her "more of an opportunity to make her case" and that it "gives more legislators an opportunity to cast their votes," said Chuck Ardo, Kane's press secretary.
"She's been dragged through the mud to this point and doesn't believe things could get much worse in the silly season we call campaigning," Ardo said.
They could get much worse, if not much sillier. Pennsylvania, a swing state in presidential elections, has voted for Democrats in six straight contests, but voters disgusted by the escapades could swing red. Democrats need a very large turnout to carry the state, said Thomas Baldino, a professor of political science at Wilkes University in Wilkes-Barre, Pennsylvania.
"If it's Hillary against another Republican who might take away some of the more conservative Democratic voters, then anything is possible,'' he said.
"I can't imagine that any Democrat running in 2016 is happy that Kathleen Kane is still around," said Republican strategist Charlie Gerow, national co-chair of Carly Fiorina's campaign. "It puts them in a position of having to consistently call on her to resign, and that's not where you want to be when you're running for office on the same party ticket.''
Sinceré Harris, executive director of the state Democratic party, didn't immediately return a call and e-mail seeking comment.
It's been a year of scandals for the Democrats in the Keystone State. In February, former Pennsylvania Treasurer Rob McCord pleaded guilty to federal charges that he tried to extort money from campaign donors. In June, several current and former Democrats in the state's House entered guilty pleas to corruption charges, accused of taking bribes from a confidential informant. In July, Democratic stalwart Chaka Fattah, a Philadelphia congressman, was indicted for allegedly stealing hundreds of thousands of dollars in charitable and federal grant money; he has denied the charges. Kane's indictment followed in August.
Kane, 49, is accused of leaking documents about a 2009 grand-jury investigation—led by her rival, Frank Fina, the chief deputy attorney general at the time—into the finances of a Philadelphia civil rights leader. She says she wasn't bound by the rules of secrecy governing the grand jury proceedings because she had left the D.A.'s office in 2007. The leak followed criticism of her decision to shut down a three-year undercover sting operation led by Fina that caught several Democratic Philadelphia legislators on tape accepting bribes and that she said was flawed.
Kane has said the charges against her, filed by Republican prosecutors, are retribution for her role in uncovering racist and misogynistic e-mails circulated by state officials from both parties, including Fina. The e-mails, some of which contained pornographic images, were discovered during a review of how former Governor Tom Corbett, a Republican, handled the investigation of Jerry Sandusky as attorney general. The former Penn State assistant football coach is serving a 30-year prison term for serial sexual abuse of children in a case that brought down the Nittany Lions' revered coach, Joe Paterno, who died in 2012.
While some of the e-mails were offensive, there was nothing illegal about them, Fina said in a lawsuit filed in November against Kane. The lawsuit, filed with several former and current prosecutors, accuses Kane of trying to advance "a personal and political vendetta'' against them.
Kane has used the e-mails to her advantage, teasing out the content in interviews before finally leaving a stack of disks, containing dozens of offensive images, in her Harrisburg office for the taking.
After her work on the 2008 Clinton campaign, Kane became a stay-at-home mom until she ran for office. A former Lackawanna County assistant district attorney who specialized in prosecuting child abuse, she won the Democratic nomination for attorney general in 2012, over former U.S. Congressman Patrick Murphy, as Bill Clinton's endorsement helped give the political unknown an edge. In the general election, she reaped the most votes of any candidate in the state.
Maybe she could have used more experience. Kane's decision to go after Fina by leaking information was a "very bad instinct,'' said Bruce Ledewitz, a professor at Duquesne University School of Law. "That instinct to retaliate in that way, is that a rookie mistake or is that, rather, a character flaw? If you're going to be a prosecutor, you have to resist the temptation, unless you're Richard Nixon, of using prosecution to retaliate against your enemies."
Ed Rendell, a former Democratic National Committee chairman and governor of Pennsylvania, thinks the damage is too local to affect the race for president. That said, Pennsylvania could become a battleground state for Democrats again if Jeb Bush, John Kasich, Chris Christie or Marco Rubio is the Republican nominee, Rendell said.
"The balance of power in Pennsylvania is suburban Republicans and independents who have been voting for Democrats starting with Bill Clinton," he said. About 1 million voters in the state are registered as independents.
The impact of the Kane scandal on the presidential race depends on timing, Wilkes University's Baldino said. If her criminal trial takes place near Election Day, he said, Republicans "will be pleased to remind voters of that particular story line."
Before it's here, it's on the Bloomberg Terminal.
LEARN MORE