'Star Wars: The Farce Awakens' Has Spoiler for Jeb: Read My Lips
When the establishment becomes the rebellion.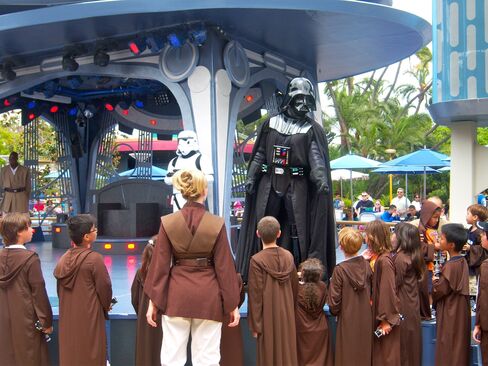 Not long ago, in a gambling family-themed entertainment resort not far away, the leaders of the ESTABLISHMENT REBEL ALLIANCE come together to plot the downfall of DON VADER and the Evil Empire.
HAN KASICH:
Our Jedi knight, Jeb! Skywalker, has vanished. Or at least his campaign seems to have. It's pretty much gone. Last time we saw him, he was doing a soundcheck in Spanish.
SENATOR BAIL RUBIO:
Princess Carly was captured while trying to find him. Fortunately, Christobacca was able to rescue her, using his experience fighting terror as a galactic prosecutor. He was a galactic governor, too, but he doesn't seem to be talking about that much. The princess is here to brief us on her mistreatment at the hands of Don Vader and his thugs.
PRINCESS CARLY:
They called me every "B" word in the book.
HAN KASICH:
Jeb! clearly needs our help. There may be no hope for the rest of us, but we have to circle the X-wing fighters a little bit here. We need … the Farce. With us is one of the most distinguished citizens of Yavin, a medical doctor with a keen mind and gifted hands. Take it away, OBen-Wan Carsonobi.
[OBEN-WAN STARES AT THE CEILING WITH A FAINT SMILE.]
OBen-Wan, hello? You're on. You been hittin' the Arkanian sweet milk again? Time is of the essence. Seconds count. Let's go.
OBEN-WAN:
Thank you. Please join me for a moment of silence in remembrance of the victims of the Battle of Tatooine.
[THE ESTABLISHMENT REBEL ALLIANCE LEADERS PROVE INCAPABLE OF SILENCE.]
Thank you. You know, our alliance since its inception has been at war every 15 or 20 years. Wait, when was the last movie? Anyway, the war that we are fighting now against the successor to the Empire is one that we must win.
SENATOR SETI CRUZ:
Can we cut through all this? It's time to carpet-bomb the Empire.
PRINCESS CARLY:
The Farce is strong in this one.
SENATOR BAIL RUBIO:
Who let him in the establishment alliance, anyway?
[AN EXPLOSION SENDS THE LEADERS SPRAWLING. THROUGH THE SMOKE EMERGES AN UNMISTAKABLE FIGURE OF DARKNESS AND DOOM. IT'S DON VADER, HOLDING JEB! SKYWALKER IN THE AIR BY HIS COLLAR]:
DON VADER:
You losers still think you have a prayer against the Dark Side? All I do is win. I've been winning all my life. You blow up the Death Star, and a few years later, you've got Vader Village. Nicest condos you've ever seen. Resistance is futile. Just ask Boba Jindal.
JEB! SKYWALKER:
You're never going to insult your way to galactic domination.
DON VADER [MAKING INCREDULOUS FACE]:
Oh, really?
JEB! SKYWALKER:
Well, that's what my dad told me...
DON VADER:
Jeb! I am your father.*
* Yes, we know this isn't the exact quote. Just go with it.
*****
Dear Diary,
Pumski's been in a pretty lousy mood lately. Naturally this has to come at Christmas the holidays. The girls and I are walking on eggshells. Bo and Sunny are slinking around with their ears pinned back. I've ripped through a case of Graham Beck in a week.
Didn't help that he was getting his own ears pinned back during the debate the other night. Seriously, you idiots -- you want to put us on a permanent war footing with 1.6 billion people? Pumski didn't start this fight, you did. It takes a man to exhaust all options for steering clear of a fight, although the Chi-Raq in me would like to take it to some of the war-mongers on the stage in Las Vegas. I'll make your %&#*-ing sand glow.
But on top of that, now that all anyone is talking about is Paul Ryan's beard, hubby mopes around like he doesn't even care that he's the one with the nuclear football. (Note to Donald: No, this isn't part of the triad.) I mean, it's not his fault he couldn't grow facial hair even if you smeared it with Chia seeds. Is it manly? he asked the other night. Well, a little, I said. It's not like he's gone full-Letterman. (Fact is, the speaker looks pretty hot with it, but I didn't say that. And those eyes.)
Then yesterday Putin gets all PDA with Trump, and you could see WTF written across Pumski's face. Pumski asked what "talent" Trump has besides spending his inheritance, exploiting bankruptcy laws, bringing American fascism to life with little more than Twitter, and a single-digit golf handicap (the golf thing really burns him). I ignored it. There's no right answer. He said Hillary'd better not botch it this time or he's going to call in sick on Inauguration Day.
Yeah, rough week, but man up, dude. That's why I'm getting him a new Nautilus machine for Christmas the holidays and having it upholstered with ISIS ISIL flags. Anything to make him think he's tough.
All for now. Have to pack for Hawaii. Maybe he can choom his way out of this funk once we're there.
Michelle
("Read My Lips'' is a column dedicated to the proposition that men and women in a position of power, or the pursuit of it, will say or do things for which they will be sorry.)
Before it's here, it's on the Bloomberg Terminal.
LEARN MORE