A State Divided
Iowa Poll Exposes Sharp Partisan Divide on National Security
Ahead of Clinton national security speech, survey shows parties sharply divided on how to keep the U.S. safe.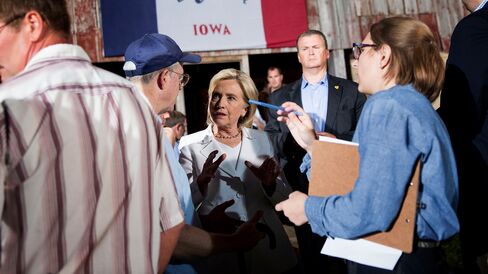 As Democratic presidential front-runner Hillary Clinton prepares for a Tuesday speech on national security, new data from a Bloomberg Politics/Des Moines Register Iowa Poll shows that the topic is dividing voters along sharply partisan lines in the wake of terror attacks on Paris and San Bernardino, California.
Among Republicans who plan to attend Iowa's Feb. 1 caucuses, where the first votes of the 2016 presidential campaign will be cast, 78 percent said they are mostly not confident that the U.S. has done enough to prevent another major terror attack. Just 27 percent of Democrats said the same.
Clinton, who served as President Barack Obama's secretary of state from the beginning of his first term until 2013, has emphasized her involvement in his foreign policy decisions. At the University of Minnesota in Minneapolis, her campaign said, she will present a "comprehensive strategy to counter the process that can lead to an attack like San Bernardino."
A statement provided to reporters said this will include steps to combat recruitment of Americans by terrorist organizations "while staying true to our values."
Clinton has pushed back strongly against some of her Republican rivals' proposals in response to the terror attacks. Unlike most Republican presidential candidates, she supports Obama's call for the U.S. to take in 10,000 refugees from Syria, a country where civil war has created haven for the the Islamic State. Like Obama, Clinton has condemned Republican presidential front-runner Donald Trump's call for a ban on Muslim travel to the U.S.
The latest Iowa Poll numbers show that Clinton in in sync with her party's loyalists in the state. Eighty-three percent of Iowa Democrat caucus-goers said their state should take in refugees who've passed background checks, compared to 28 percent of Republican caucus-goers.
Iowa Republicans are more divided when it comes to Trump's proposed Muslim travel ban. Forty-nine percent support it, while 43 percent oppose. Democrats are more strongly opposed, with 87 percent saying the United States should not impose a ban on Muslim immigration.
Iowans are also split along party lines when it comes to placing blame for the current state of national security. Asked what they thought did most to destabilize the Middle East, 63 percent of Democratic caucus-goers citedcthen-President George W. Bush's 2003 invasion of Iraq, a view shared by 18 percent of Republicans. Just over half of the Republicans surveyed, meanwhile, see the Obama administration's decision to withdraw combat forces from Iraq at the end of 2011 as the biggest contributing factor.
The Iowa Poll, taken Dec. 7-10, surveyed 400 likely Republican caucus participants and 404 likely Democratic participants by Selzer & Co. of Des Moines, Iowa. It has a margin of error of plus or minus 4.9 percentage points for both parties. The question about the ban on Muslim travel was added after the poll began and was asked of 355 respondents from each party. For that question, the margin of error is plus or minus 5.2 percentage points.
Before it's here, it's on the Bloomberg Terminal.
LEARN MORE