House Democrats Hang 2016 Hopes Largely on Clinton's Coattails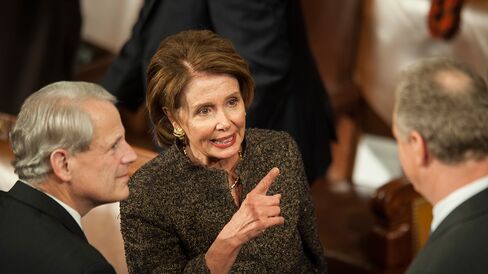 Pelosi offers gun plan in line with presidential frontrunner

Party needs 30 seats to retake chamber from Republicans
As top U.S. lawmakers haggled over a must-pass spending bill, House Democratic leader Nancy Pelosi last week slipped in one more request to Speaker Paul Ryan: reviving federal research on gun violence.
The gun proposal, like Democratic demands for tax breaks for the middle class and poor, is a way to set themselves apart from House Republicans. It also links their longshot bid to win the majority in 2016 with Democratic front-runner Hillary Clinton's push for firearm controls in her presidential campaign.
"We will always have a big focus on gun-violence prevention," Pelosi of California reiterated to reporters on Friday in Washington after pitching the research effort in a conversation with Ryan earlier in the day.
The comeback challenge is daunting: Democrats would have to gain 30 seats in November to take the House, now controlled by Republicans. And so far, Democrats' efforts at forging their 2016 legislative message have been less substantial and more diffuse than those of Republicans -- leaving them to rely on Clinton to give the party's congressional candidates a lift.
Ryan is using the spending talks to show Republicans can govern. He already gave a speech on Dec. 3 spelling out a detailed "pro-growth" agenda, an early road map of what his members will run on in 2016.
Ryan is avoiding much talk about his party's potential presidential nominee and any Republican nervousness over inflammatory rhetoric from front-runner Donald Trump. House Republicans will focus on laying out a positive vision for the country, he told reporters Thursday.
No Time to Wait
"I don't think that we have the time to wait until a nominee arrives, which could be as late as, I don't know, June or July," said Ryan of Wisconsin, his party's 2012 vice presidential nominee. "What I learned in presidential campaigns is you have to start talking about these issues early."
With Republicans grabbing most of the public attention with a hotly contested primary race and a new House speaker who's already a political star, Democrats are forced to try to break through with policy proposals such as the gun-research one reacting to this month's massacre in San Bernardino, California. Congress has banned gun violence research by the Centers for Disease Control and Prevention for 19 years.
Democrats also are seeking to continue wind and solar tax breaks, as well as a permanent extension of the current Child Tax Credit, the Earned Income Tax Credit and the college-tuition tax credit.
Their campaign-year talking points won't be rolled out until closer to the election, perhaps as late as August, said Representative Steve Israel of New York, who is in charge of message development.
Top of the Ticket
For now, House Democrats are talking more about how they'll get a big boost from the top of the presidential ticket, with a kicker also that voters are tired of long-running House Republican dysfunction.
"It depends on what happens on the presidential, too, I keep reminding people," said Pelosi during an interview last week on PBS's "Charlie Rose" program with Al Hunt of Bloomberg News.
Non-presidential election years -- such as 2014, when Democrats lost 13 House seats and plummeted to the smallest House minority since the 1920s -- "are like the lounge act. So, who goes there, right?" Pelosi said in November.
Pelosi is careful not to declare Clinton as the obvious winner of her party's 2016 nomination -- not directly, that is.
"We have three great candidates. Any one of them would walk into that Oval Office with all the values of our country; we would be very proud of them whoever she may be," she said on PBS.
Fundraising, Turnout
Democrats say that if Clinton carries the 2016 presidential banner, that would boost fundraising and turnout for women, minorities and other Democrats.
"Democrats are prepared to seize on opportunities in the political atmosphere, whether they are presented by the ultra-conservative House of Representatives or the circus of Republican presidential candidates," Democratic Congressional Campaign Committee Chairman Ben Ray Lujan of New Mexico said in a statement to Bloomberg.
With these hopes, Lujan and Democratic Party strategists in Washington say they are digging deep into the electoral map and finding an expansive battleground that could stretch to as many as 65 seats viewed as competitive to some degree.
Democratic leaders aren't predicting a "wave" election in 2016 that would turn over the House majority. Democrats say Republicans are likely to struggle to hold seats in swing districts in states including New Hampshire, Maine, New York and Illinois.
Seats 'In Play'
The nonpartisan Rothenberg & Gonzales Political Report lists 31 U.S. House seats "in play," 25 of which are held by Republicans. Thirteen of those are depicted as pure tossups, with three held by Democrats and 10 by Republicans.
Gaining 30 House seats in one election isn't impossible. In 2006, Pelosi oversaw Democrats' net gain of 31 seats that gave them the majority and made her the first female House speaker. Democrats held onto that majority for four years.
Ryan became speaker in October and is working to curb Republican turmoil that forced out former Speaker John Boehner of Ohio. And now, he must also deal with a growing unease from some in his party over potential damage from the eventual 2016 presidential nominee.
Ryan was quick among party leaders last week in condemning Trump's call for a ban on Muslims entering the country. By week's end, the speaker was back to deflecting questions about the presidential race, saying he was focused on a House Republican message for 2016.
'Not Multiple Messages'
Democrats' message "will be in sync with our presidential candidate," Israel said. "Not multiple messages. A good message is not multiple messages." The strategy will be to sharply contrast "Republicans' obsession with protecting special interests" with "Democrats fighting for everyday Americans," he said.
Representative Raul Grijalva of Arizona, who backs Senator Bernie Sanders of Vermont for the Democratic nomination, says party members in the House need to stop "tiptoeing" and be more assertive on precisely what issues they'll fight for. Grijalva is co-chairman of the Congressional Progressive Caucus of about 70 liberal House members.
New York-based pollster John Zogby agrees that Ryan and House Republicans could face problems in 2016 from the top of their ticket. "The wrong candidate could bury the GOP," the pollster said.
On the other hand, said Zogby, "There is no proof yet that Hillary Clinton can energize base voters the way Barack Obama has done."
Party Unity
One reason Democrats are counting on help from the Democratic nominee is that they also are struggling with party unity and messaging, said Joshua Huder, a senior fellow at the Government Affairs Institute at Georgetown University in Washington.
"Democrats coalesced behind Obama's agenda in 2008 and won huge majorities," said Huder. "In subsequent years, however, their success has divided the caucus." Democrats have split over proposed changes to Obamacare and the repeal of Dodd-Frank financial regulations.
Most recently, 47 House Democrats voted with Ryan and Republicans, and against Pelosi, on a bill to block resettlement of Syrian refugees in the U.S., as some complained about the lack of a Democratic alternative.
Still, House Democrats insist there are no rumblings of anyone ready to take on Pelosi, 75, for party leader if they don't win the majority next year. A major reason is that she remains the party's fundraising rainmaker, having raised more than $80 million in the last two-year election cycle.
Tough Adversaries
Pelosi and her colleagues have shown during the fiscal talks that they can be tough political adversaries, reminding that Republicans probably will need dozens of Democratic votes to pass the spending bill and avoid a government shutdown. Democrats took firm stands against what they called Republican "poison pill" provisions to ease financial, environmental and labor regulations, and those dealing with guns.
While those aren't new positions for House Democrats, they're in line with the party's presidential candidates.
"A presidential race is the main event," Pelosi said. "It has everything. It has glamour, it has money, it has power, it has showbiz. It's an attraction."
Before it's here, it's on the Bloomberg Terminal.
LEARN MORE