Safety Measures
Connecticut's Malloy Claims First Ban on No-Fly Gun Sales, But Don't Forget Christie
The Connecticut governor said Thursday "if Congress does not act, we in the states will."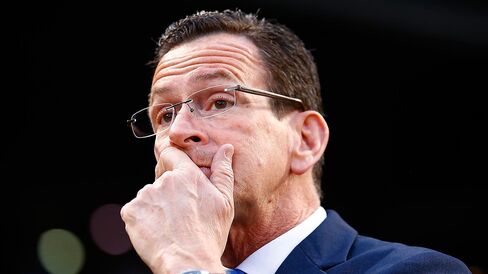 When Connecticut Governor Dannel Malloy said Thursday that he wants to make his state the first in the U.S. to bar gun sales to those on the terrorism no-fly list, he forgot one detail: Another state already beat him to it two years ago, and its governor happens to be Chris Christie, one of Malloy's frequent Republican targets.
Malloy, who said he came up with the gun control plan last week, noted that more than 90 percent of the 2,233 people on watch lists who have tried to buy guns and explosives in the past decade have succeeded. Under the executive order he pledged to sign, people on certain federal watch lists couldn't get a permit to purchase guns or ammunition in Connecticut, he told reporters in Hartford.
"If Congress does not act, we in the states will," Malloy said. "It's basic common sense. The American people get it."
The issue flared up after the U.S. Senate last week rejected a measure by a 54-45 vote that would have prevented people on terrorist watch lists from being able to purchase firearms. Lawmakers have sought to impose tougher limits on gun purchases after a mass shooting on Dec. 2 that left 14 people dead at a social services center in San Bernardino, California.
Malloy was governor during the 2012 massacre at Sandy Hook Elementary School in Newtown, Connecticut, that claimed 26 lives. The following year he passed gun safety legislation that banned buying and owning assault weapons. Background checks are mandated for any gun purchase in the state.
New Jersey's Lead
Christie signed a package of 10 bills spurred in part by the Sandy Hook Elementary shooting that among other things upgraded some penalties for arms trafficking, required the submission of some mental health records to the National Instant Criminal Background Check system and created a study commission on violence.
Tucked in that package was a bill (A3687) that read "the inclusion of a person on the Terrorist Watchlist is of such a serious and potentially threatening nature that it warrants a separate statutory provision denying that person's capability to lawfully obtain a firearm in this State."
"These commonsense measures will both strengthen New Jersey's already tough gun laws and upgrade penalties for those who commit gun crimes and violate gun trafficking laws," Christie said in a release announcing he'd signed the package.
Before it's here, it's on the Bloomberg Terminal.
LEARN MORE