California Seeks to Overturn Barrier to Kochs' Donor List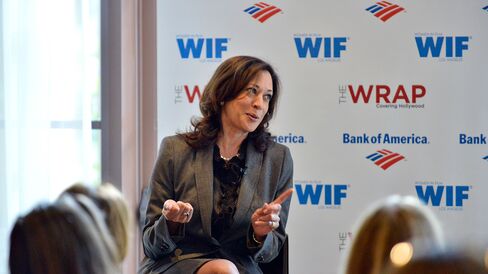 Attorney General Kamala Harris wants same data the IRS gets

Foundation claims donors will flee if identities disclosed
California's Democratic attorney general says she can be trusted to keep secret the names and addresses of donors to a nonprofit started by conservative billionaire brothers Charles and David Koch.
Still, Kamala Harris has a fight on her hands trying to get the brothers' Americans for Prosperity Foundation to give her access to the same confidential data it already provides to the Internal Revenue Service.
Harris has been sparring since last year with the foundation, which claims its contributors may face "grotesque threats" if their identities are revealed. The two sides faced off Wednesday before a federal appeals court in Pasadena, California, over whether the foundation will have to supply the information while the court battle continues.
The foundation, which promotes causes such as limiting the size and power of government, persuaded a Los Angeles judge in February to keep the information off-limits to Harris until the legality of the state's disclosure requirement is resolved.
But the appeals court sided with Harris in May in a similar case involving a different foundation. A three-judge panel said alleged concerns about threats against that group's donors were "speculative" and not supported by evidence.
Violent Threats

At Wednesday's hearing, the three judges didn't tip their hand whether they would let Harris have access to Americans for Prosperity's donor information. The judges said without codified rules that prevent public disclosure of the information, there is only the attorney general's stated policy.
"Attorney generals change policy," U.S. Circuit Judge Jacqueline Nguyen said. "What assures the court there won't be public disclosure?"
Deputy Attorney General Alexandra Gordon told the judges that new regulations to prohibit such disclosure are in the making, though she didn't know when they would be enacted.
Americans for Prosperity contends its fears of harassment are justified, saying its associates are regularly threatened with violence.
'Chief Targets'
"Among the chief targets are David Koch and Charles Koch," the group said in a June court filing. "Over the past few years, they have faced unrelenting threats and attacks via social media, phone calls, e-mail, and protests outside their homes and offices, due in part to their work with, or perceived ties to, the foundation."
The foundation said potential donors, some of whom live in California, have declined to contribute money because they're afraid it might become public, and current donors have indicated they would stop giving if their identities are disclosed to California officials.
Harris said the information she seeks will be kept in a confidential registry just like that of other tax-exempt organizations required by the state to submit a copy of their IRS filings. It won't be disclosed to the public, undermining the foundation's legal arguments, she said.
"Most of plaintiff's evidence involves harm and fear of harm arising from the Kochs' and the foundation's public presence and public disclosure of its donors," Harris said in a court filing.
Arizona Groups
Harris, who is running for the U.S. Senate, helped obtain a $1 million settlement in October 2013 with two Arizona-based political groups that California election regulators said had ties to Charles and David Koch. The agreement resolved claims that the groups violated California campaign finance laws by concealing the origin of $15 million in donations to conservative causes in the 2012 election.
The Kochs have said they were wrongly linked to the political groups.
The case highlighted "the nationwide scourge of dark money nonprofit networks hiding the identities of their contributors," Ann Ravel, then head of California's Fair Political Practices Commission and now chair of the Federal Election Commission, said at the time.
The political network overseen by the Kochs in January set a fundraising goal for the presidential election of $889 million at a Koch-organized summit in Palm Springs, California, for 450 wealthy donors and advocates for more limited government. Various parts of the network run television ads, develop voter data files and operate phone banks.
$100 Billion
The brothers, who also contribute to Republican candidates, haven't endorsed a candidate in the GOP primary for the presidential nomination. They are ranked on the Bloomberg Billionaires Index as the world's sixth- and seventh-richest people with a combined net worth of more than $100 billion.
Americans for Prosperity sued Harris last year, alleging the attorney general "suddenly" started to demand copies of their IRS filings with the names and addresses of their donors.
The attorney general maintains that because of chronic underfunding and staffing constraints, her office had fallen behind in collecting annual IRS filings of tax-exempt organizations.
Harris's office has said the confidential donor information is used to investigate potential fraudulent conduct, such as donors' using a charity to fund their business or pass money to family members.
California has requested the foundation's IRS filings for fiscal 2011 and 2012.
The case is Americans for Prosperity Foundation v. Harris, 15-55446, U.S. Court of Appeals for the Ninth Circuit (San Francisco).
Before it's here, it's on the Bloomberg Terminal.
LEARN MORE