De Blasio Enlists New York City's Wealthy for His War on Income Inequality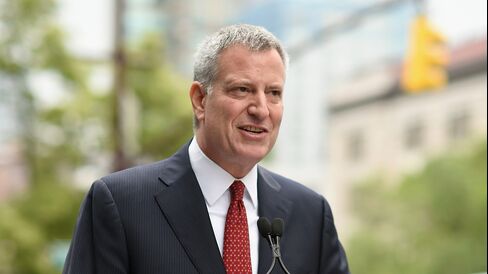 After campaign attacks, mayor finds allies on Wall Street

`It took a little bit of time for the relationship to blossom'
New York Mayor Bill de Blasio, who became a scourge of the wealthy with a vow to raise their taxes, has enlisted members of the financial elite to advance his agenda.
Venture capitalist Fred Wilson has offered $5 million to get computer science in every city school, while Viacom Chief Executive Officer Philippe Dauman is pushing for more broadband Internet in the Bronx. Hedge-fund operators Paul Tudor Jones and William Ackman and Blackstone Group LP President Tony James are helping with affordable housing, mental health and youth employment.
De Blasio, 54, a Democrat who pledged to fight income inequality, has accused the rich of using their influence to block antipoverty efforts. Lately, that rhetoric has been mixed with paeans to public-private partnerships forged to attack homelessness, create jobs and improve schools and health.
"We may not agree on individual issues but we're all in the same ecosystem," said Morgan Stanley Chief Executive Officer James Gorman. He's co-chairman of the Partnership for New York City, a group that finds corporate partners for city programs, such as job experience for youth and investment in economic development.
For several corporate leaders, cooperation began last year when de Blasio sought their help in a failed effort to persuade the Democratic Party to choose New York City for the 2016 convention.
Selfish Interest
Wilson, co-founder of Union Square Ventures who helped finance Twitter Inc.'s creation, persuaded the de Blasio administration to embark on an $81 million plan to train 5,000 teachers over 10 years. He put up $5 million, matched by AOL's charitable foundation, with the city and more private sources paying the rest. Wilson said he approached city officials after reading that de Blasio said that boosting schools' ability to teach science, technology, electronics and math could solve the industry's labor shortage.
"I'm invested in 25 technology companies and none of them can find enough workers, so I have a selfish interest in solving this," Wilson said. "Even if we just got 5 percent of the 65,000 kids who graduate each year, that would amount to 3,000 kids, as opposed to the 500 now enrolled in Advanced Placement computer science."
Just last week, Unilever committed to raising $4.1 million of $5.3 million in private donations to a city public-health program providing 12 low-income neighborhoods with better access to fresh fruit and vegetables, recreation and exercise and health-care facilities.
"Our city's business and philanthropic communities are critical collaborators in our work fighting against income inequality," de Blasio said in an e-mailed statement. "With support of our private partners we are working to strengthen the economy, prepare our future workforce and make our city more equal and accessible."
Jones, founder of asset manager Tudor Investment, has been trying to find a way for the Robin Hood Foundation, which he started 27 years ago to aid New York City's poor, to help de Blasio realize his goal of creating 200,000 units of affordable housing. The foundation has also backed de Blasio's computer-science initiative.
The foundation, built on the largesse of Wall Street and real-estate investors, last year contributed more than $130 million to programs run by the city government and private nonprofits.
Wealth Concentrated
"We can bring everyone in the real-estate industry to the table and have a wonderful public-private partnership," Jones said last summer after briefly encountering de Blasio at the East Hampton home of billionaire investor Ronald Perelman.
The encounter occurred just a month after de Blasio told CNN's Carol Costello, "we have seen wealth concentrated in fewer and fewer hands and have a negative impact on how many people are unemployed and what kind of wages they have."
The mayor has quieted the antagonism since then, said Robin Hood executive director David Saltzman.
"It took a little bit of time for the relationship to blossom but it has blossomed," Saltzman said.
Criticism Faced
As the mayor's relationship with some of the wealthiest investors and executives has improved, he's faced criticism from neighborhood groups and past supporters.
His affordable-housing zoning plan, which would increase density to help finance construction of below-market units, has come under attack from advocates and community boards who say it would spur gentrification. Some accuse him of being too generous with developers who would benefit from tax abatements and subsidies.
De Blasio also has failed to convince some of the city's wealthiest philanthropists. Kenneth Langone, the Home Depot Inc. co-founder and Republican donor who has served on the Robin Hood Foundation's board, said he's not interested in collaborating with de Blasio.
"I have no interest in being involved with politicians, because clearly they can't get anything done," said Langone, who gave $200 million to NYU Medical Center and millions more to other charities. "He's got plenty of authority to do what it takes to fix the schools. When he does that, he'll have a better chance of getting more cooperation and help."
De Blasio's outreach to investors and corporations is coordinated by an Office of Strategic Partnerships. Its director, Gabrielle Fialkoff, is a former jewelry-company president who was finance director for Hillary Clinton's 2000 U.S. Senate campaign, which de Blasio managed.
Fialkoff enlisted Blackstone's James and Deloitte LLP's New York managing partner Steve Gallucci, to participate in a coalition of 60 companies to raise $5.4 million, some of which paid for an $80 million program that helped connect 54,000 young people to jobs and internships. Her goal is for the city to create 100,000 such opportunities within five years. New York-based Blackstone is the world's biggest manager of alternative assets, overseeing $334 billion in private equity holdings, real estate, credit assets and hedge funds.
"If the city is to remain the commercial center of the world, we need the private sector at the table," she said. "They understand that we can offer them a return on their investment."
Before it's here, it's on the Bloomberg Terminal.
LEARN MORE