Biden Warns Ukraine That Corruption Imperils Its Democracy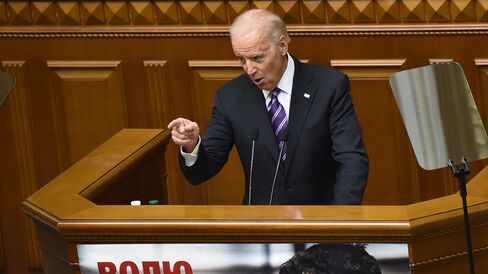 U.S. vice president urges Ukraine to proceed with reforms

Sanctions against Russia to remain until Minsk accord met
Ukraine must root out corruption and impose the rule of law or risk graft becoming the "death knell" of the eastern European nation's democracy, according to U.S. Vice President Joe Biden.
Biden, visiting Kiev for the fourth time in two years, warned against repeating the broken reform promises of the 2004 Orange Revolution, which failed to curb the clout of the businessmen that control Ukraine's biggest companies and influence politics. The government must complete economic overhauls under a $17.5 billion bailout from the International Monetary Fund, he said.
"Oligarchs and non-oligarchs must play by the same rules," Biden told lawmakers Tuesday in the Ukrainian capital before a vote this month on the 2016 budget. Fighting corruption is one of Ukraine's "national security interests."
Ukraine, jolted by a war in its easternmost regions and 1 1/2 years of recession, has faced criticism over delays in reforms needed to sustain the flow of financial aid from allies including the U.S and the European Union. Anger at corruption fueled the Orange Revolution and an uprising that unseated pro-Russian leader Viktor Yanukovych in 2014. Ukraine ranks 142nd-lowest of 175 nations in Berlin-based Transparency's latest graft-perceptions survey.
'Moving Forward'
Biden said the U.S. will continue support "if you keep moving forward on corruption." The U.S. has provided guarantees for $2 billion of bond sales by Ukraine's government, helping to stabilize the hryvnia, which has lost almost a third of its value against the dollar this year. Treasury Secretary Jacob Lew said last month that a third $1 billion guarantee is planned in the coming months if Ukraine's maintains reforms and adheres to the IMF program.
Biden also addressed the Minsk peace accord that's stemmed violence in Ukraine's eastern conflict zone since it was signed in February in Belarus. Ukraine should fulfill its obligations under the pact, including granting decentralization and amnesty to Russia-backed separatists in the Donetsk and Luhansk regions, he said.
Russia must deliver on its promises and put pressure on the insurgents to allow local elections to be held under Ukrainian law, according to Biden, who said sanctions won't be lifted unless Russia meets its commitments.
Before it's here, it's on the Bloomberg Terminal.
LEARN MORE