Number Crunch
When Will Iowa Republicans Make Up Their Minds?
Late. Very late.
Every four years, Iowans are given the task of assessing a larger presidential field than any of the states that follow the first-in-the-nation caucuses. In 2016, their job is even more difficult, with 14 Republican candidates—the largest field on record—actively seeking their party's nomination.
How wide open is the Iowa caucus race? Using data from the Bloomberg Politics/Des Moines Register Iowa Poll conducted in October, we counted up the number of candidates each respondent said is a first or second choice. We also factored in the number of candidates not named as a first or second choice whom respondents said they could ever support.
The results showed a near-perfect distribution. The average Republican caucus-goer can see themselves supporting about eight candidates from the field of 15 (Bobby Jindal had not yet dropped out when we finished collecting data, so he is included in this calculation). Keep in mind, with the median of around eight candidates, half of all likely Republican caucus-goers are open to even more than that.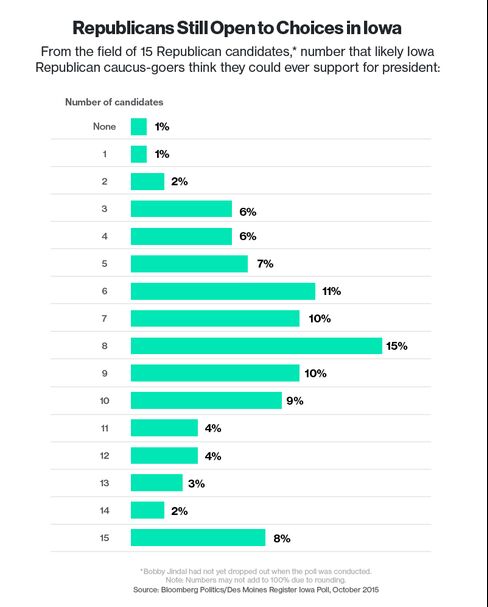 A key question I often get from the press these days is: When will Iowans finally make up their minds? Based on the astonishing number of candidates still under consideration in the Republican field, my answer is: Late, very late.
History shows that even in an normal year, Iowans rarely settle on a final decision until the last possible moment. In past election cycles, the final four-day poll conducted just before the caucuses shows how much turbulence remains late in the race.
Perhaps the most dramatic four-day poll was in 2012. Day One had Ron Paul with a 7-point lead over Mitt Romney, followed by Rick Perry and Newt Gingrich tied for third, with Rick Santorum trailing them by 2 points. By the final day, Santorum had surged to within a point of Romney, and Paul had fallen to third place. Santorum's trajectory was so striking, it became the lead finding from the poll, even though he was still 1 point behind Romney. We all remember what happened next: A vote on caucus night that should have been too close to call. But it was called a win for Romney—by eight votes. The verification procedure that followed overturned that call, with Santorum declared the winner by 34 votes.
In 2008, the opening day of interviewing showed Barack Obama one point ahead of Hillary Clinton, with John Edwards trailing by another 5 points. Just three days later, on the final day of the poll, Obama enjoyed a 6-point lead over Edwards, with Clinton falling to third. On the Republican side that year, Romney had a second-day spike over Mike Huckabee, but on the final day, it was Huckabee by 4 points—far narrower than the 11-point advantage he had enjoyed on the first day of interviewing.
In 2004, the first day had Edwards, Howard Dean, and John Kerry (in that order) all within 2 points. The final day had Kerry leading by 9 points over Edwards, and Dean dropping to fourth place behind Dick Gephardt.
Two exceptions to the volatile nature of the Iowa race came in 2000, when George W. Bush and Al Gore both led by over 30 points on the first day and by about 20 points on the final day of interviewing. In both races, however, the prospective field was much smaller than the current GOP slate of candidates. The Republican race was between six candidates, while the Democratic contest was between two men.
Conventional wisdom has it that most caucus-goers have narrowed their choices to three, maybe five candidates at this stage of the race. That appears to be on the low side. A line from the film League of Their Own keeps running through my mind: "I have seen enough to know I have seen too much." I have seen too much to speculate on how this caucus will turn out. It is unlike any I have polled before. It's unlike any my predecessors would have polled before. Anything can happen. And likely will.
Before it's here, it's on the Bloomberg Terminal.
LEARN MORE