The twin hobbies of the superrich, dating back far before the Medicis, are art collecting and politics. They're similar, in that both require staggering amounts of money and a modicum of sophistication—or at least the illusion of it. So it makes sense that Art Basel Miami Beach, one of world's premier shows for modern and contemporary art, has also become something of a political festival, where people come in the mood to spend.
The art itself has the usual leftish undercurrent, with politically charged pieces about poverty, slavery, and even a woven replica of a census card. But there weren't any "Feel the Bern" logos among the designer T-shirts worn by the well-heeled crowd. Nothing approached Shepard Fairey's iconic blue and red "Hope" poster from President Barack Obama's 2008 campaign in the maze of $3 billion worth of paintings, sculptures, and installations being perused by men wearing scarves on a 80-degree day and women in strategically ripped pants.
Instead, the convergence of presidential politics and the show is on the sidelines, and much more transactional in nature. Hoping to capitalize on the deep pockets of a crowd that can afford pieces fetching hundreds of thousands of dollars—or even $13.5 million for Francis Bacon's "Man in Blue VI"—presidential candidates Hillary Clinton, Jeb Bush, and Martin O'Malley all held fundraisers with at least loose ties to Art Basel. Some of the fair's attendees included Sylvester Stallone, Alex Rodriguez, and Kenneth Griffin, the billionaire hedge fund manager and Republican donor who once paid $60.5 million for Paul Cezanne's "Curtain, Jug and Fruit Bowl."
"Art has always, all over the world and in multiple forms, reflected and had an impact on political reality," said Kathy Engel, chairwoman of New York University's Department of Art and Public Policy. "In this case, the relationship is very strategic and very smart, and works both ways. Both sides are trying to gain visibility and make more money."
The presence of politicians on the periphery flattered many of the fair-goers, who were surrounded by a week of competing exhibition openings, poolside parties, and exclusive dinners. The guests at one party, held at the former mansion of Gianni Versace, included Leonardo DiCaprio, Pamela Anderson, and Dan Loeb, a hedge fund manager and Democratic donor. "It's a good fit," said Stuart Berni, a New York-based designer wearing bright orange boat shoes while laying on the turf of a faux park inside the fair. "The people here buying are the type of people contributing to their campaigns. We're among the one-percenters."
Still, the tensions were evident. David Fought, a San Francisco-based sculpture artist described politicians' interest in Art Basel as opportunistic, saying they're drawn to the nation's largest art fair in the way there would be interest in a NASCAR race. "These are the raw material for politicians," said Fought, who was dressed in a black T-shirt and matching black pants and shoes. "They're trying to connect to every constituency they can. It makes perfect sense."
Glenda Leon, a Havana-based visual artist, bemoaned the influence of the emerging art market in her country on young artists, saying more foreign buyers—including American investors who are finding it easier to access Cuban art—have redirected artists toward a certain medium.
"There is a tendency to paint because it sells," she said during a discussion about the future of Cuban art. "To see young people who before did installations and visual or other kind of work, now they just paint because they know a lot of collectors are coming. When you invest, you invest in painting or marble sculpture instead of something that who knows how it will end up in 10 years."
Similarly, Karen Levin, a Florida retiree attending the fair, voiced concerns about the possible impact on Art Basel from politicians aligning themselves with the fair.
"This is a festival for the world of arts, and I don't think politics should play into it," Levin said, standing near "Meat Locker," an installation of stainless steel and neon-colored lights depicting imagery from infamous homosexual serial killers. "It's in bad taste," she said about the political fundraisers. "There aren't very many boundaries anymore."
Still, she said, "politicians will leverage anything they can leverage. And Jeb Bush needs a lot of leverage these days."
Clinton was in Miami Beach on Tuesday, just before the opening of the five-day art fair, for a fundraiser at the home of Gail Williams and Dawn McCall, the owners of Williams McCall Gallery, which unveiled a new collection of ethereal coastal prints during Art Basel. O'Malley invited donors to his Democratic campaign to the Miami Beach home of Richard Florida, senior editor of The Atlantic. "If you are heading to Art Basel after, their house is right down the street from the Convention Center," read an O'Malley fundraising e-mail, first reported by the Miami Herald.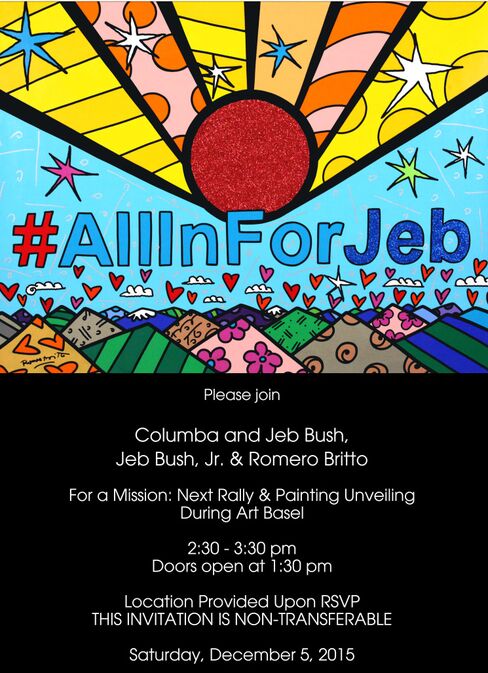 Bush, the Republican presidential candidate who resides in Miami, designed an entire weekend for his donors around Art Basel. In an event entitled "Pop Art, Politics and Jeb," the former Florida governor raised $325,000 during a reception Friday evening at the home of Raúl Henríquez, founder of Hencorp Becstone LC, a Miami-based financial services company. On Satuday, after donor meetings at the Biltmore Hotel, about 120 donors joined Bush and his family at the studio of local pop artist Romero Britto for a painting unveiling in the city's Wynwood art district, which is hosting several Art Basel events.
Britto, who participated in a 2005 episode of The Apprentice, the reality show hosted by Donald Trump, the Republican front-runner, has had a long relationship with the Bush family. One of the artist's paintings hangs in the former governor's office, according to the Miami New Times.
The Brazilian-born Britto has painted Columba Bush's portrait, and hosted her at his studio where she's worked on her own paintings. Another Britto painting, signed by the artist and members of the Bush family, including former President George H.W. Bush, was auctioned off to raise money for Volunteer Florida foundation.
Centering the fundraisers around the swanky Art Basel event offered opportunities to the candidates' rivals. Senator Marco Rubio, who was attacked by opponents for hosting a fundraiser earlier this year at the home of a Texas donor who collected Adolf Hitler art, has sought to portray his campaign as leaner and closer to the ground than others. He held a competing fundraiser on Saturday in West Miami, far removed from the Miami Beach art denizens.
Admission to Rubio's event: just $20.
—With assistance from Katya Kazakina in Miami.
Before it's here, it's on the Bloomberg Terminal.
LEARN MORE