Hillary Clinton to Fundraise in Omaha With Warren Buffett
Next week, the billionaire investor will support the Democratic front-runner at a public rally and a private event for donors.
Billionaire investor Warren Buffett will fundraise with Hillary Clinton during the Democratic presidential hopeful's visit to his hometown next week, according to an invitation obtained by Bloomberg.
Clinton is headed to Omaha on Dec. 16 to share the stage with Buffett, the chairman and chief executive officer of Berkshire Hathaway Inc., for a grassroots rally aimed at firing up Nebraska Democrats ahead of the state's March 5 caucus. Since late summer, Clinton has systematically been visiting states with March primaries and caucuses to lay groundwork ahead of that busy stretch of voting.
Tickets for the fundraiser with Buffett, scheduled for the morning of the 16th, start at $500 and go up to $2,700 for donors hoping for a photo with Clinton and Buffett. Those who raise $27,000 or more will have access to a reception with both.
Buffett, the second-richest man in the U.S., has become more engaged with Clinton's campaign in recent weeks, committing to next week's events in Omaha as well as to an appearance at a $33,400-a-head New York fundraiser for the Hillary Victory Fund that will also be attended by Tony James, president of New York-based Blackstone.
"She has a vision for America that's very similar to mine in terms of everybody included in the prosperity we enjoy," Buffett told Bloomberg earlier this year. "And I think that she would work very, very hard at getting policies implemented that would lead to that."
He gave the primary-maximum $2,700 to Clinton in April, just three days after she entered the race, and last year gave $25,000 to Ready for Hillary, the super PAC that advocated for Clinton to run.
Buffett helped with fundraising for Clinton and then-Senator Barack Obama in 2007, appearing at events and donating his own money. He also backed Obama's 2012 re-election.
A Clinton spokesman declined to comment.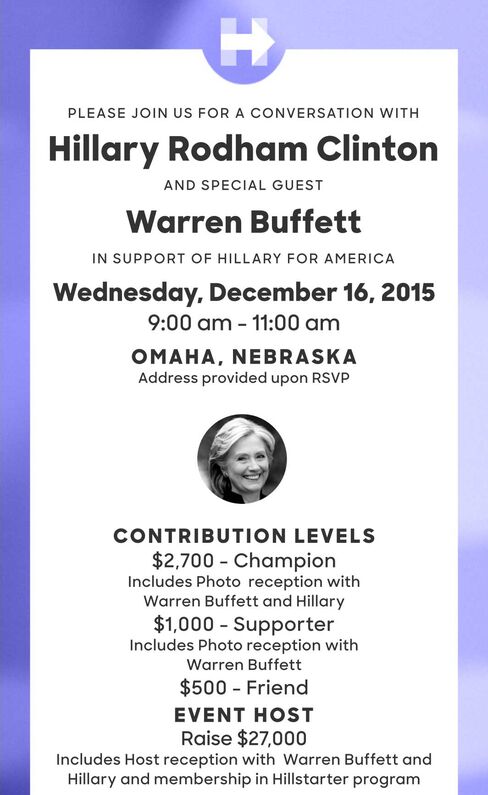 Before it's here, it's on the Bloomberg Terminal.
LEARN MORE