World Stage
Christie Tries to Fuel Momentum at Forum of Jewish Republicans
Republican candidates address the Republican Jewish Coalition amid signs the party establishment is growing more concerned about Donald Trump's chances.
With his presidential campaign showing signs of resurgence, New Jersey Governor Chris Christie used an address to the Republican Jewish Coalition gathering to take swings at Donald Trump and President Barack Obama, and to label the mass shooting in San Bernardino an act of Islamic terrorism.
Christie, speaking during a 30-minute session that started the second half of a packed day of would-be presidents, lashed out at Republicans who voted to relax domestic surveillance by the National Security Agency. He also accused Obama of "hand-wringing" for refusing to definitively classify the California shooting as an incidence of terrorism.
He also took a shot at Trump, the billionaire New York real estate developer and former reality television show host, who has risen to the top of the GOP field.
"Sometimes, the harshest words are the most entertaining. Sometimes, the harshest words are the ones that make us a laugh," Christie said. "When you're a leader, you need to be blunt and direct, but you need to know where to draw the line. I think unfortunately there have been some—not only in our party but in their party as well—who have gone for the entertainment value over being a leader."
Support for Israel
The Republican gathering prompted predictable condemnations of Obama's foreign policy and surprising criticism for the Republican Party.
Trump predicted that "you are not going to support me because I don't want your money even though I'm the best thing that could ever happen to Israel" as he gave a stump speech filled with insults about his rivals that had the audience at times laughing like a crowd at a comedy club. "I'm gonna win," said Trump, who bragged about coining the term "low energy" for competitor Jeb Bush. He offered a similar assessment of Democratic front-runner Hillary Clinton.
"She doesn't have the strength or the energy to support Israel," Trump said, claiming that Clinton disappears from the campaign trail for three or four days at a time. (The former secretary of state is appearing Thursday in New Hampshire, during a week of public appearances that has taken her to Washington, Alabama, and Florida. On Friday, Clinton will make two appearances in Iowa.)
Trump's rivals at the RJC forum spent the bulk of the day vying for the title of most pro-Israel, though Christie turned the audience's attention to the killings in San Bernardino, California. He called the shooting like Paris a failure of intelligence gathering as he's said about Paris. He derided what he termed the "weakening of America."
"I'd like to blame all of this on Barack Obama," he said to a round of applause that he cut off. "But, we have Republicans who were complicit in this weakening. We had Republicans who stood on this stage today and said they are for a strong America, yet voted in congress this summer to weaken America."
Taking Aim at Obama, Trump
Senator Ted Cruz compared Obama to former British Prime Minister Neville Chamberlain and former President Jimmy Carter; Senator Marco Rubio accused Obama of trying to use "diplomacy and engagement" with "people who have an apocalyptic vision of the future"; and Senator Lindsey Graham said he was throwing out his prepared remarks on the Middle East to warn that his competitors' views on immigration and social issues—especially Trump's—are jeopardizing the Republican Party's chances of taking back the White House.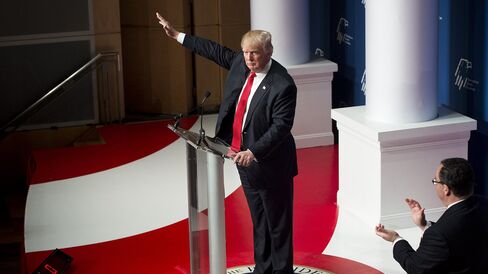 "I believe Donald Trump is destroying the Republican Party's chances to win an election," said Graham of the Republican front-runner, who spoke later. In an apparent reference to Trump's frequent vows to deport undocumented immigrants and build a wall along the Mexican border, the South Carolina senator called for an end to "hateful rhetoric" against Hispanics. Graham criticized 2012 nominee Mitt Romney for endorsing the concept of "self-deportation," which holds that undocumented immigrants will return to their native countries if laws against them are tough enough.
"You think you're going to win an election with that kind of garbage?" Graham asked. Referring to the common phenomenon of American-born citizens with parents in the U.S. illegally, Graham asked, "Is the Marine Corps American citizen going to vote for a party that's going to deport his mother? I don't think so."
Graham also took aim at Cruz, saying the Texas senator's no-exceptions position on banning abortion will cost the party voters. "Telling a woman who was raped you will have to carry the child of the rapist? Good luck with that," Graham said. "We will lose in droves."
Former Hewlett-Packard CEO Carly Fiorina, who sparred with Trump during the second Republican presidential debate, also couldn't resist getting in a dig at the billionaire.
"Yes, I have negotiated many deals, maybe more than Mr. Trump, who knows?" she quipped.
Carson's Miscue
Retired neurosurgeon Ben Carson, who has received criticism about his grasp of foreign policy, broke from his off-the-cuff style to read from a prepared speech so he didn't "miss any points" he wanted to make.
Looking down at his notes for much of the time, Carson spoke about the history of the Israeli–Palestinian conflict, the need to address a long list of issues in the Middle East, and his recent trip to Jordan to visit Syrian refugees.
A few times during the speech, Carson appeared to mispronounce "Hamas," the name of the Palestinian political party and terror group, prompting a response from RJC board member Ari Fleischer on Twitter: "Poor Ben Carson. ... He sounds like he's not familiar with the group."
—With assistance from Sahil Kapur and Ben Brody.
(Corrects number of candidates addressing the forum.)
Before it's here, it's on the Bloomberg Terminal.
LEARN MORE