Utah Republican May Back Senate Bill to Undo Much of Obamacare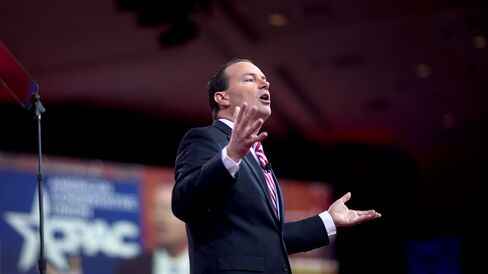 Mike Lee previously said he opposed House version of bill

Senate passage might send repeal to Obama for first time
A Republican U.S. senator who said earlier he opposed his party's House bill to repeal Obamacare's core provisions is now "strongly leaning" toward supporting the Senate version of the measure.
Such a decision by Senator Mike Lee of Utah would increase the chances that the Republican-controlled Congress can send a partial repeal of the Affordable Care Act to President Barack Obama for the first time. The president has said he would veto legislation that would destroy much of his signature domestic achievement, and Democrats in Congress would be able to block an override.
Lee in October joined two other Senate Republicans in saying they opposed legislation passed by the House, H.R. 3762, because it wasn't a full repeal of Obamacare. The measure also would strip federal funds from Planned Parenthood.
The Senate plans to vote this week on a revised version of the measure, which could be passed with a simple majority under a process called reconciliation that bars Democrats from demanding a 60-vote threshold.
Lee "is very encouraged by what is in the reconciliation bill, but we are waiting until the parliamentarian has signed off on the full text before we say anything publicly," Conn Carroll, a Lee spokesman, said in an e-mail. Lee is "strongly leaning" toward supporting the Senate bill, the spokesman said.
Lee and fellow Republican senators Marco Rubio of Florida and Ted Cruz of Texas -- both seeking the party's 2016 presidential nomination -- said in an October statement the House bill "isn't good enough" because it doesn't fully repeal Obamacare. "If this bill cannot be amended so that it fully repeals Obamacare subject to Senate rules, we cannot support this bill," the three senators said.
If those three senators voted against the bill, one more opponent would leave Republicans short of the 51-vote simple majority needed to pass it.
Senate Majority Whip John Cornyn, a Texas Republican, said he thinks his chamber's revised bill "will get us to 51 and perhaps beyond."
The House measure would end Obamacare's requirements that individuals acquire health insurance and that large employers provide it to their workers. House Republicans have tried unsuccessfully more than 50 times to repeal or delay the health-care law, though the Oct. 23 vote was the first time they used the procedure aimed at bypassing Senate Democrats' opposition.
Cornyn said the bill the Senate expects to vote on this week would instead repeal penalties for individuals and companies that don't follow the mandate to buy insurance for themselves and their employees. He said it is also expected to end an expansion of the federal-state Medicaid health program for the poor, which the House version didn't do.
The Medicaid expansion repeal would provide for a two-year transition to enable people in states that opted for it to find alternative coverage, Cornyn said.
Alex Burgos, a spokesman for Rubio, declined to say how the senator will vote on the measure. Cruz spokesman Phil Novack said the senator's position hasn't changed since his October statement opposing the House bill.
Before it's here, it's on the Bloomberg Terminal.
LEARN MORE