Obama Remembers Paris Terror Victims on Eve of Climate Talks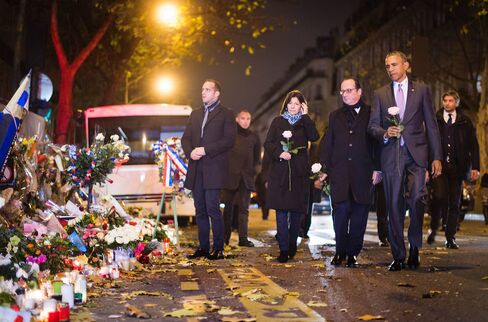 President lays white rose at memorial to those killed

Obama, Paris Mayor, French President pause for somber moment
President Barack Obama opened his trip to Paris Sunday for international talks on climate change with a late night visit to the memorial site outside a theater where dozens died in the Nov. 13 terrorist attack on the French capital.
Obama, flanked by French president François Hollande and Paris Mayor Anne Hidalgo, placed a long-stemmed white rose among the wreathes and candles piled outside the concert hall. The trio paused for a somber moment of silence in tribute to the 130 who died at several sites around the city in the massacre, which Obama has decried as an "attack on all humanity."
Leaders gathering in Paris for the United Nations sponsored conference to agree on a global plan to stem man-made climate change, have said that in the wake of the attacks they are only more dedicated to collective action demonstrating the world's ability to unite.
"What a powerful rebuke to the terrorists it will be when the world stands as one and shows that we will not be deterred from building a better future for our children," Obama said at a press conference on Tuesday.
Earlier Sunday, thousands formed a human chain near the Place de la Republique and called on the more than 140 world leaders to reach a global agreement to lower carbon emissions. Parisians also laid thousands of pairs of shoes on the square to symbolize a planned pro-climate-deal march that was canceled because of security concerns.
Hollande, whose capital city lobbied aggressively to host the summit, said Tuesday there could be no better symbol than to go forward with the summit.
"They're coming to sort out the climate challenge, and again, to work and to find the right agreement so that we can limit greenhouse gases emissions and make sure that our children and our grandchildren live better, or simply can live," he said. "But they are also coming to express their support to freedom, to the fight against extremism, that radical Islam which is becoming dangerous.
French authorities detained more than 200 people Sunday after a demonstration in favor of a global climate accord turned into a violent clash between riot police and masked protesters.
Before it's here, it's on the Bloomberg Terminal.
LEARN MORE