Protesters Block Luxury Stores in Chicago on Black Friday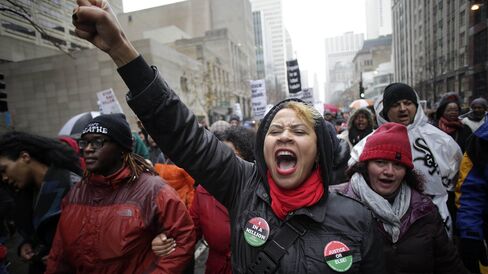 Teacher union joins call for probe of police shooting of teen

Jesse Jackson leads marchers down city's Magnificent Mile
Hundreds of protesters blocked traffic and access to stores along Chicago's premier retail stretch on Friday, the year's busiest shopping day.
Shouting "16 shots! It's a cover-up!" they called for a broader federal investigation to explain why it took authorities 13 months to indict a white police officer shown on videotape fatally shooting a black teenager 16 times.
The Reverend Jesse Jackson and members of the Chicago Teachers Union led marchers along North Michigan Avenue three days after the release of police dashboard-camera footage that captured Officer Jason Van Dyke shooting 17-year-old Laquan McDonald even after he fell and lay crumpled on the ground. The city disclosed the video about seven hours after Cook County prosecutors charged Van Dyke, 37, with first-degree murder.
Protests that followed have been mostly peaceful, but demonstrators locked arms and blocked various entrances along a stretch of retail that includes some 460 stores, including Neiman Marcus, Saks Fifth Avenue and Bloomingdale's. At least three people were arrested, Chicago police said.
"We will show the city that we intend to disrupt its economic center as we call on people of good will to join us in our fight for justice for Laquan and other victims of questionable and unjust police shootings in our city," teachers union President Karen Lewis said in a statement. She urged the U.S. Justice Department "to widen its investigation into the McDonald case to identify anyone who participated in a cover-up of this murder for the past year."
About two dozen protesters chanted "No iPhones today! No iPhones today!" in front of the Apple store as shoppers tried to enter, only to discover the doors were locked.
In front of a nearby Disney store, Barbara Jones, 72, a black woman who lives on the city's South Side, stood with about two dozen protesters, yelling "Shut it down! Shut it down!" She said she was representing her family, including her three grandchildren.
"You know there are two Chicagos," Jones said. "This is the one where they invest all our tax dollars."
Shortly after she spoke, employees locked the doors. They directed shoppers who wanted to leave out the back door.
The main business group for the shopping district said it doesn't track revenue numbers for its members so couldn't measure the impact of the protests. "It's definitely had an effect on sales today, but difficult for us to determine how much at this time," said John Curran, vice president of marketing for The Magnificent Mile Association.
Tailoring Delayed
Dozens of protesters also blocked doors at Neiman Marcus, Saks and Tiffany & Co. Eight did so at the entrance to the Ralph Lauren store. Todd Harlan, 50, a real-estate property manager from Dayton, Ohio, had hoped to get a jacket altered at the store. He said he and his family would return later.
"I can't say that I disagree with anything that's going on," Harlan said as protesters continued their march down the stretch of Michigan Avenue known as the Magnificent Mile.
Other shoppers walked with the protesters in order to make their way to their destinations. Bill Howard, 51, a professor from Macomb, Illinois, shopped in the Nike Store with his wife, in-laws and two daughters.
"It seemed to be pretty peaceful," Howard said. "It didn't deter us at all."
Lane and Debbie Barnett, who own a real-estate company in East Lansing, Michigan, walked out of Apple Store after spending about $1,200 in about 15 minutes. They said it seemed as though there were fewer shoppers than in previous years.
"Walking down Michigan Avenue with no traffic on the street is kind of eerie," said Lane Barnett, 70. He said the protests seemed peaceful. "It didn't bother us. We're city people."
Retailers said they were coordinating with police to prepare for any disruption along the Magnificent Mile, as well as in other U.S. cities.
"We are aware of the various protests happening here in Chicago and across the country," said Mitchell Feldman, senior general manager of Water Tower Place shopping center. "Water Tower Place has a very close working relationship with the Chicago Police Department. Safety and security of our retailers, shoppers and employees are our top priorities every day."
After protesters began blocking other stores along Michigan Avenue, the front revolving doors at Water Tower Place were locked.
Friday's march expanded the protest beyond the single event of McDonald's shooting to the leadership of the police department. The city council's Black Caucus and other community leaders have called for Mayor Rahm Emanuel to fire Superintendent Garry McCarthy and for Cook County State's Attorney Anita Alvarez to resign.
Some of the protest leaders on Michigan Avenue suggested that a strategy of boycotts and blocking stores may be more effective than riots like those that occurred in places such as Ferguson, Missouri, and Baltimore after similar shootings.
"People of all races are out here supporting this stoppage of profits over people," said Phillip Jackson, founder of the Black Star Project, an educational and mentoring organization on Chicago's South Side.
"Nike, Apple, they're not going to be happy," he said. "They're going to be calling city hall, the state, the White House."
Before it's here, it's on the Bloomberg Terminal.
LEARN MORE