Russia Retaliates for Jet Downing as Erdogan Calls for Calm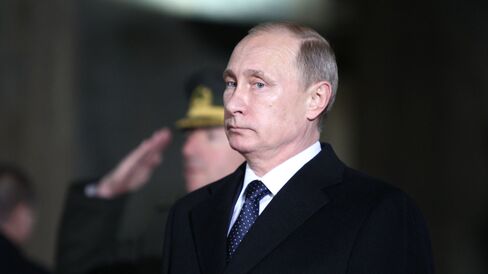 Russia tightens controls on Turkish agricultural products

Putin, Hollande to hold talks in Moscow on Islamic State
Russia began retaliating for the downing of one of its warplanes by Turkey, whose president made conciliatory gestures while reiterating that his military would do the same again if its airspace was violated.
Turkey hasn't apologized for its "treacherous stab in the back" or offered compensation after shooting down the jet, President Vladimir Putin said Thursday in Moscow at a meeting with new ambassadors to Russia. "It seems that the Turkish government is deliberately pushing Russian-Turkish relations into deadlock. We regret that."
Russia announced that agricultural products from Turkey will be subjected to additional border checks and laboratory controls, saying that 15 percent of Turkish goods were found to breach Russian safety requirements. Turkish transport groups reported that hundreds of trucks were being held up at the Russian border. Signaling an imminent escalation, Prime Minister Dmitry Medvedev said Russia would prepare more economic measures within two days that could affect flights, trade and investment.
While Putin has ruled out military retaliation against Turkey, a NATO member, the first direct clash between foreign powers embroiled in the Syrian civil war has highlighted dangers the conflict could spiral into a broader one since Russia began air attacks in support of President Bashar al-Assad. Barack Obama and French President Francois Hollande have urged restraint from Russia and Turkey, and a refocusing on a common enemy, Islamic State militants.
Lira Loses
"The Kremlin feels that it has to respond but it has no interest in causing lasting damage to commercial ties with Turkey," said Per Hammarlund, chief emerging-markets strategist at SEB AB in Stockholm. It won't, for instance, "jeopardize gas deliveries to Turkey," he said.
Turkey's lira weakened for a fourth day as Russia began to ratchet up economic pressure on the administration of President Recep Tayyip Erdogan, who on Thursday appeared both steadfast in his willingness to confront forces violating Turkish airspace and placatory.
Turkey would give the same response today in the event of a further violation, he said. Still, the Turkish military in no way targeted Russia in downing the fighter plane and wasn't aware of its nationality until after the clash. Russian officials deny the plane -- a Su-24 bomber -- ever strayed across the border with Syria.
Putin 'Slander'
Turkey is "taking pains to secure peace and stability in the region, not to incite new tensions," Erdogan said. "Our disagreeing with Russia about Syria policy is one thing, applying our rules of engagement is another."
Erdogan condemned Putin's claims that Turkey buys oil from Islamic State as "slander," urging the Russian leader to look closer to home for those helping fund the militant group.
"If you're going to look for where Daesh gets both its weapons and its financial strength, the first place to look must be the Assad regime and those countries acting alongside it,'' he said using an Arabic acronym for Islamic State.
While there's no Islamic State presence in the area where the plane was attacked, he said, more than 300 Syrian Turkmen who oppose Assad had been killed in airstrikes there.
In a later interview with CNN, Erdogan ruled out an apology to Russia: "Those who violated our airspace are the ones who need to apologize," he said. "Our pilots and our armed forces, they simply fulfilled their duties."
Paris Assault
Putin will meet with Hollande later on Thursday in Moscow for talks on combating Islamic State as the French president seeks to forge an alliance with Russia and the U.S. after the Nov. 13 terrorist attacks that killed 130 people in Paris.
Russia said its actions didn't amount to an embargo on Turkish products. Controls on goods are being tightened amid an increased risk of extremism, Kremlin spokesman Dmitry Peskov told reporters on a conference call Thursday.
About 200 Turkish trucks and other vehicles carrying goods including machinery, poultry and agricultural products from Turkey have been waiting since Wednesday at two Russian border crossings in Ukraine and one in Georgia, Fatih Sener, executive chairman of Turkey's International Transporters Association, said by phone Thursday.
Trade between the two countries totaled $18.1 billion in the first nine months of this year, down 24 percent from the same period in 2014, including $3.1 billion of imports to Russia from Turkey.
The action against Turkish goods follows a call by Russia's Federal Tourism Agency late Tuesday for tour operators to halt sales of trips to Turkey, citing the risk of terrorism in a country visited by millions of Russian tourists every year.
Turkey risks losing about $10 billion a year from restrictions on Russian tourism, Interfax reported, citing the agency's head Oleg Safonov.
The largest impact of Russian steps would likely be tourism, according to Hammarlund of SEB. "But with Russian tourists accounting for roughly 0.5 percent of GDP, it will hurt, but not derail, the Turkish economy."
Russia fell short of its fundraising target at a bond auction on Wednesday in the worst result in eight months, underscoring how quickly geopolitical events can sour investor sentiment.
Before it's here, it's on the Bloomberg Terminal.
LEARN MORE