Obama Says He's Been Clear: Don't Sugarcoat Terror Intelligence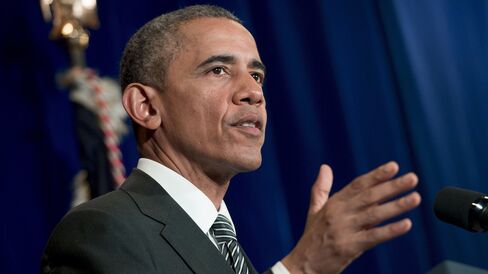 New York Times report says Pentagon assessments made rosier

President says he's been given `clear-eyed' assessments
The Department of Defense and all other national security agencies know there can be no "shading" of intelligence to sugarcoat the truth about how well, or how badly, the fight against Islamic State is going, President Barack Obama said.
Obama, at a press conference on Sunday at the end of the ASEAN Summit in Kuala Lumpur, was asked about a New York Times article that said senior intelligence officials may have manipulated reports about Islamic State to make it appear things are looking up.
"One of the things I insisted on the day I walked into the Oval Office was that I don't want intelligence shaded by politics. I don't want it shaded by the desire to tell a feel-good story," Obama said. "I've told my top officials that I expect that we get to the bottom of whether or not what you describe is what happened."
The president added that despite suggestions that he's been getting sugarcoated versions of events, "it's not as if I've been receiving wonderfully rosy, glowing portraits of what's been happening in Iraq and Syria" over the past 18 months. "At my level at least, we've had a pretty clear-eyed, sober assessment of where we've made real progress and where we have not."
Obama, in an interview taped with ABC News on Nov. 12, said that the U.S. had "contained" Islamic State in its Iraq and Syria self-proclaimed caliphate. "I don't think they're gaining strength," Obama told ABC. A day later, Islamic State militants staged a terror attack on Paris, killing 130 people with bombs and guns, suggesting a broadening of the group's ambitions beyond the Middle East.
The New York Times on Saturday said the Pentagon has expanded an inquiry into whether analysts at U.S. Central Command have been pressured from supervisors to present an optimistic assessment of the fight against terror groups such as Islamic State. Lawmakers are also looking into whether dissenting voices are being stifled, the Times reported.
"I don't know what we'll discover with respect to what was going on at CENTCOM. I think that's something that's best left to the IG (Inspector General) and the processes," Obama said.
Before it's here, it's on the Bloomberg Terminal.
LEARN MORE