Louisiana Voters Not Swayed by Refugee Claims in Governor's Race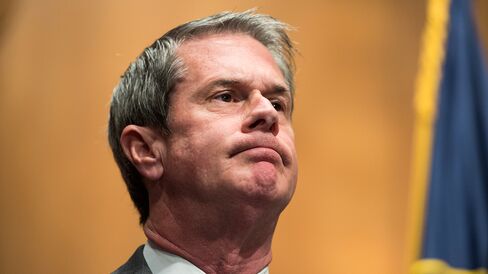 Republican David Vitter made Syrians focus of the final days

Voters said they cared more about the condition of the state
Republican U.S. Senator David Vitter tried in the final days to make the Louisiana governor's race about President Barack Obama and the potential for Islamic terrorists to infiltrate the U.S. posing as Syrian refugees. Voters made it more about the state's broken finances -- and Vitter.
John Bel Edwards Saturday became the first Democratic governor elected in the deep U.S. South since 2008 by defeating Vitter, who sought to overcome an 8-year-old prostitution scandal and the unpopularity of outgoing Republican Governor Bobby Jindal by trying to capitalize on the refugee issue after the Islamic State attacks in Paris. It was the first practical political test of the issue as Republican presidential candidates and governors nationwide call for refusing Syrian refugees.
Edwards, 49, the minority leader in the Louisiana House, won 56 percent of the ballots in a state that voted for Republican Mitt Romney over Obama by a 58-41 margin in the 2012 presidential election. He focused on domestic issues and vowed to fix a state hobbled by budget deficits and spending cuts rather than on the refugee controversy.
"That's become more of a political issue than anything else," said James Bollino, 52, a cab driver in New Orleans and former Jindal supporter who came out on a rainy Saturday to vote against his legacy. "The state's in real trouble."
Louisiana's finances have been in crisis for much of Jindal's term, the consequence of tax cuts made when federal money flowed to the state after Hurricane Katrina, falling oil prices, the state's hidebound budget laws and Jindal's opposition to tax increases. The governor, who dropped his bid for the Republican presidential nomination last week after getting little traction in polls, even refused to renew existing levies.
Budget Trouble
Under Jindal, the state cut higher education more than any other U.S. state and repeatedly balanced its budget with one-time fixes. That included this year, when it closed a $1.6 billion gap in a budget passed in June. A mid-year revenue review released on Monday showed that budget was already short $500 million.
Vitter, who was considered the front-runner when he announced his campaign for governor in 2014, trailed in the polls after a bitter three-way battle among Republicans in Louisiana's late October primary as Democrats reminded voters that Vitter's telephone number in 2007 was discovered in the records of a high-priced prostitution ring in Washington. Neither of Vitter's vanquished Republican primary opponents endorsed him and one, Lieutenant Governor Jay Dardenne, endorsed Edwards.
In the final days of the campaign, Vitter focused on Syrian refugees after the Nov. 13 terrorist attacks in Paris that killed 130 people. His campaign released a series of television and radio advertisements and made recorded telephone calls to voters that linked Edwards to Obama's refusal to reconsider his earlier decision to accept refugees from war-torn Syria into the U.S.
The senator even sent a letter to the U.S. Department of Homeland Security and Secretary of State John Kerry saying -- inaccurately, according to state police and Catholic Charities -- that there was a missing Syrian in Louisiana.
"John Bel Edwards has pledged to work with Obama to bring Syrian refugees to Louisiana," one of Vitter's ads said.
Refugee Emphasis
Vitter's emphasis on Syrian refugees not only failed to propel him to victory, it didn't allow him to unite Republicans. Edwards won by 12 percentage points after being ahead by 4 points in the final statewide poll released Friday. Two other Republicans on the statewide ballot beat their Democratic challengers handily, each drawing 100,000 more Republican votes than Vitter did, according to the secretary of state's website.
Vitter's stance echoed that of Jindal and 30 other U.S. governors -- all but one of them Republican -- who have said they will refuse to cooperate in accepting Syrian refugees or called on Obama to halt the program pending a review of federal screening procedures.
The focus on refugees was an attempt by Vitter to connect with voter concerns about immigration and terrorism while giving Republicans offended by his personal behavior a reason to vote for him, Pearson Cross, a political science professor at the University of Louisiana at Lafayette, said before the vote.
As long as the race was decided by domestic issues, Edwards, a former Army ranger who opposes abortion rights, had the advantage, Cross said.
In his victory speech, Edwards talked about catching a "breeze of hope" and how voters weren't swayed by the "deep cynicism about our politics" and the future.
"The people have chosen hope over scorn, over negativity, and over a distrust of others," Edwards said, according to his televised remarks. "The people of Louisiana have chosen to believe that we can do better, and that by doing better, we will be better."
Syrian Issue
The victory followed three years of work rebuilding Louisiana's Democratic Party and dissatisfaction with Jindal, said Karen Carter Peterson, state Democratic Party chairwoman and a state Senate leader.
Asked whether people were paying attention to the Syrian issue, she said they were focused on a flawed candidate in Vitter and "what Jindal had done" in office.
"The current administration has failed Louisiana," Peterson said in an interview. "That's a bipartisan feeling right now."
Vitter said in his concession speech "I came up short" and said he would not run for re-election to the Senate after his term expires in a year.
While some Vitter supporters at his election-night gathering said he was right to focus on the Syrian refugees, other voters said that didn't sway them.
"We went to Vietnam and fought and we let those refugees in," said William Martin of New Orleans, 68, a Vietnam veteran who was among a steady stream of voters at Mater Dolorosa Catholic Church despite a steady rain. "I honestly don't think it makes a difference."
Thousands of Vietnam refugees settled in the late 1970s and 1980s on the gulf coast from Texas to Alabama, where they flourished in the shrimp fishing industry.
Nathan Lott, 38, a graduate student at Tulane University in New Orleans, said Vitter's attacks on Bel Edwards about the Syrian refugees "was not working for me."
"The important thing to me was the budget, the state budget," he said. "I moved here two years ago under Jindal, and he has not been good for the state."
Before it's here, it's on the Bloomberg Terminal.
LEARN MORE