Common Ground
Where Hillary Clinton and Marco Rubio Agree on Islamic State Strategy
Billed as their respective party's star candidates on foreign policy, political rivals Hillary Clinton and Marco Rubio don't actually disagree as much as one might expect when it comes to how the U.S. should go about defeating the Islamic State.
Those similarities in their ideas became apparent Thursday, when Clinton, the former secretary of state, called for a "new phase" in the battle against the Islamic State, urging robust cooperation with allies in the region while not ruling out the involvement of U.S. ground troops. Rubio, a member of the Senate Foreign Relations Committee, has also advocated such ideas, and both presidential candidates would like to see U.S. airstrikes expanded in Syria and Iraq, and for lawmakers to pass a new Authorization of Military Force that could pave the way for American ground troops, if necessary.
To be sure, the two candidates don't agree on everything—Rubio wants the U.S. to stop taking in Syrian refugees because it is "currently impossible to verify their identities or intentions," he wrote Thursday in an op-ed for Politico Magazine, a view shared by his Republican base of support.
Clinton, meanwhile, is insistent that the flow of refugees into the country continue. "We do need to be vigilant in screening and vetting any refugees from Syria," she said Thursday, but "turning away orphans, applying a religious test, discriminating against Muslims, slamming the door on every single Syrian refugee—that is just not who we are."
Clinton jabbed Thursday at "the obsession in some quarters with a clash of civilization," a term that Rubio used in a video released after last Friday's attacks in Paris, and chastised Republicans including him for focusing on semantics. "Repeating the specific words 'radical Islamic terrorism' isn't just a distraction, it gives these criminals, these murderers more standing than they deserve," she said. "It actually plays into their hands by alienating partners we need by our side."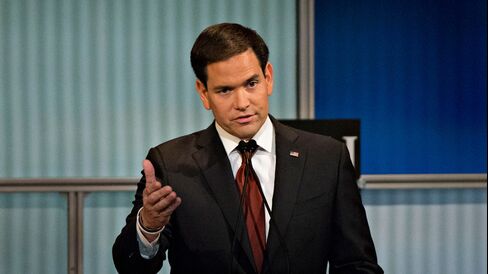 Rubio's team insists that there are few similarities between the Florida senator's views and the former secretary of state's, arguing that "to suggest that Secretary Clinton and Marco share similar viewpoints on Syria is to completely ignore the last four years of Marco urging the administration to take serious action in Syria while she and Obama dithered," spokeswoman Brooke Sammon said. Referring to her refusal to identify the broader global threat as a war on Islamic extremism, Sammon added that Clinton "refuses to clearly define the threat we face and she is not breaking with Obama's failed Syria policy in any meaningful way, while Marco's offering a concrete alternative to defeating ISIS."
Rubio's consistency on Syria has been questioned by critics, however. In 2013, he voted against authorizing President Barack Obama to use military force in Syria.
Voters contacted by Bloomberg Politics as part of its most recent national poll mostly fell into line with the candidates they said they are supporting in the primary when it came to the question of whether the U.S. should honor its commitment to accept Syrian refugees.
"We shouldn't take them," said Ned Tower, a Rubio supporter from Hayden, Idaho. "I feel that ISIS is integrated with the refugees and we do not have the capabilities to properly vet the people, so at this point. Maybe sometime in the future when we feel we have a better control over ISIS, maybe we've clipped their wings a little bit. At this point I feel that we're going to buy ourselves a lot of problems."
Tannersville, Pennsyvania, resident Marshall Schuon, 79, sides with Clinton. "I do agree with her, and I do agree with Obama insofar as taking the 10,000 refugees that he has said we would take. I don't think that the refugees really pose much of a threat."
Yet the clear distinctions also became less so on the question of how to best combat ISIS.
"I do believe that we need to put troops into Syria, as part of the coalition army," Clinton supporter Ruth Miner-Cooney, 78, of Corinth, New York, said.
Robert Burchfield, a 67-year-old retiree from Central Ohio and a Rubio supporter, has a similar appraisal of what's necessary to defeat the terrorist network. "I know Rubio has said that he is in favor of putting some ground troops on the ground with a combination of European troops—that's what I'd be in favor of."
Still, most seemed to understand that partisan posturing on foreign policy was par for the course in a presidential campaign. Judging from more that a few responses, there is, a shared belief that each candidate is at home when discussing such issues.
"All of them want to represent themselves as the candidate," Burchfield said, "and of course they assume Hillary Clinton will be the candidate for the Democratic Party. I think she will be but I think it's a bit premature."
"I think Hillary Clinton would beat Rubio. I hope that she would. But he does seem to be—he's well-versed in foreign policy," Schuon said.
—Emily Greenhouse and Michael C. Bender contributed to this article.
Before it's here, it's on the Bloomberg Terminal.
LEARN MORE