Passenger Taken Off Chris Christie's Flight, Campaign Says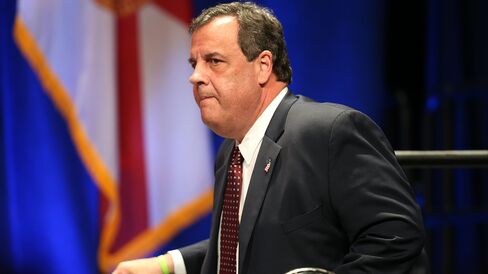 Person removed from San Francisco to Boston plane at takeoff

Passengers on board tell of delay lasting more than two hours
New Jersey Governor Chris Christie, a Republican presidential candidate, was on a United Airlines plane today from which a passenger was removed.
"At no point did Governor Christie interact with this passenger nor did this passenger pose a verbal or physical threat," Christie's spokeswoman Maria Comella said in a statement.
The incident occurred Friday morning when Christie, an aide and a member of his security detail were traveling from San Francisco to Boston. The passenger was removed from the plane before takeoff at the airline's request, Comella said. She gave no other details.
Passengers on the plane said on Twitter that it was delayed two-and-a-half hours.
United was working to accommodate passengers and the plane was to depart Friday afternoon, spokesman Jonathan Guerin said in an e-mailed statement.
Before it's here, it's on the Bloomberg Terminal.
LEARN MORE