Governors Target Syrian Refugees Already Resettled in U.S.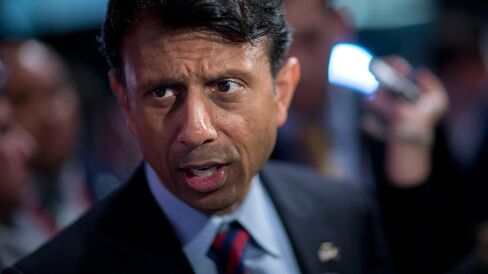 Officials order state authorities to monitor, review migrants

`We have to know who's with us and who's against us'
Some U.S. states are not only resisting new Syrian refugees after the terrorist attacks in Paris last week, they want to scrutinize those already resettled within their borders.
Louisiana Governor Bobby Jindal, a Republican, ordered police to monitor 14 Syrians "to avert threats." Republican Governor Nathan Deal of Georgia told the state Emergency Management Agency to confirm that 59 recently arrived refugees "do not pose a public safety risk." Tennessee Representative Glen Casada, that state's House Republican caucus chairman, is calling for rescreening and a Democratic mayor in Virginia wrote approvingly of the precedent set by internment camps for Japanese citizens in World War II.
As the Republican-controlled U.S. House of Representatives voted to tighten screening of refugees and President Barack Obama reiterates plans to admit at least 10,000 Syrians next year, the focus on those already vetted is prompting advocates to condemn the action and question its legality.
"They're legally here," said Melanie Nezer of HIAS, a Jewish nonprofit group that works with refugees and who also is chairwoman of Refugee Council USA in Washington. "Because of your race or your nationality or your religion we're going to monitor you, you are a threat? That's very disturbing and completely un-American."
Almost a third of the nation's governors -- all but one Republican -- have said they would refuse to resettle refugees or have called on the Obama administration not to admit them without a review of vetting procedures.
Governors can affect the resettlement process only by refusing to cooperate, said Kathleen Newland, co-founder of the nonpartisan Migration Policy Institute in Washington. However, they can activate their own agencies once people have arrived.
In Louisiana, Jindal ordered departments to use "all lawful means to prevent the resettlement." He also said that when state police receive information about Syrians already relocated in the state, they are to "monitor and avert threats."
The law-enforcement agency has no mechanism for tracking or monitoring refugees, Lieutenant J.B. Slaton said. Officials met with representatives from Catholic Charities, which handles resettlement and plans to keep communications open, he said.
Fictional Onslaught
Fear had been mounting in Louisiana even before Jindal's order, after several blogs reported that 10,000 Syrians had arrived in New Orleans. In fact, only 14 were resettled in Louisiana this year, according to federal data.
One recent refugee relocated to Washington to be with relatives, according to David Aguillard, director of Catholic Charities in Baton Rouge. U.S. Senator David Vitter, a Republican running to succeed Jindal in an election Saturday, sent a letter to the U.S. Department of Homeland Security and Secretary of State John Kerry on Tuesday saying Louisiana had a missing Syrian.
"A Syrian refugee placed just this week in Baton Rouge, Louisiana, has already gone missing," Vitter wrote, in a letter that implied the man was being sought by police.
None of this was true, according to Slaton and Aguillard. The refugee had filled out relocation paperwork and is being assisted by organizations in his new home, Aguillard said.
"This happens all the time with refugees," he said. "They fill out an application to relocate. Homeland Security tracks them. It got twisted into a refugee missing from Baton Rouge. Just because a person leaves our diocese doesn't mean they're missing."
On Wednesday, with the tale debunked, the state Republican Party sent out an e-mail labeled "MISSING: Unmonitored Syrian refugee last seen in Baton Rouge." It urged a vote for Vitter and included a link for donations.
Meanwhile, Catholic Charities was besieged with callers, including some making explicit threats against Syrians, Aguillard said.
In Georgia, Deal ordered the Emergency Management Agency into action.
"Until the federal government and Congress conducts a thorough review of current screening procedures and background checks, we will take every measure available to us at the state level to ensure the safety of Georgians," the governor said in a statement.
Catherine Howden, a spokeswoman for the agency, declined to comment on how it is implementing the order.
Republican Governor Greg Abbott of Texas, who has said he is refusing Syrian refugees, ordered law-enforcement officials in a Nov. 17 letter to "ensure any refugees already in this state do not pose a risk to public safety."
Penned In
The impulse to control and monitor new arrivals isn't limited to governors or Republicans.
David Bowers, the Democratic mayor of Roanoke, Virginia, asked local agencies in a Wednesday statement to suspend help for Syrian refugees, referencing the infamous internment camps.
"I'm reminded that President Franklin D. Roosevelt felt compelled to sequester Japanese foreign nationals after the bombing of Pearl Harbor, and it appears that the threat of harm to America from Isis now is just as real and serious as that from our enemies then," he wrote.
Tennessee's Casada, a Republican lawmaker from Franklin, said recent arrivals "need to be looked at." The National Guard could remove those suspected of terrorism, he said.
"We have to know who's with us and who's against us," Casada said in a telephone interview. "Do we be politically correct, or do we save lives and prevent friends and family from being murdered by the Islamic terrorists?"
Republican Governor Bill Haslam doesn't support Casada's proposal, spokesman Dave Smith said.
"If we abandon our values by completely shutting our doors to those who seek the freedom we enjoy or mistreating our neighbors who made it here after enduring unimaginable hardships, the terrorists win," Smith said in an e-mail.
Before it's here, it's on the Bloomberg Terminal.
LEARN MORE