Rising Star
Marco Rubio Dazzles and Disappoints Republicans on Foreign Policy
The Florida senator's record on Syria gives some conservatives pause.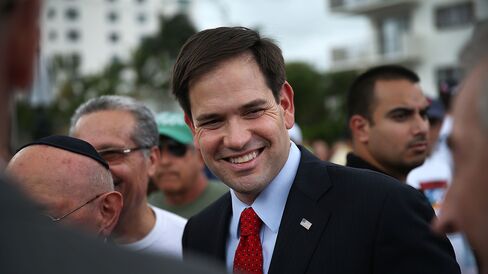 Elliott Abrams, an influential thinker in conservative foreign-policy circles dating back to the Reagan administration, has twice been surprised by Marco Rubio. Once more pleasantly than the other.
The first time was in 2010, when Rubio was seeking a U.S. Senate seat and wanted advice. Abrams, a Harvard-educated, London School of Economics-trained foreign policy expert, expected to school the former state lawmaker and city councilman on geopolitics. Instead, Abrams found himself taking in the young Republican's "quite startling" breadth of knowledge on global issues.
"He knew a lot and, from my point of view, a lot of what he said was correct," Abrams recalled in an interview. "The average state House speaker in the 50 states isn't able to do that."
Fast forward to September 2013, and Abrams, having developed a relationship with Rubio, was startled again. Rubio—now a member of the Senate's top foreign affairs committees who was positioning himself as one of his party's more hawkish members—cast a vote against the use of force in Syria.
"I didn't agree with that vote," Abrams said. "It would have been better for the United States to make those strikes, and come back if need be and do more. I thought it was important to get the president to start acting again. I agreed it wasn't enough, but you have to start somewhere."
The two moments help illustrate Rubio's greatest strengths and biggest weaknesses as a leading Republican presidential candidate. On one hand, the 44-year-old son of Cuban immigrants has established himself as one of the sharpest minds in his party, positioned to turn an urgent foreign policy debate into a potential breakout moment in his campaign. On the other, his savvy eye for the political prize has left him open to attacks from rivals who say that he has struggled to turn his dynamically-delivered words into actions.
"What's Rubio ever done? Anything?" says the narrator in a radio ad that a pro-Ted Cruz super-PAC is airing in Iowa. "Marco Rubio looks good on TV, but that's about it."
Confounding Votes
On the Syria vote in 2013, Obama's request for military authorization to enforce his "red line" against the use of chemical weapons came as polls showed most Americans—including seven in 10 Republicans—were opposed. Rubio voted against it, saying he opposed U.S. military action in the country.
"While I have long argued forcefully for engagement in empowering the Syrian people, I have never supported the use of U.S. military force in the conflict. And I still don't," he said in a statement at the time, arguing that the proposed force could be counterproductive. "Instead, our response should have always been, and should still be, a multi-faceted plan to help the Syrian people get rid of Assad and replace him with the secular and moderate government they deserve."
The vote confounded foreign policy hawks.
"A lot of people were confused about Senator Rubio's evolution on the question of Syria," said Danielle Pletka, a neoconservative who leads foreign and defense policy studies at the American Enterprise Institute. Asked if she believed political considerations were at play, Pletka said, "I will never express shock at the notion that there's politics going on in Washington. That's what the business of Washington is. It infuses everything."
Asked to explain his vote, the Rubio campaign referred to his remarks in an August debate, when he labeled the proposed Syria response a "pin prick" rather than a more aggressive approach that he could've backed.
Since then, Rubio has evolved into a more hawkish figure. As the Islamic State terrorist group was on the rise and claiming territory in Syria and Iraq, he said at the Council on Foreign Relations in May 2015 that "it's good we're conducting airstrikes. The truth is we probably need more."
Pivoting His 2016 Pitch
As foreign policy takes center stage in the Republican presidential contest, Rubio is framing himself as the best choice to protect the country against Islamic State terrorists who claimed responsibility for killing or injuring roughly 500 people last week in Paris. At a fundraiser in Washington on Monday, Rubio spent most of his 20-minute speech talking about the attacks, saying the tragedy showed how terrorists are just one commercial flight away and that Republicans needed to nominate a serious candidate to address the threats, according to three attendees who requested anonymity to discuss the private event.
Later on Monday, Rubio took the rare step of criticizing a pair of presidential rivals, Cruz and fellow Senator Rand Paul, accusing them of voting to weaken U.S. intelligence programs by supporting the USA Freedom Act, which passed a Republican-controlled Congress with bipartisan super-majorities and was signed into law in June.
Cruz responded on Wednesday, saying Rubio's Rubio's campaign was trying to "change the topic" from the Floridian's support of immigration "amnesty" in 2013. A few hours later, Rubio endorsed a bill to delay changes to the National Security Agency's "metadata" program until January 2017. He took another veiled swipe at Cruz, suggesting that Obama "has been aided and abetted in advancing his dangerously naive view of the world by politicians in both parties who have helped him gut our military and weaken critical intelligence programs" that he argued could stop terrorist plots.
While Rubio's focus on foreign policy has a potential political upside, it also makes him vulnerable. Along with facing criticism for missing nearly 50 percent of Senate floor votes since April, the month he launched his presidential campaign, Rubio has missed a number of congressional hearings and private national security briefings on his signature issues, including Iran and embassy security.
On August 5, for instance, he missed a classified briefing about Iran as he was campaigning in Cleveland. On Wednesday he was slated to travel to Newport Beach, California for a fundraiser, which meant missing a Foreign Relations Committee briefing and another all-senators briefing on the government's response to the Paris attacks.
"He was briefed on the Paris attacks at the Senate Intelligence Committee yesterday afternoon," Alex Burgos, a spokesman for Rubio's Senate office, said Wednesday.
A Democratic leadership aide said the Wednesday briefing was broader and would include "a lot of information" not covered in separate committee briefings.
Among the senators who attended the Wednesday briefing: Ted Cruz.
Tutors and Advisers
Rubio has made foreign policy one of his top priorities since winning election to the Senate and as he nurtured his presidential ambitions.
He reached out to Henry Kissinger, meeting several times with the former secretary of state, and surrounded himself with several foreign policy advisers with ties to the now-defunct, neoconservative Project for a New American Century. Abrams signed a letter from the group urging then-President Bill Clinton to go to war in Iraq and remove Saddam Hussein, as did Dick Cheney, whose deputy national security adviser as vice president was Eric Edelman, who has also advised Rubio. Another Rubio adviser, Robert Kagan, was a co-founder of the group.
Rubio's top foreign policy adviser on staff has been Jamie Fly, who was a national security official in George W. Bush's White House. After Bush left office, Fly went on to lead the Foreign Policy Initiative, a neoconservative think tank. In January 2012, Fly co-wrote a piece in Foreign Affairs calling for an "extended" military campaign aimed at "regime change" in Iran.
Rubio has visited 16 countries as a senator. His first trip was to Afghanistan, Kuwait and Pakistan after less than a month in office. He had dinner with Hamid Karzai, then-president of Afghanistan, and met with Ashfaq Parvez Kayani, who was staff chief of the Pakistan army at the time. Afterward, Rubio told reporters he was struck by how many people—from those he met in street markets to the Afghan president—pressed them about the U.S. keeping its commitment in the country.
Later than year, Rubio was one of four Republican senators to visit Libya following the ousting of Muammar Gaddafi from power. Again, Rubio expressed empathy for the people he met there, noting the "extraordinary loss and suffering of young lives."
"We should always be on the side of transition to democracy," Rubio said at the end of a 30-minute news conference in Tripoli. "That includes Iran, Syria and eventually, I hope, Bahrain and Saudi Arabia as well."
U.S. Senator John McCain, the 2008 Republican presidential nominee who traveled with Rubio to Libya, praised his colleague though he now supports Senator Lindsey Graham for president. "I could see that he was a rising star and I sought him out," he said in an interview.
Republican colleagues detected his presidential ambitions early.
"Oh, I think it's been apparent for quite a while," Senator Jeff Flake, an Arizona Republican, said with a smile. "With the national presence that he's had, people knew pretty quickly he had those ambitions. And he should. He's a good spokesman for the party."
Senator John Barrasso, the fourth-ranked Republican in the chamber and a Foreign Relations Committee member, argued that Rubio is better-informed on foreign affairs than Barack Obama, who was also a first-term senator while running for president. The Democrat, as Rubio is trying to do now, leveraged a foreign policy position—his opposition to the Iraq war—to win his party's presidential nomination.
"He's very influential in the area of foreign policy," Barrasso said of Rubio. "He's very studied, he knows the issues, he knows them in a level of depth greater than most members of the committee."
Before it's here, it's on the Bloomberg Terminal.
LEARN MORE