Race for the White House
Carson Wins on Personality, Trump on Terror in Bloomberg Politics Poll
Republicans and Republican-leaning voters are not so enthusiastic about mass deportations, the survey shows.
Republicans overwhelmingly pick Ben Carson over Donald Trump for having the better temperament to be president, but they have far more confidence in the billionaire than the retired surgeon to take on terror, handle Russian President Vladimir Putin and fix immigration.
The latest Bloomberg Politics national poll shows the two outsider candidates remain atop the Republican field, while also showing how even something an seemingly non-ambiguous as a number—the nation's unemployment rate—can be viewed differently by Republicans and Democrats.
Although the findings largely reflect the deep partisanship that characterizes the nation's political climate, they also reveal some surprising areas of potential compromise. For instance, registered Republicans and those who lean that way are more in agreement with President Barack Obama on two controversial immigration policies than with the views of many of their party's White House candidates.
Read questions and methodology here.
The poll, taken Nov. 15-17, gave Republicans what amounted to a candidate taste test, asking them to compare perceived strengths of the top four candidates, broken into two pairings. Besides Trump and Carson, who ranked first and second in the overall horserace at 24 percent and 20 percent, the survey also compared Senators Marco Rubio of Florida (12 percent) and Ted Cruz of Texas (9 percent).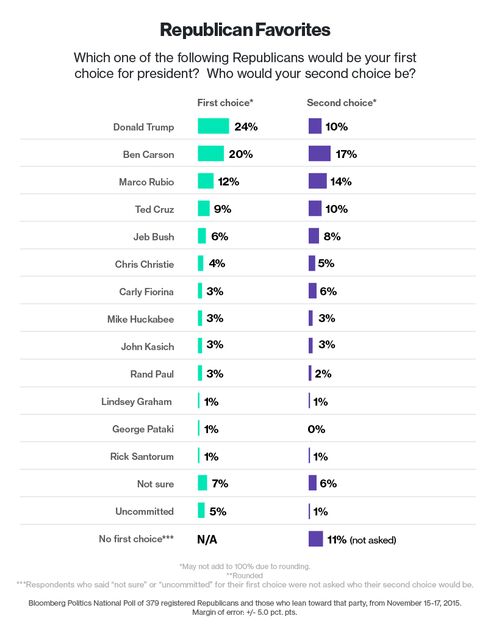 In the match-ups, Carson generally beats Trump on personality traits, while the businessman swamps the doctor on those that measure taking action.
"Carson's greatest strength has always been who people think he is as a person," said J. Ann Selzer, whose Iowa-based Selzer & Co. conducted the poll. "Trump's greatest strength has always been what people think he can do."
Besides temperament, Carson is viewed favorably by many more than Trump on caring about "people like you," having the right values to lead the nation, being able to work effectively with Congress and being honest and trustworthy.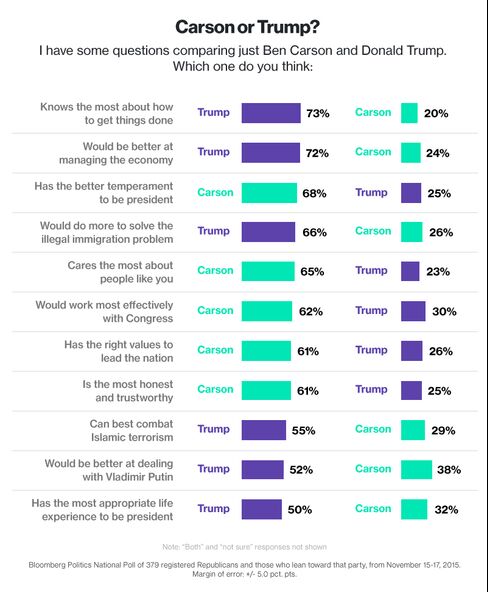 In addition to getting higher marks for handling some of the foreign policy crises facing the country (including a 14-percentage-point advantage on who could better deal with Putin), Trump is viewed as the stronger of the two candidates on getting things done, managing the economy, having appropriate life experiences to lead the nation.
In the Rubio-Cruz comparison, Rubio has a 19-percentage-point advantage on having the better presidential temperament, with his next-biggest lead (17 percentage points) being on working effectively with Congress. On caring about "people like you" and having the right values to lead the nation, Rubio also beats Cruz by double-digits, while besting him by 6 percentage points on the Putin question.
The two are fairly closely matched on the questions managing the economy, having the appropriate life experiences, getting things done and combating Islamic terrorism.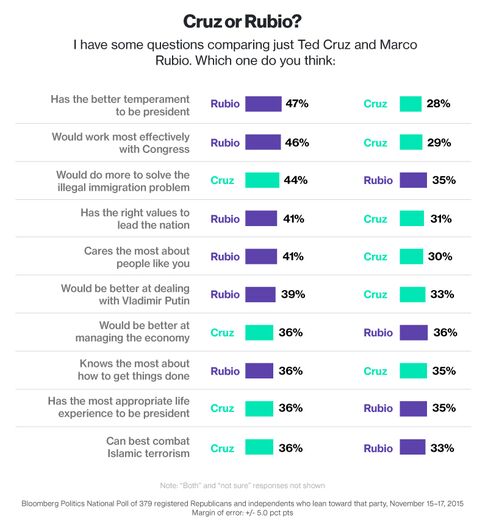 Immigration is the one question where Cruz has the advantage in a substantial way over Rubio, by 9 percentage points. Rubio's support for a 2013 bill that would have provided a path to citizenship for millions now living in the U.S. illegally has been an issue in the campaign.
Despite favoring candidates who talk tough on immigration, Republicans and Republican-leaners don't appear overly enthusiastic about some of the policies those candidates espouse.
The poll found modest support in that group—50 percent—for continuation of Obama's program to halt the deportation of the so-called "Dreamers"—undocumented immigrants who came to the U.S. before age 16 and meet other requirements. Among all adults, 63 percent think the president's initiative should be continued.
A slightly larger majority of the Republican sample—54 percent—say it would be wrong to round up 11 million undocumented immigrants in the U.S. and send them back to their home countries, a proposal Trump has pushed hard. Just more than a quarter of all American adults agree with this approach.
The unemployment rate on the other hand—or how it's perceived—seems to vary according to political party registration. Asked if the jobless rate is higher or lower than when Obama took office, 53 percent of Republicans incorrectly responded that it is higher. Among Democrats, 76 percent correctly said the rate is lower.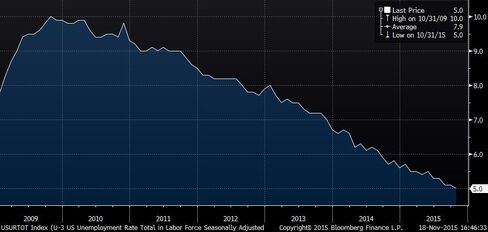 The poll also clearly showed why establishment candidates, such as former Florida Governor Jeb Bush, favored by just 6 percent, former New Jersey Governor Chris Christie (4 percent) and Ohio Governor John Kasich (3 percent) are swimming upstream this election season. Of Republicans and those who leaned that way, 45 percent identify themselves as "anti-establishment," while 41 percent feel like they're in the party's establishment lane. But even among self-identified establishment Republicans, Trump leads with 25 percent to Carson's 22 percent. Rubio comes in third among establishment Republicans, picking up 15 percent of that vote.
Just 22 percent of Republicans and those who lean that way say they're best described as "mainstream" in the party, while a third pick "Christian conservative." Fifteen percent picked "national security conservative," followed by 14 percent for Libertarian and 10 percent for Tea Party.
Trump is leading with most demographic groups, the poll shows, although Carson leads with a few key demographic groups, including those who self-identify as mainly Christian conservatives and voters in the South. "Given many southern states have their primaries early in the cycle, Carson's strength in the South is a potentially big advantage," Selzer said.
After four debate performances that have won positive reviews, Rubio is now tied with Carson at 67 percent for top 2016 candidate favorability rating among Republicans and Republican-leaners.
Bush's favorability within this group has dropped to 47 percent from 57 percent when the poll was taken in September 2015. His brother, former President George W. Bush, scores the highest of the Republican figures tested, with 77 percent viewing him favorably. That's even better than the 64 percent recorded by House Speaker Paul Ryan and the 60 percent for 2012 nominee Mitt Romney.
While Trump narrowly leads in the national horserace, Carson has the edge when multiple measures are combined to try to assess upside potential in the "Selzer Score," an index that looks at first and second choices, as well as whether respondents could ever—or would never—support each candidate not in their first two choices. (The first choices are given double weight, while "ever support" is given a half weighting.) Using that system, Carson scores 77, followed by Trump at 71.5, Rubio at 61, Cruz at 50 and Bush at 45.5.
That, and a question about how favorably the candidates are viewed, suggest that some who are struggling in the horserace may have room to grow.
After Rubio and Carson, the highest favorability scores in the presidential field tested among Republicans and those who lean that way go to Cruz at 57 percent, Trump at 55 percent, former Hewlett-Packard chief executive Carly Fiorina at 54 percent and Christie at 53 percent. Lagging the field in this measure are Kasich at 29 percent and Senator Rand Paul of Kentucky at 38 percent.
Republicans and those who lean that way don't seem too bothered by some of the questions raised by the media about the top four candidates.
Seventy-one percent said they aren't concerned that questions have been raised about some of the facts in Carson's autobiography, while 66 percent aren't worried that some have asked whether Trump can wage a campaign without offending large groups of people.
Stories about Cruz not being able to get along with his Senate colleagues are dismissed as a subject of no concern by almost two-thirds of those responding; 57 percent say the same thing about Rubio's handling of his personal finances.
Across the political spectrum, the poll shows a strong interest in the 2016 presidential race, with 68 percent of adults saying they've watched at least one of the candidate debates, including 49 percent who have watched broadcasts of both parties.
The national poll of 1,002 adults was conducted Nov. 15-17, for Bloomberg Politics by Selzer & Co. of Des Moines, Iowa. The overall sample has a margin of error of plus or minus 3.1 percentage points. The smaller sample of 379 registered Republicans and those who lean toward that party has a margin of error of plus or minus 5.0 percentage points.
Before it's here, it's on the Bloomberg Terminal.
LEARN MORE