On the Road
Carly Fiorina Struggles to Seal the Deal on Tough New Hampshire Swing
The former CEO of Hewlett-Packard is still looking to gain traction in the Granite State.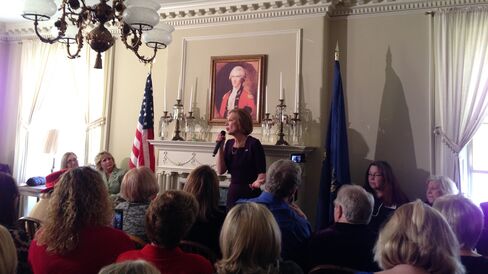 On Tuesday at the annual meeting of the New Hampshire Federation of Republican Women, in the stately brick Upham Walker House in Concord, New Hampshire, Carly Fiorina took the microphone and pledged to put smartphones to political use. She told the crowd of roughly 100 that if she were elected president, she would use her weekly radio address to survey Americans, and then use their positions to help set her policy. Zero-based budgeting, for instance? "If you press one for yes," Fiorina explained, "it is pressure." Not one person in attendance, in the sea of red jackets and pearls, exclaimed excitement, but many did seem impressed at the mere notion that such innovation could be implemented.
It would only, however, work on a smartphone, and Fiorina joked that she had seen a number of flip phones on her travels through the Granite State—a worrying number. To be part of the engaged citizenry, the candidate cautioned the largely middle-aged crowd, "you must upgrade!"
A woman in the back right corner of the room yelled out, "HP!" This was a glimmer of connection—a recollection of Fiorina's corporate biography, a sign of attention paid—but it was gone in an instant. For the bulk of the appearance on the second day of a three-day New Hampshire swing that wrapped up Wednesday, there was a kind of admiration, but little of the personal, emotional, bridge that every candidate hopes to cross while out on the campaign trail.
Fiorina—the former CEO of the global information technology company Hewlett-Packard—excels at message discipline. She marches out a tailored pitch to every campaign event. But when it comes time for final purchase, she seems unable, of late, to close the deal with undecided voters.
She emerged from the second Republican debate—the first one in which she appeared on the main stage—victorious, becoming the preferred candidate in CNN/WMUR and NBC/WSJ polls of 16 percent of New Hampshire voters. But since then her numbers have fallen considerably. In a Monmouth poll published Nov. 2, only 5 percent of the state supported her.
Fiorina seemed almost too too crisp, too Silicon Valley boardroom in her perfect-for-autumn plum and golden uniform on Tuesday to fit in lockstep with her audiences.
The night before, in a large brick-walled room upstairs at the Plymouth State University student union, she canvassed the campus crowd. "How many of you," she asked, "are medieval history or philosophy majors?" Not one of the sweatshirted undergraduates raised a hand. But Fiorina drilled forward, speaking knowingly, to the approximately 230 people in attendance, of what it was to approach graduation with uncertainty—facing an economy scarred by recession, feeling "completely unemployable." She'd been there. This was the standard arc of her stump speech—from secretary to C.E.O.—but with a special nod toward collegians (and also the older people present, who themselves might remember applying for jobs through newspaper want-ads).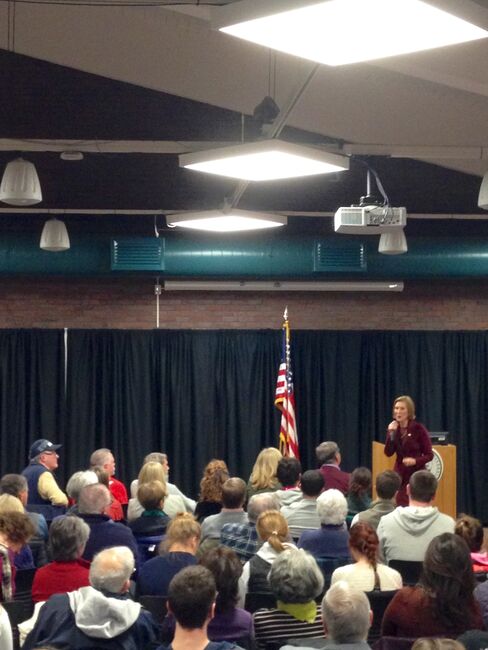 Ralph Larson, 79, of Hebron, New Hampshire, said that Fiorina's remarks—this was the fourth time he had seen her speak—had swayed him to her side.
"Anybody that's been a manager like I was," he said, "knows that the most expensive thing that you have in any business is labor, and when you've got to save a company, you have to make those choices which she did."
But as for the college-age members of the crowd, the response was less bankable. Connor Brown, the president of the school's College Republicans, who had introduced her, praised her "message of bringing private-sector efficiency to government." He declined to say whether he would vote for her, however.
More often than not, Fiorina's answers seemed to clash with students' perspectives.
This was the case when a white-haired woman asked, "Can we get rid of the E.P.A?"
Fiorina replied, "Maybe for young people here [the Environmental Protection Agency] sounds like a good thing. It's a terrible thing."
A student, citing Fiorina's gender, asked for her thoughts on women's health and abortion access. Fiorina responded, "I don't think this is really about women's health, actually," mentioned harvested baby parts, then hopped to another question, on teacher pay, from a student who said she hopes to be a teacher. Fiorina used it as occasion to pivot toward a criticism of the Department of Education.
After the event, the student planning to become a teacher, Julie Royer, a senior, said, "To be honest I thought she beat around the bush a lot. She didn't answer my question. Personally, I don't think she answered it very accurately."
Alanna Bickford, a friend of Royer's, added, "The girl asked the question about women's health and she kind of just shut her up, basically, and skipped right over to Julie to ask her question."
"Very good speaker, though," Royer said. Bickford agreed. Just not enough to vote for her.
The NHFRW meeting seemed more comfortably Fiorina's terrain. A sponsor named Caroline Colarusso announced her support for Fiorina ("not only because she's a woman," she said, and added, "she's better looking than any woman on the other side"). After Fiorina spoke, the club members gave a standing ovation.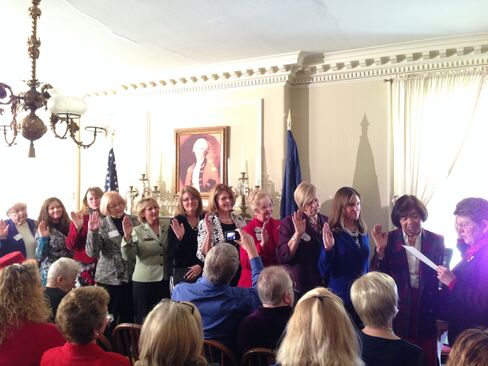 "She's just so great," said Christin Manning, a professor at the University of Massachusetts Boston who was wearing a chiffon scarf of the American flag. "We need somebody who is from the outside. If that's all you've done for a living is work in Washington, you can't see what's wrong."
Fiorina, who has never held elected office and has no built-in constituency, might be able to depend on women as her natural base. But she determinedly does not make gender her pitch—and many of the women clapping said they would cast their vote elsewhere.
Karen Umberger, a member of the New Hampshire House of Representatives, said of Fiorina's keynote address, "I'm sure that this helped to solidify her support." But she said she would not be voting for Fiorina.
Jeanine Notter, also a New Hampshire representative, who had just been installed as NHFRW president, said that, "as a woman, we're all very proud of her, because she's a Republican woman who's running for president." (Not, she specified, that she would support Fiorina because she was a woman.)
But Notter has already picked her candidate. In May, she publicly endorsed Senator Ted Cruz.
Before it's here, it's on the Bloomberg Terminal.
LEARN MORE