De Blasio Presents $2.6 Billion Housing Plan for New York City's Needy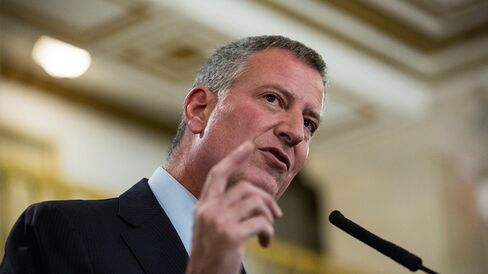 Mayor plans to add 15,000 units for the homeless and others

Fifteen-year program funded with city money, private sources
New York Mayor Bill de Blasio, who has faced declining voter approval of his handling of homelessness, presented a $2.6 billion plan to increase supportive housing for residents in need, including families on the street, veterans and domestic-violence victims.
The program will add 15,000 units over 15 years. The city will spend $1 billion, of which $380 million has already been budgeted through Housing New York, a previously announced plan to create 200,000 units of affordable housing over a decade. The rest of the cost will be covered with tax credits and private sources, de Blasio said in a statement Wednesday.
Supportive housing is affordable housing with social services, including mental-health treatment and substance-abuse programs. It reduces reliance on homeless shelters, hospitals, mental-health institutions and jails, according to the mayor's statement.

"Every person in supportive housing and on the road to wellness is one fewer person in a city hospital, prison or shelter," he said.
Before it's here, it's on the Bloomberg Terminal.
LEARN MORE