Data Dive
Saturday's Gloves-Off Democratic Debate, by the Numbers
Saturday's Democratic presidential debate in Des Moines, Iowa, may have been largely overshadowed by the previous night's deadly Paris terrorist attacks, but nevertheless it marked a shift to a more contentious phase of the nomination race.
In all, former Secretary of State Hillary Clinton's opponents criticized her 16 times by name or title during the two-hour debate, compared to 10 negative mentions leveled at Vermont Senator Bernie Sanders and just one at former Maryland Governor Martin O'Malley. The underdog, trailing Clinton in some polls by more than 50 points, was particularly aggressive, going from three negative mentions of her in the Oct. 13 debate to nine on Saturday.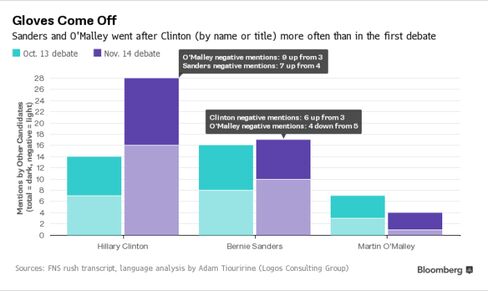 Those figures are according to a transcript analysis conducted by Bloomberg Politics in partnership with Adam Tiouririne (@Tiouririne) of Logos Consulting Group, who advises senior business executives on high-stakes communication, grounded in research about how leaders perform at their most important—and most public—moments.
Clinton vs. Sanders
Clinton commandeered a relatively outsized share of the speaking time, not to mention applause and laugh lines (as recorded in the Federal News Service transcript used for this analysis). Sanders received nearly as many moderator-directed questions or rebuttal opportunities as Clinton, but proved less successful in running the clock or pleasing the crowd.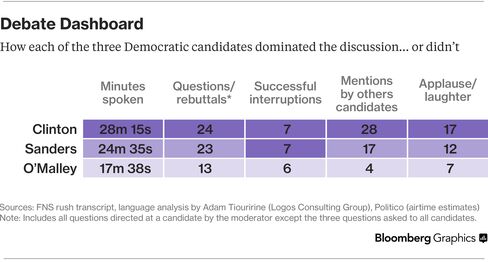 On social media, Sanders largely edged Clinton out, picking up the most new Twitter followers (nearly 19,000 by noon Sunday) and becoming the most searched on Google and the most discussed on Facebook, according to data provided by the companies and collected by Bloomberg. O'Malley garnered 14 percent of the Twitter conversation and placed first or second in the relative Google search ranking for nearly a third of the debate's duration.
Paris Attack
The evening started with a moment of silence for the victims of the Paris attacks, followed by nearly half an hour of questions on terrorism and foreign policy.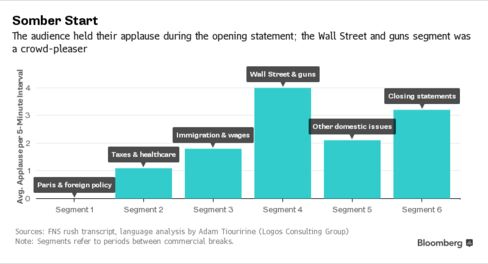 A notable moment came when Clinton, who'd already used the phrase "radical jihadist ideology" to characterize the Islamic State, was asked if she agreed with Republican presidential candidate Marco Rubio's use of the term "radical Islam" and replied, "I don't think we're at war with all Muslims. I think we're at war with jihadists."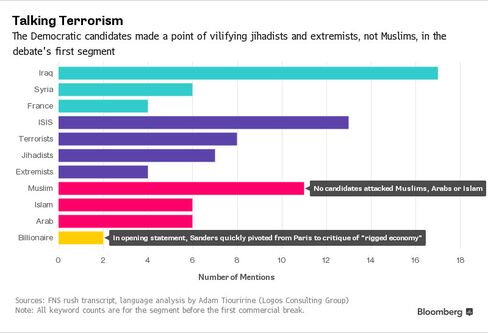 Clinton ultimately used some form of the word terrorist, jihadist, or extremist 15 times, compared to three times for Sanders, who spent much of his opening statement railing against the "rigged economy," and once for O'Malley.
Before it's here, it's on the Bloomberg Terminal.
LEARN MORE