Data
Winners and Losers of the Fourth Republican Presidential Debate, by the Numbers
No major changes: That was the pundits' consensus on the state of the Republican presidential race after Tuesday night's debate, hosted by Fox Business and the Wall Street Journal.
Still, diving into the data can tell us something about the winners and losers of the fourth prime-time showdown. Here's how two sitting senators and one billionaire managed to stand out.
Prediction markets winner: Marco Rubio
The Florida senator made gains following the Oct. 28 debate, hosted by CNBC, with a growing lead in several prediction markets. After an adroit handling of Senator Rand Paul's critique of his military spending plans on Tuesday, plus frequent applause lines, Rubio remains the prediction markets' most likely candidate to win the Republican nomination.
Within one hour of the debate ending, Rubio's odds had risen by 1 point on PredictWise (to 44 percent) and by 4 points on Pivit (also to 44 percent). In comparison, Texas Senator Ted Cruz and billionaire Donald Trump, the only other candidates to increase their odds on both markets in the same period, each remained at 20 percent or less.
Despite an improved performance that reassured supporters, former Florida Governor Jeb Bush was the only candidate whose odds of winning the nomination declined in both prediction markets.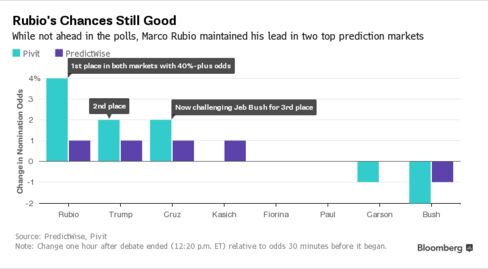 Social media winner: Donald Trump
Measure engagement on social media, instead, and the real estate mogul is back on top after ceding ground to retired neurosurgeon Ben Carson in recent weeks. He was not only among the two most-searched candidates on Google, but also gained more Twitter followers and Facebook likes—around 50,000 and 30,000, respectively—within one hour of the debate ending than the other seven candidates combined. He also created the single most-tweeted moment of the debate, when he interrupted Ohio Governor John Kasich at one point to tell him, "You should let Jeb speak."
Within one hour of the debate ending, Bush had added the fewest new Facebook likes and second-fewest new Twitter followers. He also landed the second-fewest laugh and applause lines.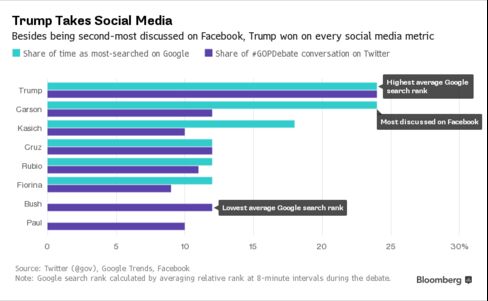 Air time winner: Ted Cruz
The Texas senator spoke for more than 13 and a half minutes, more than four minutes longer than Carson, according to Politico's estimates. He also played to the audience best, with 15 recorded laugh or applause lines, according to an analysis of a Federal News Service rush transcript conducted by Bloomberg Politics in partnership with Adam Tiouririne (@Tiouririne), a strategic communication advisor at Logos Consulting Group.
Former Hewlett-Packard CEO Carly Fiorina deserves an honorable mention because, despite receiving the fewest number of direct questions or moderator-initiated rebuttals, she ultimately spoke for 11 minutes thanks to some effective interruptions.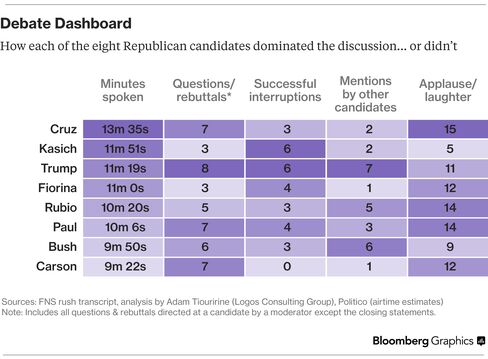 RNC winner: Fox Business Network
Unlike the media-bashing debate hosted by CNBC and dubbed "extremely disappointing" by Republican National Committee Chairman Reince Priebus, these moderators received heaps of praise. "Our candidates, not the moderators, were at the center of tonight's debate, and they were all treated with fairness and respect," Priebus said in a statement. This debate was actually the most equal in terms of speaking time allotted to each candidate, with the likes of Paul and Bush cutting their deficits by almost half compared to last time.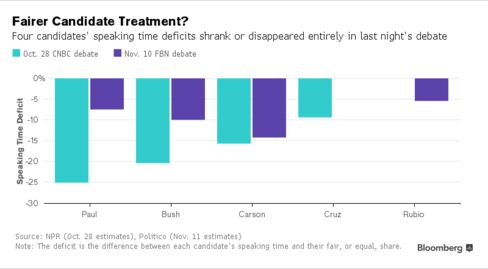 Fox Business also managed to live up to its own anti-CNBC promos advertising its event as "the real debate about our economy," as measured by the number of times key economic terms were mentioned.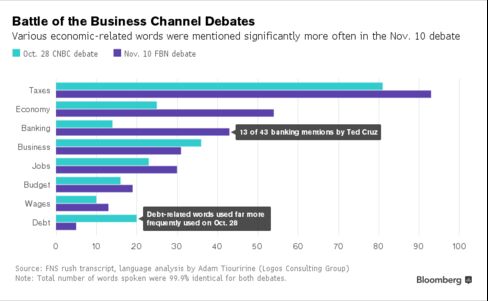 Audience's least favorite: John Kasich
The Ohio governor may have earned himself plenty of air time with his frequent interruptions, but he won few friends in the crowd, receiving the fewest recorded applause or laughter events in the transcript. The audience even booed him toward the end of the debate, when he insisted on the merits of a partial bank bailout. According to an analysis of past debate transcripts, that makes Kasich the only Republican candidate other than Trump booed on the debate stage so far this cycle.
Before it's here, it's on the Bloomberg Terminal.
LEARN MORE