White House Offers Obama Visit to Get People to Join Obamacare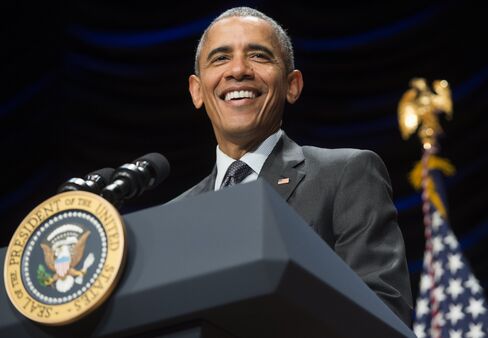 The `Healthy Communities Challenge' includes 20 cities

Location with the most health-care signups wins an Obama visit
Visit healthcare.gov before February, and perhaps President Barack Obama will visit you.
Obama is once again leaning on his personal celebrity status to get people who haven't yet signed up for health insurance to join his signature health-care law.
The White House launched what it calls the "Healthy Communities Challenge" on Friday, a competition among 20 cities with high rates of uninsured people. The city that makes the most progress enrolling uninsured people will see an appearance by Obama.
"The victorious community gets bragging rights, a healthier community, and a visit from President Obama to celebrate their success in helping ensure every American has health coverage," the White House said in a statement.
The third enrollment period for the Affordable Care Act began Sunday and closes January 31. The Obama administration has set a low bar for signups, anticipating that at best about two million more people will be in private plans sold under the health law in 2016, compared to this year.
The White House says about 10.5 million uninsured people are eligible for coverage but have not yet signed up. They have proved stubbornly hard to reach.
"Political misinformation" has discouraged people from signing up, Obama told Tampa's WUSF on Thursday in one of five radio interviews the White House granted in an effort to boost enrollment. Tampa is among the 20 cities competing for a visit.
If enrollment is strong, Obama said, "that means there are more people in the marketplace, more people in the pool, and that tends to drive prices down."
The White House has previously tried unconventional methods to reach uninsured people, often relying on Obama's personal appeal. The president joined comedian Zach Galifianakis last year on a satirical talk show called "Between Two Ferns" to pitch the healthcare.gov website. Earlier this year, he waved a selfie stick in a video posted on the Buzzfeed website, also to try to goose enrollment under the law.
Before it's here, it's on the Bloomberg Terminal.
LEARN MORE