All That Glitters
A Gold-Standard Backer Finds a Friend in Ted Cruz
Hedge-fund manager Sean Fieler has struggled to get traction with his political ideas for years.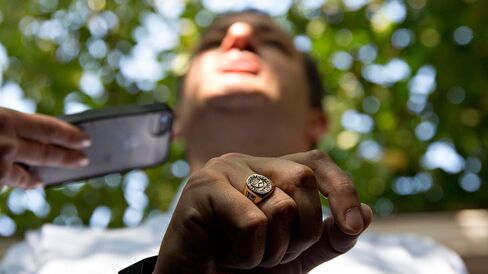 When Ted Cruz talked about tying the U.S. dollar to gold on national television last week, he made Sean Fieler's night.
Fieler is a New York hedge-fund manager with a portfolio of political causes that puts him out of step with many of his Wall Street peers. He's spent millions to stop abortion and same-sex marriage and to restore a gold-based currency system that the country abandoned in 1971.
His agenda has struggled for traction in recent years—a plan to raise $10 million for a super-PAC last year fizzled, and same-sex marriage is now the law of the land. So he was gratified to hear Cruz, during a Republican presidential debate, advocate "sound money and monetary stability, ideally tied to gold."
"Cruz's answer was spectacular, courageous, and really important in moving the debate forward," Fieler said in an interview this week. "And we need to get that same kind of substantive response from other candidates in the field."
Although Fieler takes no credit for influencing the Texas senator, the groups he funds have been trying to push the discussion of a gold standard into the mainstream for years, arguing the government's role in setting the price of money distorts the economy. He was part of a group of more than 20 conservative activists to meet with Federal Reserve Chair Janet Yellen in February. And a nonprofit group he heads, the American Principles Project, organized a sort of counter-conference during the Fed's annual summit in Jackson Hole, Wyoming, assembling a group of speakers drawn from the close-knit world of gold proponents.
Among those to attend the August gathering was Robert Mercer, a fellow hedge-fund manager whose $11 million donation to a pro-Cruz super-PAC makes him the single biggest donor so far in the presidential race.
The views of large donors like Fieler and Mercer, who declined to comment, have become more important to the political process since the U.S. Supreme Court in 2010 opened the floodgates to virtually unfettered spending to influence elections. As of the end of June, for instance, outside groups such as super-PACs, which can raise unlimited amounts of money, had raised more than the campaigns of all 22 candidates themselves. Most of the super-PAC money was raised in increments of $1 million or more.
QuickTake The Rise and Fall of Gold
Fieler, 43, is a Roman Catholic and father of five, with a soft voice and wide, squinting grin. He spoke this week in the Manhattan offices of his hedge fund, Equinox Partners, where works of the American painter Carl Schmitt are visible from a cluster of cubicles. His interest in precious metals extends to his investing business; Equinox owns shares of several gold and silver miners.
Fieler's cause gets almost no support from mainstream economists, who generally say central bankers ought to be able to control the money supply to influence growth and inflation as needed; the dollar's last link to gold was cut during the Nixon Administration. A 2012 survey of economists at top U.S. universities failed to turn up a single one who endorsed a return to a gold standard. Some 40 percent disagreed with the notion that it would make Americans better off, and 53 percent strongly disagreed, according to the survey by the University of Chicago's Booth School of Business. One professor asked, "Why tie to gold? Why not 1982 Bordeaux?"
The conservative grassroots are more receptive to the idea, Fieler said, citing polls his group has conducted in Iowa finding support among Republican voters, as well as the 2012 presidential candidacy of Ron Paul, a former Republican congressman with libertarian views."Only an infinitesimal portion of big donors are interested in gold, but a third of the public is interested in gold," said George Gilder, the author of a recent monograph on the gold standard published by Fieler's group.
Still, Fieler points out that many donors think the Fed's recent policy of near-zero interest rates and quantitative easing is wrongheaded, even if there's a range of views about what structural changes they'd like to see at the institution. Just last week, Paul Singer, the influential Republican donor and billionaire hedge-fund manager who has thrown his support behind Florida Senator Marco Rubio, complained in a letter to his investors that politicians around the world are "ceding complete control of their economies to their supposedly-omniscient central banks."
"There's a very large coalition of us that are concerned about the status quo," Fieler said.
Fieler's cause has had some success on the state level, where a handful of governments declared gold and silver coins to be legal tender. Those laws, however, are unlikely to have much practical effect unless Congress changes federal rules that treat gold as an investment, with income tax due on any realized gains when it's converted to cash.
Fieler published an op-ed in the Wall Street Journal this week advocating for such a change. Rather than calling for a simple return to the gold standard, he envisions changes that would allow gold to emerge as a competing global currency that would eventually eclipse the others. He's an investor in GoldMoney, a Canadian company that offers gold-denominated savings accounts and payment processing.
The Jackson Hole conference organized by American Principles Project wasn't all it could have been. Alan Greenspan originally agreed to be the keynote speaker, but the former Fed chairman backed out after the New York Times columnist Paul Krugman criticized him for associating with a group that opposes same-sex marriage and criticizes the institution Greenspan used to run. Greenspan didn't return a call seeking comment.
Then, the group wasn't able to reserve space at the Jackson Lake Lodge, where the Fed conference took place, and where some liberal activists also set up shop. American Principles Project ended up at another resort 30 miles away. Jim Demint, the Heritage Foundation president and former senator, gave the keynote instead, closing with the words of a Bob Dylan song: "How many years can some people exist before they're allowed to be free?"
According to a person with knowledge of the matter, Mercer attended the conference with his daughter, Rebekah, who is a close adviser on his political and charitable affairs. Mercer is the co-chief executive officer of Renaissance Technologies, the East Setauket, New York-based quantitative investment firm with one of the most successful track records on Wall Street.
Through a spokesman, the Mercers declined to comment on their attendance at the conference and their views on monetary policy. Fieler, who missed the conference due to the birth of a daughter, called Robert Mercer a "very smart guy" and a "very independent thinker."
"He and I share a view that the status quo when it comes to monetary policy is not sustainable," Fieler said. "He's a guy with his own ideas and very developed ideas and I wouldn't want to speak on his behalf."
In early 2014, Fieler announced plans to raise $10 million for a super-PAC that would target races where some of his top issues would come into play. But almost all of the $1.3 million that American Principles Fund raised ended up coming from Fieler. Fieler said that few donors are willing to be publicly associated with a campaign against same-sex marriage, even if they sympathize in private.
"You really have to be willing to suffer a concerted, persistent attack in the public square," he said.
Much of the super-PAC's money went to Senate primaries in Wyoming and Oregon where it focused on social issues, but it also spent money in Fieler's home state of New Jersey. There, it backed a former American Principles Project staffer, Jeffrey Bell, in a long-shot bid against Cory Booker, the Democratic incumbent. The gold standard was a central plank in Bell's unsuccessful campaign.
This time around, Fieler said he's not setting fundraising goals and hasn't even determined how much of his own money he'll spend on politics. Despite his praise for Cruz's words, he said he's unlikely to endorse anyone in the Republican primary, preferring to focus on encouraging as many candidates as possible to take up his issues.
Meanwhile, Fieler has a hedge fund to run. Founded in 1994 by William Strong, Equinox has historically aimed at a style of value investing inspired by Benjamin Graham, the legendary securities analyst. Fieler joined the firm in 1995 after graduating from Williams College. The firm now manages about $700 million, Fieler says.
Its holdings include companies in emerging markets and oil drillers as well as the gold and silver miners. Fieler said he thinks precious metals are undervalued, although that's the extent of the connection to his political work.
"We invest not around our aspirations but around our expectations about what's actually going to happen," he said. "They're not completely unrelated but they're not the same thing."
Before it's here, it's on the Bloomberg Terminal.
LEARN MORE