Christie's New Jersey To-Do List Swells Amid Sagging Presidential Bid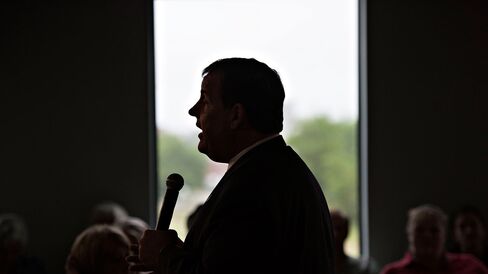 Transportation funding and public pension overhaul are stalled

Cracks are showing amid once-united Republican front at home
On the presidential campaign trail, Chris Christie calls himself "battle-tested." Back in New Jersey, "battle-weary" may better describe a governor who has lost favor at home as fiscal and policy pressures mount.
Voters on Tuesday tossed out four Assembly Republicans, tightening Democrats' hold on the lower house, diminishing Christie's power to act in Trenton and adding to his challenges. Three Republicans, once lockstep with the governor, sided with Democrats last month for the first Senate override of his veto. Public-opinion polls give Christie record-low approval for his handling of jobs, taxes and Hurricane Sandy.
Just two years ago, Christie won re-election with 60 percent of the vote, the strongest showing for a Republican candidate for New Jersey governor in almost three decades. This year, with his focus on the White House, he spent little time campaigning for home-state Republicans. Should his presidential campaign end early, he'll return to a Trenton he may not recognize.
"His priorities are not at all helping in New Jersey," said state Senator Michael Doherty, a Warren County Republican. "It's about painting a picture so he can run for president, and he's going to come back to a mess."
New Jersey hasn't regained all the jobs it lost during the past recession, unlike its neighbors and the U.S. as a whole. It has no roadwork-funding plan come July 1, and its commuter rail to Manhattan is at capacity and prone to breakdowns. Its credit rating is second-lowest among U.S. states after a record nine downgrades under Christie, whose skipped pension contributions have exacerbated a funding gap that tops $83 billion.
The governor plans to continue his efforts to stabilize pensions, end payouts to state workers for unused sick days, encourage shared services and consolidate the state's overlapping local governments, said spokesman Brian Murray.
Christie has had little help from Assembly Democrats, who must originate any bill that deals with raising money to fix roads or cut taxes. They haven't met in five months. Now, members of his own party are peeling off.
Doherty, among the state's most conservative lawmakers, said Christie has overlooked fellow Republicans in the name of ambition. He faulted the governor for failing to correct a system that sends a disproportionate share of funding into urban areas and the "crony capitalism" of tax breaks for large businesses at the expense of small ones.
Steve Kush, Southern New Jersey political director for Christie's 2009 campaign, protested his Monday appearance in Camden. It was Christie's fourth visit to the area this election cycle, he said, none to support party candidates.
"Not only was my county chair not even notified, but he was standing with Democrats" at some events, Kush said. At the rally, Kush held up a sign that said "Gov. Christie -- Traitor."
On Tour
Christie, 53, built a national image during his first term as a bipartisan leader capable of negotiating with Democrats, taking on unions and cutting pensions and benefits. His approval, which reached 72 percent in November 2012, slid in 2014 after e-mails revealed that an aide and an ally arranged a George Washington Bridge traffic jam as political retribution.
His favorability rating at home has flagged as he spends chunks of time out of state campaigning. More than two-thirds of New Jersey voters say it's time for him to end his run, according to a Rutgers-Eagleton poll released Oct. 15. Among Republicans, he has 5 percent support for his candidacy, down from more than 40 percent in mid-2014.
In New Hampshire, whose February primary whittles the field, voters in a Monmouth University poll put Christie in seventh place. An NBC News-Wall Street Journal national poll released Nov. 1 showed him in a four-way tie for sixth, with 3 percent approval.
Christie, who says he has no plans to drop out, said during an Oct. 29 Bloomberg interview that he's vetoed more tax increases than any governor in American history. More than 200,000 private-sector jobs have been created under his watch, and jobless claims are the lowest in 15 years, he said.
On pensions and benefits, he said, there's "some more work to do but we made it much better than it was before I came in."
During his monthly radio call-in show, he blamed lawmakers for inaction on transportation funding.
"This is something that the Democrats in the Legislature decided to put aside in February and make no proposals -- none for now almost a year -- because it didn't suit their politics because they were going into an election year," Christie said. "There's nothing I can do abut a gas tax, or the Transportation Trust Fund, without the legislature."
Recalcitrant Bunch
If or when Christie leaves the race, it's not likely he'll return to a legislature eager to make deals.
Senate President Steve Sweeney, 56, the highest-ranking Democrat in the body and a possible 2017 governor candidate, has resisted another round of benefit cuts that Christie says are needed. Health and retirement payments this year will consume 23 percent of $33.8 billion in state spending.
On Oct. 22, as Christie held private campaign meetings in Iowa, three New Jersey Republicans sided with Democrats for the first-ever Senate override of a Christie veto. One, Joseph Kyrillos of Middletown, is a former Christie campaign chairman.
In an interview, Kyrillos -- who endorsed Jeb Bush in April -- ranked economic revival, jobs creation and transportation funding among the state's biggest challenges.
"He, the elected leaders and the people of this state have an in-basket full of problems," Kyrillos, 55, said of Christie.
On Nov. 3, Election Day for all 80 members of the state Assembly, Christie's public schedule had him at just one location: his polling place in Mendham.
Senator Kevin O'Toole, 51, a Republican from Cedar Grove, said his party's Assembly election losses reflected Democrats' heavy spending, not of Christie's leadership.
"If he did nothing else but grow the private-sector base and cut unemployment in half, he should be hailed as a hero -- all in the face of having a Democrat majority," O'Toole said.
Then there's Sandy, the October 2012 storm that won Christie high marks for his response. Three years later, about 6,000 homeowners in a rebuilding program haven't returned to their residences, according to state figures.
One former Christie booster, 50-year-old Michelle Petro of Manasquan, said she might be in her replacement home by now if Christie's focus had remained on Sandy rather than the White House. If he returns full time to New Jersey, she said, his eyes will be on his next job.
"I believed in him," she said as victims gathered outside the statehouse in Trenton to mark the storm anniversary. "He says the right things, but I feel he doesn't follow through."
Before it's here, it's on the Bloomberg Terminal.
LEARN MORE