Campaign Watchdogs Call for Tax Probe of Pro-Rubio Non-Profit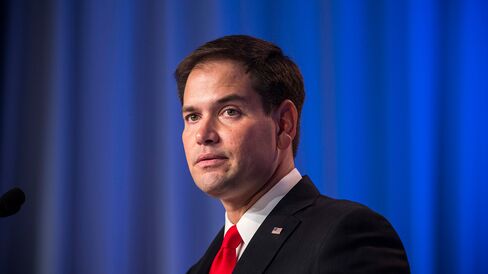 Two campaign finance watchdogs called on the U.S. Justice Department to investigate a non-profit group supporting Marco Rubio's presidential bid, saying it may be abusing its tax-exempt status by focusing on a single candidate.
The pro-Rubio group, Conservative Solutions Project, has engaged in "excessive campaign activity on Senator Rubio's behalf," that may violate federal tax law for social-welfare organizations, which are supposed to serve broader community purposes, Democracy 21 and Campaign Legal Center said in a letter Thursday to the Justice Department.
Independent groups such as super-PACs and non-profits, which can raise and spend unlimited amounts of money, have been transforming the face of politics since the Supreme Court's 2010 decision opened the door for outside spending in elections. Such groups are expected to spend hundreds of millions of dollars influencing the 2016 presidential race.
According to the letter, Conservative Solutions Project is operating as an arm of the Rubio campaign. The group has purchased more than 3,000 television spots supporting Rubio this year, targeting Iowa, New Hampshire and South Carolina, the states where voting on the presidential selection process gets under way in February.
The group also has a similar name to a super-PAC supporting Rubio, the Conservative Solutions PAC, and even shares some staff, according to the letter, which cited news reports.
Jeffrey Sadosky, a spokesman for the group, said Conservative Solutions Project has for the past two years and is still remains focused on "advocating for a conservative agenda that will solve some of the most serious issues American families are facing."
"It is clear that D.C.'s left-wing elites are incredibly afraid that a positive conservative message focused on solutions will put additional pressure on the Obama administration, or worse yet for them, Secretary Clinton," Sadosky said.
Spokesmen for Rubio's campaign and the Justice Department didn't immediately respond to a request for comment.
Before it's here, it's on the Bloomberg Terminal.
LEARN MORE