Sales Pitch
Ben Carson Bets His Book Tour Campaign's Final Stop Will Be in Washington
The new Republican front-runner is focusing on selling books in Florida, and that may also help him at the ballot box.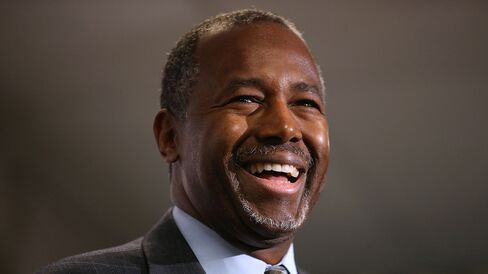 Over the course of the past month, Ben Carson has surged past Donald Trump to take the lead in the Republican presidential field, and now finds himself tied with Democrat Hillary Clinton in a new national poll. But rather than trumpet those accomplishments out on the campaign trail, the new GOP front-runner is returning to the book circuit, the place that may explain his stunning political success.
The retired neurosurgeon's latest two-day, eight-stop book tour kicked off Tuesday in Tampa—the same place former Florida Governor Jeb Bush looked to reboot his campaign a day earlier.
"The secret for Carson is his book sales," said Doug Farrell, chairman of BlakPAC, a super-PAC that seeks to elect diverse conservative candidates.
At his first book signing at a Barnes & Noble in Tampa, Carson drew more than 800 people eager to catch a glimpse of the Republican outsider. The crowd was appreciably larger and more enthusiastic than the 300 people who showed up to Bush's hybrid book release party and campaign rally.
Perhaps that's because Carson has been a New York Times best-selling author for decades, using his personal narrative as the backbone for numerous motivational books and speaking engagements.
Whether he'll be able to convert book sales into actual votes remains to be seen—as does the question of whether he can squash rumblings from party strategists who say he seems more interested in selling copies of his books than winning the Republican nomination.
"It's one thing to get long lines at a book store, it's another to get voters to the ballot box," said Ryan Williams, a Republican strategist. "If Carson wants to be considered a serious candidate in the long run, he'll need to focus on running a professional vote-getting effort instead of a book-selling effort."
Carson downplayed such criticism while taking a break from signing books to briefly talk with reporters.
"Those are people who can't think that anybody thinks any differently than they do," Carson said of such criticism.
Still, Carson paused when asked by another reporter to explain his unconventional campaign approach and grassroots support.
"Uh, well, that's a very long story," said Carson, who arrived in a book tour campaign bus. "Maybe I'll write another book."
Carson has used social media and his book tour—organized through his publisher, Penguin Books—to sidestep traditional campaign strategy to reach conservative, religious voters who are fans of Carson's story: an inner-city black kid raised by a single mom who went on to become a brain surgeon.
Carson's campaign strategy allows him to avoid potential pitfalls with the mainstream media, but also threatens to ignore could-be supporters.
While other campaigns send out multiple daily scheduling e-mails, Carson's campaign makes far less effort to utilize mainstream media to promote his events, instead relying on Facebook groups and word of mouth.
The entire tour was organized by Carson's publisher, Penguin Books, with organizers working directly with the bookstores weeks in advance but not sending out mass press releases that would garner significant media attention.
Bush's campaign released an advanced copy of his new e-book, Reply All, which debuted earlier this week, and advanced portions of his campaign speech in Tampa.
Carson's book tour, in contrast, has avoided the stump speech all together. Instead, it was much more like traditional book-signings, with attendees systematically ushered quickly to greet him and receive an autograph.
Trump, in contrast, hosted a massive book signing in Manhattan to promote Crippled America inside his own Trump Tower, where hundreds of supporters and media packed inside to catch a glimpse of the billionaire businessman and Carson's GOP rival.
Most of the Tampa residents who showed up at the signing found out about the event last minute.
Sabrina Hund said she learned Carson would be at the Tampa Barnes and Noble after her 8-year-old son told her husband he heard at school that "the man you and Mommy always talk about is coming tomorrow."
"He's a person first and a politician second," said Hund, who showed up with three books for Carson to sign for various family members. "You know what? You don't have to have a successful political career to be president."
Marne Kendrick let her 15-year-old son Sean miss school to attend the signing. She found out about it during a meeting last month with local Carson supporters.
"I like that he's a man of faith and he follows that Bible verse, 'Everyone should be quick to listen and slow to speak,'" she said. "He stands up to the mainstream media and Hollywood."
And Michael Davis said he stepped out of work early after his mother-in-law texted him that Carson was in town.
"I was like, 'What the heck, how did I almost miss this?'" said Davis, 29. "He's tapping into the pulse of the nation that wants something different than the change they thought they were going to get with President Obama."
Even Farrell, who is well-connected in Florida politics, was left out of some events.
"Are you kidding me? Carson was in Clearwater this morning?" Farrell injected during an interview while surfing Facebook on his phone.
Sure enough, Carson appeared earlier Tuesday in Clearwater at a YMCA prayer breakfast as the keynote speaker. It was hardly advertised except for a release YMCA officials put out announcing he was speaking.
Eric Keaton, spokesman for YMCA of the Suncoast, said event organizers booked Carson through the Washington Speakers Bureau more than a year ago and had to add about 100 more tickets because of the buzz Carson generated.
"We kept expecting him to cancel," said Keaton, who said 552 people attended the event. "But we were very fortunate that Dr. Carson kept this date on his calendar."
Before it's here, it's on the Bloomberg Terminal.
LEARN MORE